Speed Kills
Butler girls too quick for Connellsville, win 6-0
October 22, 2019 High School Soccer
<![if !vml]>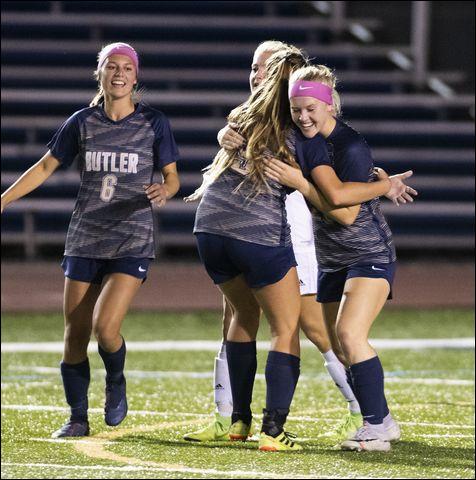 <![endif]>
Butler's Hannah Stutz (20) celebrates with teammates Madison Pomykata and Chloe Weiland (6) after scoring against Connellsville in the Golden Tornado's 6-0 WPIAL Class 4A girls soccer playoff win Monday night.
STEVEN DALTON/SPECIAL TO THE EAGLE
BUTLER TWP — Connellsville girls soccer coach Jeff Puskar was concerned about the team speed his squad would encounter against Butler.
And with good reason.
Gabby Boden, Chloe Weiland, Madison Pomykata and Samantha Miller each scored in the first half of a 6-0 win over the Falcons in Monday's WPIAL Class 4A first-round playoff game at Art Bernardi Stadium.
"We had a scouting report for some of their players and knew they were fast," Puskar said. "We just had no answer for their speed."
The Falcons placed third in Section 3 behind Norwin and Penn-Trafford.
"Those teams are both good," said Butler coach Steve Perri, "but I don't think (Connellsville) had seen a complete team like we are. It was a matter of attacking where the spaces were and staying with it until they changed."
Boden broke the ice when she scored off a centering pass from McKenna Robinson with six minutes gone from the clock.
Connellsville (12-6) had a golden opportunity to tie the game at 1-all 10 minutes into play. Senior forward Callie Cunningham got behind the Golden Tornado defense and goalkeeper Paige Miller came off her line to challenge.
The ball bounced to the right of the net. As Butler defenders retreated to cover for their goalie, Cunningham regained possession, turned and got off a rushed shot that sailed high of the goal.
"We were nervous about their attack," Perri said of the Falcons. "Cunningham is tenacious and quick. One mistake and she can take it in and she almost did."
Less than a minute after Cunningham's near-miss, Weiland scored on a breakaway, beginning a spree of three goals in a 10-minute span.
Cunningham threatened again early in the second half, but her shot smacked off the crossbar.
"We had scoring chances tonight," said Puskar, "but in the playoffs, you have to button up on defense and can't give up more than two goals."
Butler's Vanessa Drohan made it 5-0 with a header with 23 minutes left in the game.
Miller and McKenna Yaracs (2) combined for three saves while Connellsville's Allison Zavatchan stopped four shots and came off her line several times to thwart Butler breakaways.
Madison Kinneer played the final 17 minutes in net for the Falcons and allowed Boden's second goal, the final score of the game.
"This could've been our last game," said Weiland. "We had everything to lose tonight and knew we had to have a lot of intensity."
Connellsville has now made the WPIAL playoffs three straight years.
"We didn't get the result we wanted, but I'm proud of the girls," said Puskar. "Butler's section is brutal. For them to place third, they're a very good team."
Butler (13-4-1) will face second-seeded Peters Township in a quarterfinal showdown Thursday on the Indians' turf.
The Tornado were ousted from the playoffs by Peters Township last season.
"That's all the girls have been talking about," said Perri. "They want Peters. It should be a good one."