Net Finder
Butler star Weiland's penchant for scoring goals lands her opportunity at next level
October 6, 2020 High School Soccer
<![if !vml]>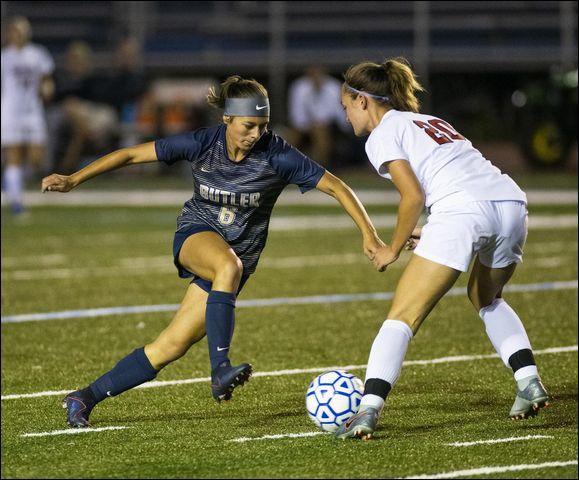 <![endif]>
Butler girls soccer forward Chloe Weiland tries to make a move around North Hills' Maria Veiga in a match last season. Weiland, who verbally committed to play at Youngstown State University, is one of the reasons why the Golden Tornado are off to a hot start in 2020.
BUTLER EAGLE FILE PHOTO
BUTLER TWP — Chloe Weiland started playing soccer when she was only 3.
As she grew up, she developed a love for the sport.
And a penchant for scoring goals.
To Weiland, now a junior forward on the Butler girls soccer team, putting the ball in the back of the net didn't seem so special to her.
"People would tell me all the time, 'Good goal. Good goal,'" Weiland said.
Eventually, Weiland began to recognize how gifted she was on the soccer pitch.
"As I got older," Weiland said, "I came to the realization that the goals I was scoring weren't normal goals."
Years later, she is still finding a way to fill up the net.
Weiland has eight goals this season for the Golden Tornado, who are rolling.
"She's a three-year starter now," said Butler coach Steve Perri. "During her freshman year, she took everyone by storm by scoring a bunch of goals. She's just continued that. We'd be a lot less without her."
Weiland scored 17 goals as a freshman and 13 last season as a sophomore.
It got her noticed.
Last week, Weiland verbally committed to play in college at Youngstown State University.
Weiland was being heavily recruited by Division I and II schools.
But Youngstown State offered something different.
"When I was on the campus, I just knew this is where I want to go," Weiland said. "For me, I didn't want a small school, but I didn't want a really big school, either. When I got there, it was a community. I went to visit a lot of colleges and none gave me a feeling like that, like I was at home."
Weiland is determined to make an early home at YSU.
Weiland is shooting to play from the moment she puts the uniform on.
"I'm working on getting there and getting on the field immediately," Weiland said. "A lot of players get there and they don't get to play right away. My goal is to be at that level so when I get there I can step on the field right way."
How is she going to accomplish that?
Easy, Weiland said. Work even harder.
"Doing what I'm doing now, but putting in even more work," Weiland said. "Instead of putting in 110% at practice, putting in 120%."
Weiland, who also plays club soccer for Century Steel (formerly Northern Steel), said her strength is her vision.
"I feel like I'm able to see the whole field, see everything," Weiland said. "Even if I don't score, I find a way to help someone out to get a shot off and score."
Weiland is part of a young core group of players who have Butler sitting at 7-0 overall and 6-0 in the section entering Monday night's game against Pine-Richland.
The Golden Tornado have outscored their opponents 32-6 this season.
"Honestly, this has been the most fun I've ever had," Weiland said. "The team is so close and that's a really big aspect of it all. We have all played together since we were really young and we have a bond that is unbreakable."
Perri said he has never had a group as close as the one he has this season.
"This group, for some reason, has bonded differently," Perri said. "That's something we've focused on for years — building a cohesive group. But this is different."
Weiland is hoping that difference spills over into the postseason.
Butler has played well over the years with solid records in a tough, competitive section, but has struggled in the playoffs.
Last year, the Tornado lost 5-0 in the WPIAL quarterfinals to Peters Township. A year before that, Peters Township ended their season 2-1, also in the quarters.
During Weiland's freshman year, Butler fell in the first round of the WPIAL playoffs.
"The last few years we've done OK, but obviously we've had our ups and downs," Weiland said. "This year it's been like let's get out there and do it. Seeing us improve and play so well has been great and so much fun."