Section champs!
Butler girls claim 1st crown since 2003
October 14, 2020 High School Soccer
Advertisement | Advertise Here
<![if !vml]>
<![endif]>
<![if !vml]>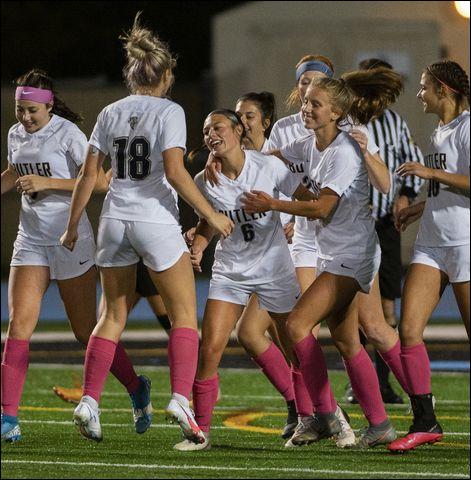 <![endif]>
Butler soccer players embrace trammate Chloe Weiland (6) after she scored the Golden Tornado's first goal on a penalty kick at Seneca Valley. The Golden Tornado clinched the section championship with a 4-0 victory.
STEVEN DALTON/SPECIAL TO THE EAGLE
Butler's girls soccer team put the finishing touches on the program's first section title in 17 years.
Chloe Weiland, Tori Stevenson, Gabby Boden and Sam Miller each scored a goal as the Golden Tornado defeated Seneca Valley 4-0 at NexTier Stadium.
"We came in with a game plan and executed it," said Butler coach Steve Perri. "We wanted to slide Gabby (midfielder) behind their back four because we believed we had an advantage in pace there. That led to several scoring chances and everybody chipped in."
The Tornado (9-1, 8-1) led 2-0 at halftime. Miller added two assists in the win while Paige Miller and Mackenna Yaracs combined in goal for the shutout.
Seneca Valley (5-3) remains in third place in the section.
Butler had last won a section championship in 2003, a season in which it reached the state title game in Hershey and finished with an overall record of 21-3-2.
"A lot of the girls on this team weren't even born the last time Butler won the section," said Perri. "They're super-excited and stormed the field tonight.
"We're going to celebrate for a few days, but they know that this is step one. We've got more to do."