Sudden Impact
In just her second season on track, Butler's Leech has made indelible mark
May 13, 2017 High School Track & Field 0 Comments
<![if !vml]>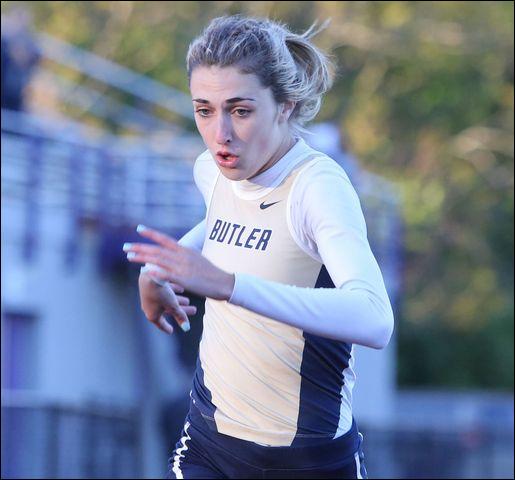 <![endif]>
Butler senior Alexis Leech only joined the girls track and field team last year as a junior. In a short time, the University of Pittsburgh recruit has developed into one of the best runners in school history.
BOB FRITZ/ SPECIAL TO THE EAGLE
BUTLER TWP — Alexis Leech had no inclination to join the Butler girls track and field team.
"I always played soccer and lacrosse and volleyball," the senior said. "It was never something that was on my radar."
But something changed last year.
Leech had a class with former Butler track and field great, Annessa Schnur Steele, who planted the seed for Leech — tall, lanky and athletically gifted — to give track a try.
Former Butler head track and field coach and current Tornado girls assistant coach Mike Seybert, a teacher in the high school as well, also had her ear.
So Leech joined the team as a junior.
"I went to one practice and I went to one meet," Leech said, "and I loved it."
Leech has adapted quickly to her new sport.
In less than two years she's developed into one of the best track athletes in Butler history.
Leech recently broke a 19-year-old record belonging to Steele in the 400-meter run. Leech ran a time of 55.53 seconds at the Baldwin Invitational, breaking the mark of 55.9 set by Steele in 1998.
"I'm super excited because I had (Steele) as a teacher last year and she was one of the ones who got me into track," Leech said. "So getting to text her and telling her I finally got it was so exciting."
That record was one of the first goals Leech set for herself once she settled into the 400 as one of her main events.
The first time she ran the 400 as a junior, she posted a time of 1:07.
Now she's in the mid-55s.
"I've been working really hard," Leech said. "I really wanted a school record before I graduated. So being able to get that during these meets made it so much less stressful because now I can focus and not worry about it."
Leech also runs the 200, the 800 and runs legs on Butler's 3,200- and 1,600-meter relay teams.
She doesn't mind the heavy workload.
The 400, though, is her niche, even though she has a love-hate relationship with it.
It's a grueling event.
"I love it because it's one lap. You're one and done," Leech said, smiling. "But then it's one lap of everything you have and those last 50 meters is rough."
Butler girls track and field coach John Williams said it's difficult to describe what Leech has meant to the team the last two seasons.
Leech, who will run at the University of Pittsburgh next year, helped the Golden Tornado to section and WPIAL championships this season.
"I don't know if I've ever seen anyone like her," Williams said. "I mean, she can just go. When it's time to go, she just goes. She's just scratching the surface on how good a runner she can be. Pitt's getting a gem with her.
"She has such a great heart," Williams added. "She comes from such a great family. It's hard for me to put words on her."
Leech has also been blessed with teammates such as Liz Simms and Maddie Tonini who have pushed her in the 400.
The trio have the top three times in the county this season in the 400.
"They push me a lot. We push each other," Leech said. "We're always side by side."
Leech is hoping to cut even more time off her mark in the 400 at the WPIAL Track and Field Championships Thursday at Baldwin.
"My target this season was 55," Leech said. "Now, I just want to keep getting better — the 54s. If I can get into the low 54s, I think that will get me gold at states."
Leech admitted the key for her is not thinking about it too much.
Just go out and run, she said.
"And win everything," Leech added.
"I just need to not stress about it," Leech said. "I'm a stresser and that usually just makes it worse."