Bringing the heat
Butler girls track rolls past rival NA
April 11, 2018 High School Track & Field

<![if !supportLineBreakNewLine]>
<![endif]>
<![if !vml]>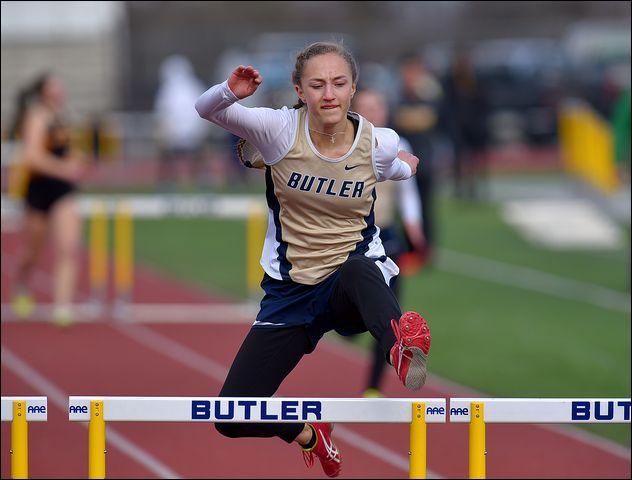 <![endif]>
Chesna Tomko runs the 300-meter hurdles during Butler's girls track tream victory over North Allergheny Tuesday. Tomko won the hurdle event and the Golden Tornado girls won the meet, 85-65.
DAVE PRELOSKY/BUTLER EAGLE
BUTLER TWP — The weather will heat up at some point, as will the competition among the WPIAL girls track and field elite.
For now, Butler coach John Williams has no complaints after watching his team improve its record to 5-0.
The Golden Tornado, the defending WPIAL Class AAA champions, used a lopsided edge in field events to pull away from rival North Allegheny on Tuesday, 85-65 at Art Bernardi Stadium.
The Tornado boys suffered their first loss of the season, a 90-60 setback to the Tigers.
Excluding field events, Butler led the Tigers by a modest 45-42 count. But the Tornado's 40-23 advantage off the track helped seal the win going away. The effort was led by Jena Reinheimer's victories in the discus and shot put. She placed first and third, respectively, in the events last spring at the WPIAL Championships.
"North Allegheny is always a strong team," said Williams. "They were second in the WPIAL last season. We could very well meet them at WPIALs again this year. We'll be better in another month and so will they."
Junior Liz Simms was part of four wins Tuesday for the Tornado. She took first place in the 400 and 800 runs and also was on the top 4x800 and 4x400 relay teams.
"She's a warrior," Williams said of Simms, who is one of many stars back from last season. But also encouraging to Williams is the performance of several freshmen.
That group included Chesna Tomko, who won the 300 hurdles and contributed to both relay wins. Allison Altman won the high jump and Lucy Link the triple jump. Gabby Boden ran the third leg of the 4x400 relay and Emma Stewart contributed points as well.
"It's been tough with the weather, but we tell the girls to go out and get 1-2 in events," said Williams. "If they can't win, at least get second. You look at what our freshmen did for us today. Man, that was big."
Doug Kostelansky and his teammates just missed qualifying for the state meet in the 4x800 relay last season.
"We're definitely motivated," he said. "We're all seniors and we have Noah Beveridge running the anchor for us."
Rob Hays ran in the relay last spring. In his place was Tim Porter on Tuesday, running with Kostelansky, Brett Brady and Beveridge. The foursome topped the Tigers with a time of 8:21.3.
"This early in the season, we're not worried about time," said Kostelansky. "We just want to win."
Butler's 4-1 start did not come out of the blue, at least not for Butler coach Rick Schontz.
"We've had a few pleasant surprises," he said, "but we knew we were going to be strong in distance events and jumps.
"It's a tough section. It seems that it's come down to us, Seneca Valley and North Allegheny for as long as I can remember. But I love the competition. You want to run against really good kids."
Both Butler teams will travel to Shaler on Tuesday.
Girls
Butler 85, North Allegheny 65
3,200 relay: Butler (Chesna Tomko, Maggie Welty, Erin Lemay, Liz Simms) 9:53.23; 100 hurdles: Plenter (NA) 16.55; 100 dash: Burton (NA) 12.76; 1,600 run: Savchik (NA) 5:16.4; 400 run: Liz Simms (B) 59.81; 400 relay: North Allegheny; 300 hurdles: Chesna Tomko (B) 47.56; 800 run: Liz Simms (B) 2:25.32; 200 dash: Burton (NA) 26.44; 3,200 run: Savchik (NA) 11:10.47; 1,600 relay: Butler (Chesna Tomko, Maddie Tonini, Gabby Boden, Liz Simms) 4:08.65
Shot put: Jena Reinheimer (B) 35-2; Discus: Jena Reinheimer (B) 132-2; Javelin: Benko (NA) 97-7; High jump: Allison Altman (B) 4-11; Long jump: Burton (NA) 16-4.5; Triple jump: Lucy Link (B) 33-9; Pole vault: LaRosa (NA) 9-0