Hurdling Her Grief
Wilbert helps Butler sweep WPIAL semis after joining family at her father's funeral
May 2, 2018 High School Track & Field
<![if !vml]>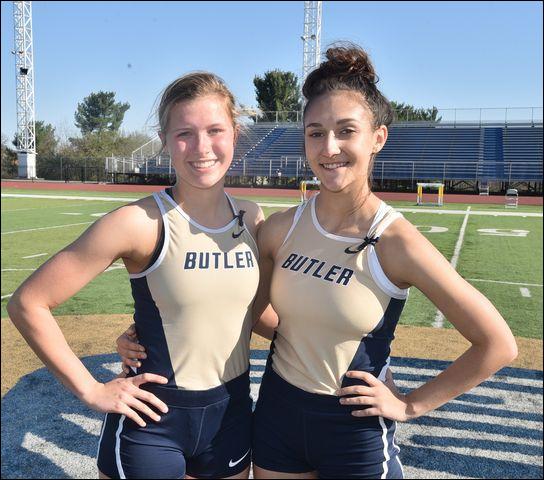 <![endif]>
Butler girls track team members Anna Baxter, left, and Tabby Wilbert wear blue bows Tuesday for Wilbert, whose father died over the weekend. The funeral was earlier in the day and Wilbert decided to compete. She won the 100-meter hurdles and her teammates showed their support by wearing the ribbons during the WPIAL AAA Team Track Semi-Finals at Art Bernardi Stadium.
JUSTIN GUIDO/ BUTLER EAGLE
BUTLER TWP — One may wonder how Tabby Wilbert's mind could have been on anything sports-related when in fact, the track at Art Bernardi Stadium was exactly where she needed to be.
Wilbert is a junior on the Butler girls track and field team. Her father, Neal, died Saturday morning after a battle with colon cancer and was buried Tuesday morning.
Just hours later, Tabby Wilbert not only competed in the 100-meter hurdles, she finished first overall in the event to help the Golden Tornado dominate their three opponents in the WPIAL Class 3A team semifinals.
"I saw her at the funeral home yesterday and told her to take all the time she needed," said Butler coach John Williams. "She told me that she wanted to run today. It gave her a chance to be out here with her buddies. Everybody on the team loves her. She's such a great kid."
Stricken with grief, taking part in Tuesday's meet was therapeutic for Wilbert.
"I missed track all of last week," said Wilbert, who was spending time with her father, who was in hospice care. "I knew coming out here today would get my mind off of things for a little while. I wanted to be there for my friends."
Her friends made sure they were there for Wilbert. A number of teammates attended Neal Wilbert's viewing Monday night. All members of the girls team wore blue ribbons on their uniforms Tuesday to show their support.
"We had a team meeting Monday to talk about the meet and who was going to be doing what," said Williams. "I brought up the idea of wearing ribbons and Maggie Welty immediately got on the internet and found that the color for colon cancer is navy blue. We went out and bought the material and my wife, Kathy, cut it into small pieces for the ribbons."
The show of support meant a lot to Wilbert.
"It shows they care," she said. "I'm glad I was able to contribute today."
Wilbert's teammate and friend, Anna Baxter, was moved by her desire and ability to compete.
"She's much stronger than a lot of people," said Baxter. "No matter how old you are, you can look up to Tabby. She's a role model.
"It was so different not seeing her at practices and meets. Everything she and her family were going through, it had to be a very emotional experience."
Butler's boys reached the WPIAL finals for the first time in three years, defeating Franklin Regional, Chartiers Valley and Kiski Area.
The Golden Tornado have a number of individuals with high hopes at both the district and state championships later this spring, but Tuesday was all about the team.
<![if !vml]>
<![endif]>
Butler's Sami Taoufik jumps over the bar in winning the high jump during the WPIAL AAA Team Track Semi-Finals Tuersday. The Golden Tornado boys and girls teams swept the meet.
JUSTIN GUIDO/ BUTLER EAGLE
"We have several kids who were not feeling well today," said Butler coach Rick Schontz. "Noah Beveridge, Brett Brady, Ryan Marcella ... but, they all went out there because we needed them.
"It means a lot to these guys to do well for each other. They believe in their ability to beat anybody."
Senior Cam Seybert was the overall winner in the 3,200-meter run.
"I'm a senior, so this was my last home meet," he said. "After the strong cross country season we had last fall, it was extremely important for us to do well as a team in track. Getting to the final means a lot."
The WPIAL team finals will be held at 4 p.m. Monday at Baldwin High School.
Boys
Butler 137.67, Kiski Area 12.33
Butler 89, Franklin Regional 61
Butler 96, Chartiers Valley 54
3,200 relay: Butler (Doug Kostelansky, Brett Brady, Aden Dressler, Noah Beveridge) 8:33.82; 110 hurdles: Bartolucci (FR) 15.79; 100 dash: Coleman (FR) 11.46; 1,600 run: Beveridge (B) 4:26.41; 400 run: Busche (FR) 51.71; 400 relay: Franklin Regional 44.31; 300 hurdles: Jake Wolfrum (B) 39.95; 800 run: Beveridge (B) 1:59.31; 200 dash: Coleman (FR) 23.26; 3,200 run: Cam Seybert (B) 10:19.43; 1,600 relay: Chartiers Valley 3:28.74
Shot put: Godfrey Panzarello (B) 42-11.5; Discus: Brady (CV) 121-3; Javelin: Novelli (CV) 130-10; High jump: Sami Taoufik (B) 5-10.5; Long jump: Shedd (FR); Triple jump: Isaiah Seybert (B) 41-3; Pole vault: Jack Codispot (B) 14-1
Girls
Butler 127, Chartiers Valley 23
Butler 126, Kiski Area 24
Butler 112, Franklin Regional 37
3,200 relay: Butler (Chesna Tomko, Maggie Welty, Erin LeMay, Liz Simms) 10:03.06; 100 hurdles: Tabby Wilbert (B) 17.0; 100 dash: Gabby Boden (B) 13.18; 1,600 run: Maggie Welty (B) 5:25.18; 400 run: Liz Simms (B) 59.93; 400 relay: Butler (Chesna Tomko, Gabby Boden, Maddie Tonini, Emma Stewart) 50.33; 300 hurdles: Anna Baxter (B) 47.95; 800 run: Simek (FR) 2:21.6; 200 dash: Moyer (KA) 27.64; 3,200 run: Thornton (CV) 12:40.19; 1,600 relay: Kiski Area 4:16.27
Shot put: Alyssa Eyth (B); Discus: Jena Reinheimer (B) 128-4; Javelin: Heidi Gross (B) 107-0; High jump: Ali Altman (B) 5-1.5; Long jump: Todero (FR); Triple jump: Todero (FR); Pole vault: Cooper (FR)