Repeat Performance
Butler girls win WPIAL team title again
May 8, 2018 High School Track & Field
<![if !vml]>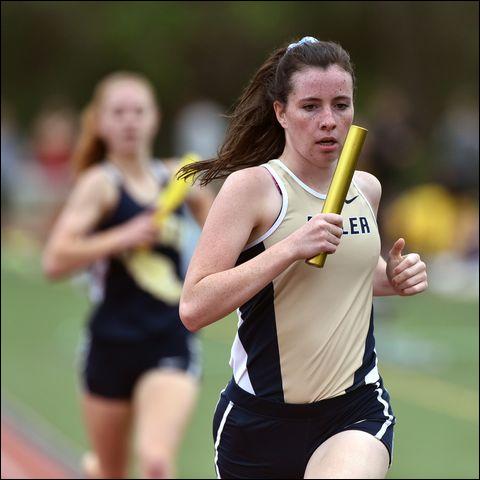 <![endif]>
Butler's Erin Lemay runs a leg of the girls 3,200-meter relay at the WPIAL Class AAA team championships Monday night at Baldwin. The Golden Tornado won the race and their second straight WPIAL title.
JUSTIN GUIDO/ BUTLER EAGLE
WHITEHALL — Unfortunately for the three teams facing Butler, there would be no upset in the WPIAL Class AAA team track and field championship meet.
Led by several standout efforts and solid depth in nearly every individual event, the Golden Tornado captured their second straight district crown with wins over North Allegheny (99-51), Hempfield (91-59) and Norwin (95-55) at Baldwin High School Monday evening.
"Before the meet, we were going over things, seeing who we could put where and if there were any lineup changes we needed to make," said Butler coach John Williams. "We were thinking we'd score about 86 points against all three opponents."
That certainly would have been enough to claim the championship trophy, but Butler put an exclamation point on this title.
"For us to score 90-plus points today, considering the competition, that's very impressive. We exceeded expectations today," Williams said.
For senior Maddie Tonini, being part of the Butler girls' 11th team title in program history carries a lot of weight.
"This means the world to me," she said. "So many girls helped us get here. As the defending champs, there was some pressure on us, but we trained all year, starting with the indoor season. We have confidence in ourselves."
Tonini was part of the winning 4x100 and 4x400 relay teams. The former, which also included Chesna Tomko, Gabby Boden and Emma Stewart, won as an underdog with a time of 49.89 seconds.
"Norwin and North Allegheny both had run times faster than us all season," Williams said. "That win helped us pull away from everybody."
<![if !vml]>
<![endif]>
Butler's Jena Reinheimer throws the shot put during the WPIAL Class AAA team track and field finals Monday at Baldwin. Justin Guido/Butler eagle
JUSTIN GUIDO/ BUTLER EAGLE
Tonini's teammates in the 4x400 were Tomko, Boden and Liz Simms.
Tomko, Erin Lemay, Simms and Maggie Welty started the meet off with a victory in the 4x800.
The Tornado received contributions from the experienced to several talented freshmen, such as pole vaulter Samantha Penrod.
Last Friday, she vaulted a personal-best 10 feet here at the Baldwin Invitational. She topped that with a 10-2 on Monday, tying for second place overall.
"I felt great today and was hoping for the best," she said. "I kept thinking, "Run fast and stay tall.'"
Penrod's effort helped her join the company of someone she has looked up to.
"Taylor Weaver helped last year's team win and vaulted over 12 feet," she said. "I didn't do that well, but am hoping to get to 11-3 soon."
Other overall winners for Butler were Simms in the 800 and Autumn Pettinato in the javelin.
Though individual competition remains both at the district and state level, this was Butler's last competition this season as a full team.
"It's bittersweet," Tonini said. "I'm overwhelmed with happiness because we won, but I'm also sad because I'm a senior. For the team, this is it for me."