Simply dominant
Butler girls cruise to 3rd straight Invite title; Reinheimer MVP
April 21, 2018 High School Track & Field
<![if !vml]>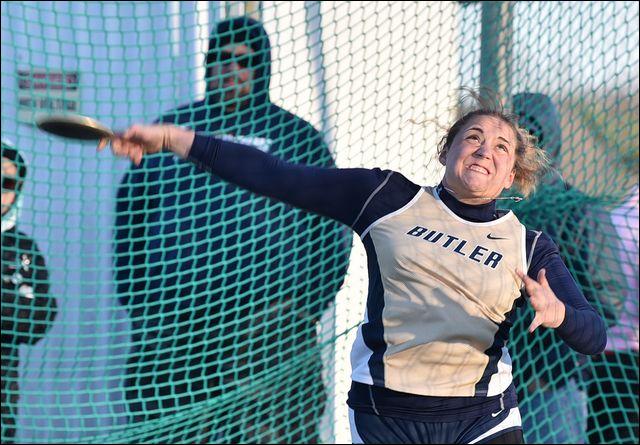 <![endif]>
Butler senior Jenna Reinheimer throws the discus on her way to winning that event Friday at the Butler Invitational. She was third in the shot put and won Field Event MVP.
JUSTIN GUIDO/ BUTLER EAGLE
BUTLER TWP — The Butler girls track and field program's imprint on its own invitational grew even deeper on Friday.
For the third straight year, the Golden Tornado bested the field to win the team title.
"This meet is strong, very strong," said Butler coach John Williams. "We have teams from West Virginia and Ohio .... from the WPIAL, District 9 and 10. This event has the most talent for this time of year. For us to win it again, it's awesome."
Butler earned victories in the 3,200- and 1,600-meter relays, the 300 hurdles and the discus. The Tornado's 70¼ points overwhelmed runner-up North Allegheny (49½).
"This is our hometown, our invite," said Butler's Liz Simms, who ran a leg on both winning relays. "It feels great to know that out of the (72) teams that show up here, we're the team that shines. It lets everyone know that we are a threat in the WPIAL and at states."
Simms' teammates in the 3,200 relay included Chesna Tomko, Maggie Welty and Gabby Boden. The foursome finished in 9 minutes, 29.81 seconds.
The 1,600 relay, which was comprised of Tomko, Maddie Tonini, Boden and Simms came in at 4:02.99.
Boden and Tomko are both freshmen.
"Chesna is super-fast," said Simms, "and for Gabby, it's second nature for her, too. It says a lot about the future of the program."
Tomko won the 300 hurdles with a time of 46.27. She has been a major contributor for a team with aspirations of a second straight WPIAL Class 3A team title.
"I'm definitely surprised. I didn't expect to do as well as I have," said Tomko, who was several meters out of first place with less than 100 meters remaining.
"I'm used to getting a burst at that point from running the 4x100," she said.
In her final Butler Invite, senior Jena Reinheimer earned her first gold medal here with a discus throw of 136-9.
"The facilities here are a bit uphill, so I'm happy with anything in the mid-130s," said Reinheimer, a Lehigh University recruit. "The goal is to peak around the state meet (in late May).
"I came close to winning the discus here last year, but fell just short."
Reinheimer also placed third in the shot put to earn Field MVP honors.
Other highlight from the girls at the Butler Invitational.
For much of this season, Kendall Grossman's effort in the pole vault has been either hampered or postponed altogether due to poor weather.
On Friday, the sun was shining on her in more ways than one.
Moniteau's sophomore reached a height of 11 feet, 1 inch to claim first place at the Butler Track and Field Invitational.
"The weather has been tough, but everybody has to deal with it," she said. "To win at an event this big, it definitely builds my confidence."
A decorated freshman campaign should also help in that area. Last year, Grossman won a District 9 Class AA title and placed second in the state. She has high hopes for the remainder of this season.
"The pressure is on," said Grossman, whose top height in the event is 11-4. "My dad is going to keep working with me. I just want to keep going and do my best."