Split Decision
Butler girls win, boys edged by North Allegheny in battle of heavyweight track teams
April 10, 2019 High School Track & Field
<![if !vml]>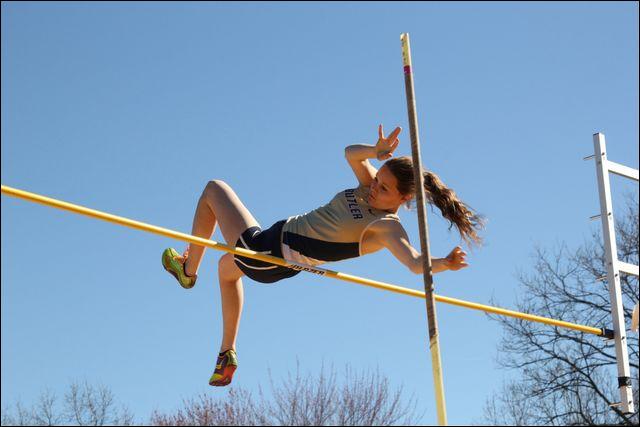 <![endif]>
Butler's Heidi Bednarz clears a height in the pole vault during the Golden Tornado girls track and field team's 90-60 win Tuesday afternoon over North Allegheny.
SEBASTIAN FOLTZ/ BUTLER EAGLE
WEXFORD — Just another day at the office for Liz Simms.
The Butler senior won the 400 and 800 meter events, anchored the 4x800 meter and 4x400 meter relay victories as the Golden Tornado girls defeated North Allegheny, 90-60, in a critical early season meet Tuesday at Newman Stadium.
 "I'm going to miss this rivalry," Simms said. "It's always such a big meet with a lot on the line.
"I appreciate having three awesome teammates running the (4x4) with me. It's one of the last events and we always feel like we have to win it."
Gabby Boden, Chesna Tomko and Taylor Timmons ran the three legs of the 4x400 in front of Simms. By the time she grabbed the baton, Butler had a huge lead.
"At that point, all I had to do was run my race," Simms said. "When it's real close when I get the baton, my heart starts pounding because I feel like it's all on me."
She had plenty of help in this meet.
Tabitha Wilbert and Anna Baxter both set personal records in the 100-meter hurdles and Baxter won the 300 hurdles. The Tornado's Emma Stewart and Gabby Boden finished second and third in the 100 meters.
"We picked up 17 points in the first three events on the track," Butler girls coach John Williams said. "That was huge for us."
Butler swept the discus and pole vault events to cement the team win.
"Andrea Jones placed third for us in the discus and she had never scored a varsity point before this meet," Williams said. "Those points are so important in a competitive meet like this.
"You need your superstars, but you also need those second and third-place points to win."
<![if !vml]>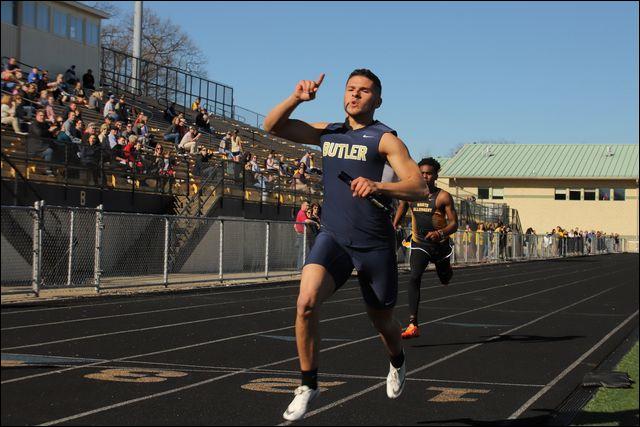 <![endif]>
Butler's Ryan Marcella celebrates after crossing the finish line ahead of North Allegheny's Joey Porter Jr. to help the Golden Tornado 400-meter relay team.
SEBASTIAN FOLTZ/ BUTLER EAGLE
Girls
Butler 90, North Allegheny 60
3,200 relay: Butler 9:53.75; 100 hurdles: Tabitha Wilbert (B) 15.74; 100 dash: E.Naughton (NA) 12.53; 1,600 run: K.Misutka (NA) 5:20.37; 400 run: Liz Simms (B) 1:00.01; 400 relay: Butler 50.44; 300 hurdles: Anna Baxter (B) 47.0; 800 run: Liz Simms (B) 2:25.41; 200 dash: Gabby Boden (B) 26.96; 3,200 run: H.Lindgren (NA) 11:36.54; 1,600 relay: Butler 4:15.19
Shot put: Paris Johnson (B) 32-3.5; Discus: Sarayne Forbes (B) 111-10; Javelin: Autumn Pettinato (B) 110-0; High jump: E.Wiethorn (NA) 5-0; Long jump: Emma Stewart (B) 16-5.5; Triple jump: J.McConnell (NA) 33-7.5; Pole vault: Samantha Penrod (B) 10-3