Club Vs. Community?
August 22, 2020 High School
Advertisement | Advertise Here
<![if !supportLineBreakNewLine]>
<![endif]>
<![if !vml]>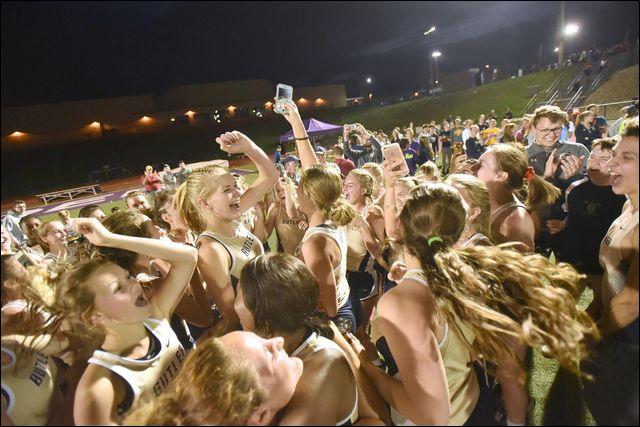 <![endif]>
The Butler High School girls track team, celebrating a WPIAL championship here, is one of a number of high school teams sharing athletes with club programs in different sports.
BUTLER EAGLE FILE PHOTO
Club and community ... or club vs. community?
When it comes to youth sports, private club teams are more prevalent than ever. Community high school teams have been around for decades.
Longtime Butler High School track and field coach Mike Seybert admits that "club sports have grown in a big way in our country."
He also wonders, when it comes to paying to play for a club team in any sport, how much is too much?
"It can be an incredible experience for any and all sports," Seybert said. "The coaching could be better and the competition could be better — meeting a new group of friends and widening family friendships.
"If selected to a club baseball team for the fee of $2,000 to be with kids at the same skill level of you, and to be coached by a coach that has been to the next level, if able to afford this, it can be a great experience.
"If you have to pay one of the coaches $100 an hour for mandatory one on one instruction each week or you won't be selected back on the same squad next year ... not so good," Seybert added.
Andrew Gillan, who helps coach in the Butler school girls soccer system, started the Northern Steel club soccer program in the 1990's.
"There was a need for it at the time," Gillan said. "The nearest club program was the Pittsburgh Strikers, in the Hampton-Fox Chapel area. We had four or five Butler kids go down there, but not many.
"We felt we needed something closer to home, a club program kids from Butler, Knoch, Freeport, Slippery Rock, Grove City, etc., could go to."
Gillan admitted the cost of some club programs has risen dramatically.
"We used to pay our (club) coaches $600 for the whole season," Gillan said. "They're making much more than that now."
Numerous high school coaches also coach their own club programs. Butler boys soccer coach Troy Mohney and girls volleyball coach Meghan Lucas do so. So do Mars girls soccer coach Blair Gerlach and Seneca Valley assistant wrestling coach Joe Montalbano, to name a few.
Butler boys basketball coach Matt Clement says it's all part of the game today.
"As a coach, you have to accept it and work with it," he said. "Otherwise, you may not get the kid at all. Connor Ollio was a strong (basketball) player for us, but his prime sport was obviously baseball.
"If he had something going on with club baseball that prevented him from getting to open gym or one of our practices, you let him fulfill the club commitment. You have to support his main sport."
Ollio is now at the University of North Carolina on a baseball scholarship.
"It comes down to a juggling act," Gillan said. "Young athletes should get the best of both worlds. They should be able to get the benefits of club coaching and playing while being able to play multiple sports.
"People need to work with each other that way."
Lucas agreed there is give-and-take involved with coaching.
"I haven't had many conflicts with club sports," she said of coaching Butler volleyball. "The club volleyball season picks up after the high school season.
"Basketball can overlap a little bit. Parents need to know where their kids are at athletic-wise and whether the investment in playing club would be beneficial to the child. Obviously, you want what's best for each kid and that can be different things."
Jim Kopac's daughter, Abigail, played volleyball at Knoch and travel softball. His son, Rocky, played travel basketball from age 8 to 14.
"Travel involves a lot of weekend tournaments, which fit in confortably with the regular (school) schedule," Kopac said. "When my daughter played at Knoch, all six starters on the volleyball team played club during the summer. It's very prevalent."
Former Butler track standout and Golden Tornado girls track coach Annessa Steele witnessed a club sport cost her team a critical section meet against North Allegheny one year.
With just a few events left in a tight meet, two of Butler's top point-getters left the site because they had to get to a club soccer practice.
"Those girls told me they weren't allowed to be late for practice. They wouldn't be able to play otherwise," Steele recalled. "I explained that we needed them, they were part of our team and I couldn't tolerate them leaving the team.
"Even with the premise they may be off our team if they left, those girls still left for soccer practice. I know situations like that put kids in rough spots. Their parents are shelling out a lot of money for club."
Butler wound up losing that girls track meet to North Allegheny.
Gillan said that if "club programs were free, parents and kids wouldn't be that vested in them.
"If there was no charge, they wouldn't care as much if time was missed. There's a bit of a Catch-22 there. If you don't charge as much, they don't care as much."
Kopac said private lessons for baseball "could run $80 an hour. That's pretty steep."
Steele said cost for her 8-year-old son to play travel baseball totaled close to $2,500.
"The numbers can get crazy," she said.
She added that club sports "can be awesome for the Division I caliber athlete. But in the long run, work ethic and teamwork are critical to being successful. Sometimes those values are lost along the way."
Seybert fondly recalled his youth, when longtime volunteer coaches like Harry Leyland were all over the youth sports landscape.
"How much was Coach Leyland paid? Nothing, except a lifelong amount of respect and incredible memories. Our baseball leagues were coached by fathers, or awesome people who wanted to give to our youth," Seybert said.
He pointed out that 90 percent of Butler's track and field roster also compete in other sports at the school.
"We couldn't win WPIAL (track) titles if we didn't have athletes from over 20 other sports and activities representing their school and their community," Seybert said. "Not an all-star team from nine different schools.
"There should never be a signed contract for a 12-year-old. Never."