Butler girls track wins own invitational for 6th straight
April 23, 2022 Last Updated: April 22, 2022 10:49 PM High School
<![if !vml]>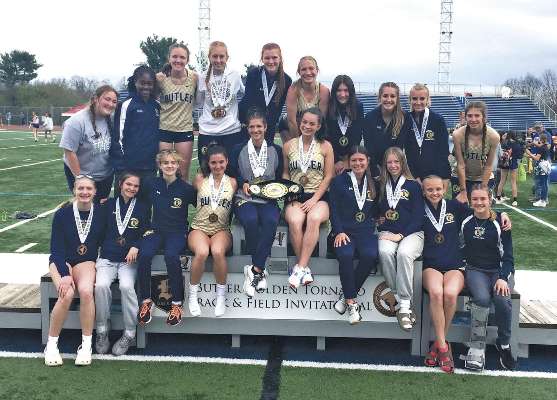 <![endif]>
Butler's girls track and field team captured its sixth straight championship at the Butler Invitational. Derek Pyda/Butler Eagle
<![if !vml]>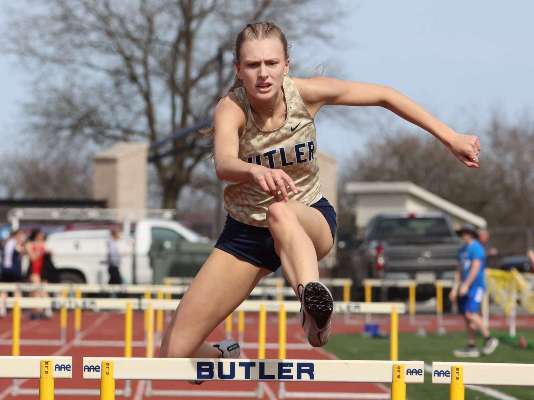 <![endif]>
Butler's Emma Lehman competes in the 300-meter hurdles at Friday's Butler Invitational. Lehman placed sixth in the event, fourth in the 100 hurdles and ran a leg on the winning 4x100 relay team to help the Golden Tornado win their own invite. Seb Foltz/Butler Eagle
BUTLER TWP — As four-time defending WPIAL champion, the Butler girls track and field team does not often taste defeat and Thursday's loss to section rival North Allegheny was a bitter pill to swallow.
The Golden Tornado had a perfect response at Art Bernardi Stadium Friday afternoon.
Megan Baggetta won the triple jump, Alli Morrow the long jump and the 4x100-meter relay team sprinted to another victory as Butler claimed its sixth straight team championship at the 20th annual Butler Track and Field Invitational.
The Tornado totaled 83 points, with Norwin placing second (75½) and Grove City third (39).
"There was some emotion for the girls to get through today," said Butler coach John Williams. "We're not used to that (losing) and I didn't know what to expect. But we know we've got competitors and this is a big-meet atmosphere.
"It's great to see us get that (championship) belt."
Morrow teamed with Chloe Weiland, Emma Lehman and Aubrey Rock to win the 400 relay with a time of 50.75. Mt. Lebanon was a close second at 50.94.
Lehman and Morrow were part of Butler's quartet that won here last year.
"I ran the second leg (Friday) and when I got the baton from Chloe, we were about right where we should've been," Morrow said. "A couple of the other teams had trouble with that first handoff and we gained some space there.
"Our goal was to go south of 51 (seconds) and we did that. After running yesterday in a big meet, my legs are exhausted, but we take a lot of pride in this meet. It's always good when we can wear the Butler name well on our shirt."
Morrow had enough gas left in the tank to later earn first place in the long jump with a leap of 17 feet, 10 inches.
"I didn't compete in the long jump at the start of the season because of a knee injury and jumping is about the worst thing you can do to your knees," she said.
Without much work in the event this season, Morrow was pleased with her effort.
"I didn't beat my personal best (17-10¾), but I've competed in eight events the last two days. I have to be happy with it."
Baggetta continued her strong junior season. At the beginning of the month, she broke the school record in the triple jump with a distance of 38-5½. She went 37-3 Friday to win the invite title.
The top three in the event were separated by just ¾ of an inch. Obama Academy's Leslie Manson was runner-up at 37-2¾ and Baggetta's teammate, Aubrey Rock, came in third at 37-2¼.
"This meet provides good competition and with the biggest meets of the year coming up, it shows you where everybody else is at," said Baggetta, who was grateful the weather improved from the snow showers earlier in the week. Friday's meet was held with temperatures in the mid-60s.
"Personally, I like it to be about 75 degrees, but I can't complain about this. It's almost ideal."
The only other Butler County athlete to win was Knoch sophomore Madison Hunt, who grabbed first place in the shot put with a throw of 35-4½.
"I'm a lot stronger than I was last year and came in here thinking I could win," Hunt said. "Then I saw all the flights (60 throwers) there were and I told myself that I had to be realistic.
"I'm very happy to win."
Hunt's best effort in the event is 37-4, achieved last week.
"I want to get to states and hit 40 feet this season," she said.
The Butler Boys Invitational will be held Saturday.
Following are the Butler County athletes who earned a medal by placing in the top eight at Friday's Butler Girls Track and Field Invitational.
3,200 relay: 3-Butler (Madison McGarrah, Aubree Tack, Krislyn Green, Jen Cichra) 10:04.41; 100 hurdles: 4-Emma Lehman (B) 15.89; 100 dash: 2-Tehya Dave (NC) 12.84, 3-Alli Morrow (B) 12.97, 7-Audrey Kura (SR) 13.33; 400 run: 7-Morgan Duker (Mars) 1:01.63; 400 relay: 1-Butler (Chloe Weiland, Alli Morrow, Emma Lehman, Aubrey Rock) 50.75, 7-Karns City (Ashley Fox, Natalie Hess, McKenna Martin, Rossi McMillen) 52.39; 300 hurdles: 6-Emma Lehman (B) 48.28, 7-Lauren Bowden (B) 49.04; 800 run: 6-Jen Cichra (B) 2:25.29; 200 dash: 6-Audrey Kura (SR) 26.95; 1,600 relay: 8-Butler (Adraya Baxter, Avalon Deitz, Jen Cichra, Ari Morrow) 4:20.73
Shot put: 1-Madison Hunt (K) 35-4½, 5-Abby Kitchen (B) 32-0; Discus: 4-Reese Skiba (F) 104-0, 5-Carlie Baker (B) 100-2; Javelin: 3-Megan Penrod (B) 116-1, 4-Karlee Buterbaugh (K) 115-9, 5-Ashley Fox (KC) 111-0; High jump: 2-Gianna Bedel (SR) 5-1, 6-Channing Popovich (B) 4-11, 7-Katie Ban (B) 4-11; Long jump: 1-Alli Morrow (B) 17-10, 5-Aubrey Rock (B) 17-2; Triple jump: 1-Megan Baggetta (B) 37-3, 3-Aubrey Rock (B) 37-2¼