Setting the standard
Butler's Baggetta breaks school's triple jump record at double-dual
April 07, 2022 Last Updated: April 06, 2022 10:57 PM High School
<![if !vml]>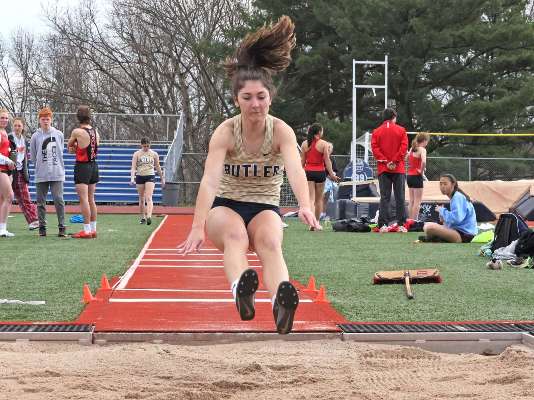 <![endif]>
Butler's Megan Baggetta competes in the long jump against North Hills and Fox Chapel. She later broke a 35-year old school record in the triple jump, helping the Golden Tornado cruise to victory against both opponents. Seb Foltz/Butler Eagle
BUTLER TWP — Breaking Butler's girls triple jump record was certainly on Megan Baggetta's to-do list this season, but she didn't think she would do it the first week of April.
The junior's first attempt in double-dual meet against Fox Chapel and North Hills was good for 38 feet, 5½ inches, breaking Leatha Dudeck's effort of 38-2½, which had been the school standard since 1987.
"I knew it was a good jump, but I didn't think it was that good," said Baggetta. "I'd been dealing with an injured muscle in my lower back since last year and didn't have a great indoor season over the winter, but I think we finally figured it out. I'm excited about the rest of the season."
The performance helped Butler sweep both the Indians and Foxes and the boys team matched the double wins.
As a sophomore, Baggetta turned in Butler County's best effort in the event at 37-7 while placing fifth at WPIALs and eighth in the state.
She was frustrated by the injury throughout the off-season.
"She missed a lot of training during the indoor season, but she just broke a school record that had stood for 35 years," said Butler coach John Williams. "Everything seems to be falling into place for her.
"She just needed to believe in herself ... she's believing now."
Baggetta achieved the record on a cool and blustery day at Art Bernardi Stadium. That bodes well for her in the coming weeks when temperatures, hopefully, are warmer.
"I want to win WPIALs and place in the top five at states," she said.
Butler's girls are four-time defending WPIAL champions and Williams is hoping his team has the right mix to challenge for the crown again.
"That's in our DNA. That's where we want to be," he said. "We did lose 11 letter winners from last year's team, but we have a good group of freshmen this season."
One of them is Aubrey Rock, who won first place in the long jump Wednesday with a distance of 17 feet, 4½ inches. She also placed first in the triple and second in the long jump at last week's Butler County Classic.
"I have a gymnastics background and a lot of the motion involved with jumping just comes naturally for me," Rock said. "I'd say I'm pretty even right now between the triple and long and I just want to keep improving."
In the boys meet, Tornado senior Presley Ornelas took first in both hurdle events while also helping the 4x100 relay team to victory.
He was ranked ninth in the state prior to the PIAA meet last spring, but placed 19th and aims to finish his high school career on a high note.
He got off to a good start, running the 110 hurdles in a personal-best time of 15.22 seconds at the recent Butler County Classic.
"I just want to stay conditioned and work my way through the whole season," Ornelas said. "I've had a cold lately and can't wait to feel good.
"My goal in the 110s is to get down to the low 14s by the end of the season. I'm working on keeping my body square throughout the entire race."
"To see where he came from as a freshman, just an average athlete, to now, it's due to his work ethic," said Butler coach Mike Seybert. "He works 12 months out of the year and is very hungry."
Ornelas was a member of Butler's indoor team that won the state championship last month.
"We have several kids who were part of that team who we are pulling back a little bit here at the start of the season," said Seybert. "So there's a lot of open doors for younger kids to step in right now and contribute."
Both Butler teams (2-0) will compete at the Tri-State Track Coaches Association meet at West Mifflin Saturday before hosting Pine-Richland Monday.
BoysButler 109, North Hills 41Butler 127, Fox Chapel 23
3,200 relay: Butler (Raine Gratzmiller, Ryder Kriley, Isaac Busler, Carson Knight) 8:18.01; 110 hurdles: Presley Ornelas (B) 15.51; 100 dash: Guinness Brown (B) 11.07; 1,600 run: Sage Vavro (B) 4:34.27; 400 run: Lucas Slear (B) 50.69; 400 relay: Butler (Presley Ornelas, Guinness Brown, Landon Lacey, Brayden Young) 43.43; 300 hurdles: Presley Ornelas (B) 41.56; 800 run: Carson Knight (B) 2:15.23; 200 dash: Brayden Young (B) 22.68; 3,200 run: Ben Lyons (B) 10:27.73; 1,600 relay: North Hills 3:31.84Shot put: Fox Chapel 45-10½; Discus: Jake Pomykata (B) 135-10; Javelin: Fox Chapel 158-0; High jump: Luke Campbell (B) 5-10; Long jump: Ryan Porch (B) 22-4; Triple jump: Luke Campbell (B) 42-2½; Pole vault: Ryan Bernardi (B) 12-3
GirlsButler 129, North Hills 21Butler 116, Fox Chapel 33
3,200 relay: Butler (Aubree Tack, Maddie McGarrah, Ava Brewster, Jen Cichra) 10:29.28; 100 hurdles: Emma Lehman (B) 15.71; 100 dash: Alli Morrow (B) 12.85; 1,600 run: Kelley (FC) 5:34.56; 400 run: Krislyn Green (B) 1:04.83; 400 relay: Butler (Chloe Weiland, Alli Morrow, Justine Forbes, Aubrey Rock) 51.89; 300 hurdles: Emma Lehman (B) 47.31; 800 run: Jen Cichra (B) 2:35.82; 200 dash: Heely (FC) 27.97; 3,200 run: Ava Brewster (B) 12:02.36; 1,600 relay: Butler (Emma Lehman, Adraya Baxter, Krislyn Green, Avalon Dietz) 4:21.66Shot put: Abby Kitchen (B) 31-0; Discus: Baker (B) 95-6; Javelin: Megan Penrod (B) 99-4; High jump: Troutman (FC) 5-3; Long jump: Aubrey Rock (B) 17-4½; Triple jump: Megan Baggetta (B) 38-5½; Pole vault: Lexis Holt (B) 8-0