Setting Sail For Shipp
Butler volleyball senior Lucas overcomes ATV accident, takes Shippensburg scholarship
November 15, 2018 Other High School Sports
<![if !vml]>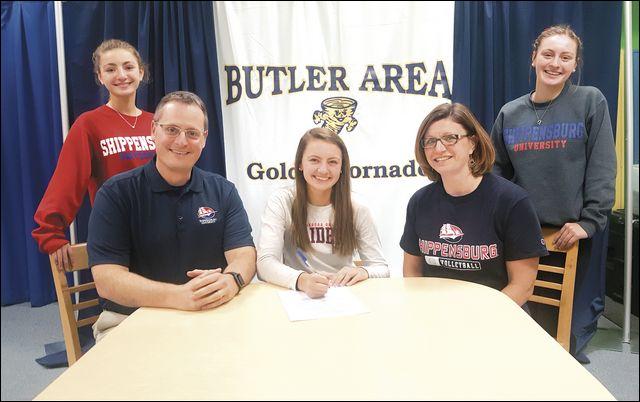 <![endif]>
Butler senior Maria Lucas, center, signed a letter of intent to continue her academic and volleyball career at Shippensburg University.She is flanked by parents Craig and Meghan Lucas. Two of her sisters, Sarah, far left, and Gabnrielle, far right, were also on hand for the signing.
JOHN ENRIETTO/ BUTLER EAGLE
BUTLER TWP — When she decided on Shippensburg University as her academic and volleyball destination, Maria Lucas figured she made the right choice.
She found out for sure days later — from a hospital bed.
The Butler senior defensive specialist — and daughter of Golden Tornado volleyball coach Meghan Lucas — verbally committed to Shippensburg in May. She was involved in a serious ATV accident four days later.
"We took a turn too sharp and the ATV landed on my right leg and dragged me," Maria recalled. "I had road rash from my ankle up to my hip."
Worse yet, she required two surgeries on her leg and was in a wheelchair for the next month and a half.
"I didn't know what to think," Maria said. "I knew it was bad. I worried about my scholarship, whether I'd even be able to play volleyball again.
"I was scared. The scholarship, playing ... I thought both might have been gone."
Shortly after the accident, her mother called Shippensburg volleyball coach Leanne Piscotty.
"I figured I had to let her know what had happened," Coach Lucas said.
Moments later, Piscotty was on the phone with Maria.
"We probably talked for 30 minutes about my health, how I was doing," Maria said. "The scholarship never came up. She was concerned about me. She really cared.
"That's what convinced me I made the right choice."
Craig Lucas, Maria's father, said the Shippensburg coach "really put Maria at ease, telling her she'd be OK, that she's seen things like this happen before and people bounce back.
"If that's the way she treated her in the face of adversity, I can imagine how she'll be treated when things are going well and she's out there. I feel like my daughter will be in good hands over the next four years," Mr. Lucas added.
Maria also considered Slippery Rock and Bloomsburg before deciding on Shippensburg. She has a 3.5 grade point average in high school and plans on being a business marketing major in college. She signed her letter of intent with Shippensburg Wednesday.
"I fell in love with the campus and the team was so welcoming when I visited," she said. "It felt like a family."
Maria's doctor was a volleyball player and "he gave me exercises geared toward volleyball to speed up my recovery," she said.
Projected to be in a wheelchair for two and a half months, she was on crutches after a month and a half. She had to wear a boot after that.
By late August, Maria Lucas was back in the game.
"She didn't step on a volleyball court all summer," her mother said.
"I never doubted she'd bounce back," her father said. "Maria is a leader in so many ways. She has a quiet dedication about her. That accident wasn't going to stop her."
Maria started with two of her sisters — junior Gabrielle and sophomore Sophia — in Butler's lineup this fall. The Golden Tornado reached the WPIAL playoffs for the second successive season and won their first playoff game in 12 years.
Butler was 0-14 in 2015, when Maria started as a freshman.
"I'll never forget that (four-year) experience. It was awesome," she said. "And this was the first year I started on the varsity level with my sisters.
"To enjoy the success we had this year is something I'l never forget. And I'm excited about the team's future. They (Butler volleyball) are going to do some great things."
Maria plans on doing some more great things herself. Shippensburg is 25-7 this season and has reached the PSAC Tournament 12 years in a row.
Piscotty, in her 15th year as coach of the Red Raiders, has 346 career wins. She led her team to the 2015 PSAC title and is a four-time conference coach of the year.
"They'll have a senior libero who Maria can learn from next year, then she can step in," Coach Lucas said. "That's the plan, anyway."
"My immediate goal is to play some as a freshman," Maria said. "I want to help the team right away."
The determination is certainly there.
Just ask her doctors.