Tasting Success
Butler girls volleyball tops Mars for 1st victory
September 17, 2019 Other High School Sports
<![if !vml]>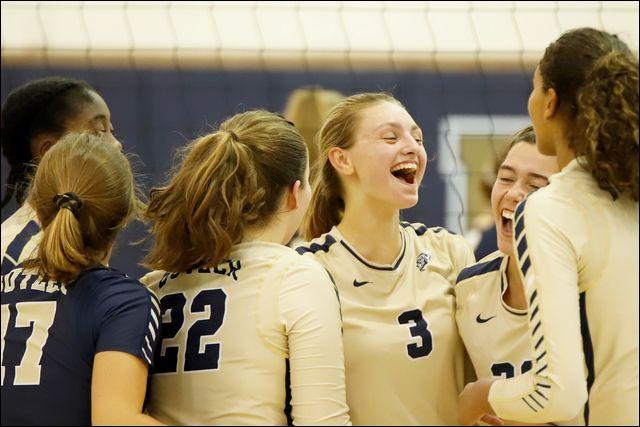 <![endif]>
Butler's girls celebrate their first volleyball win of the season, a 3-1 decision over Mars in the Golden Tornado gym.
SEB FOLTZ/BUTLER EAGLE
BUTLER TWP — With two freshmen and two sophomores in the starting lineup, the Butler girls volleyball team is in the midst of a youth movement.
And also in the middle of a quest.
To learn.
To learn how to win.
After falling 25-16 in the first set against Mars, it looked as if it would be another tough lesson for the Golden Tornado.
But Butler responded and won the next three sets against a Planets' team that is also young in a 16-25, 25-19, 25-20, 25-22 victory.
It was Butler's first win of the season.
A welcome reward.
"Each match it's getting better," said Butler coach Meghan Lucas, whose team played well in losses to section powers Pine-Richland and North Allegheny. "There's some growth. I told them that's what we have to do all season and they can't get upset we lost our first three.
"They need to understand the first three they lost were great matches," the coach added. "It's tough when you see the L and not the W at the end. But that's the nature of our section."
Mars took control early in the first set thanks to a big effort at the net from junior Beth Long.
Long had seven kills to help the Planets to a 1-0 lead.
But midway through the second set with a 12-9 lead, things began to unravel for the Planets.
That's when Butler freshman Ava Carney got into a rhythm.
The tall and lanky Carney — just 14 years old — had five of her match-high 17 kills down the stretch in the second set to even the match.
Mars could never really thwart Butler's momentum after that rally.
"Because they're young, we feel like mentally they can be a little tougher," said Mars coach Tami Caraway, who had three sophomores on the court against Butler. "We're working on that, sustaining an intensity level for a full match and not letting teams back in."
There was little doubting Butler's intensity.
Sophomore Taylor Welter was also a force at the net for the Golden Tornado with 12 kills.
Junior Sophia Lucas added five aces, four kills and 15 digs.
Butler (1-3) had a knack of keeping points alive by diving all over the court. The Tornado also blocked well at the net, thwarting a tall front row for the Planets.
"When you play Meghan's teams, they are always going to play hard," Caraway said.
Mars (3-2) got 15 kills from Long, 10 kills from Emily Hayward and eight kills from Katie Schlegel.
Long was particularly impressive with her play all over the court.
So was Hayward. Those two are the unquestioned core for the Planets.
"She's a great passer," Caraway said. "She plays good defense. She blocks well. She can play in the middle. She can play on the right, on the left.
"Emily is the same way," Caraway added. "She can play anywhere. We have athletes who can play all the way around."
Serving was also a big reason for Butler's victory.
The Tornado had a number of aces and also served well enough to keep Mars off system on offense.
Butler also did a good job stunting Mars' ability to string points together after the first-set loss.
"Young kids need to understand that's volleyball — it's a game of runs," Coach Lucas said. "It's a game of points in a row. You have to be able to identify it, end it and start one of your own."
Both coaches said they saw some growth from their teams during the match.
With rosters as young as the ones Caraway and Lucas have — most of the players on the court at times weren't old enough to drive — a match like this one took on importance greater than the outcome.
"We talked early in the season about having a growth mindset," Caraway said. "Everything we do — the good things that happen and the bad things that happen — is an opportunity to get better."