Butler golfers enjoying landmark season
Golden Tornado enter WPIAL Individual Championships coming off 1st section title in 23 years
John Enrietto Eagle Sports Editor
September 22, 2023 Last Updated: September 21, 2023 09:45 PM Sports
<![if !vml]>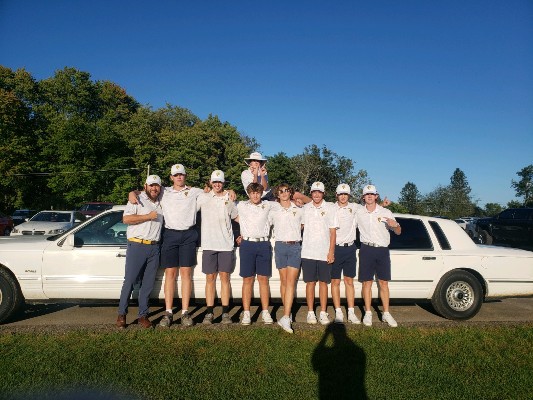 <![endif]>
Members of the 2023 section championship Butler boys golf team include, from left, coach Travis Shingleton, Blake Scott, Ben Hohn, Jase Renwick, Boden Lenyk, Hunter Swidzinski, Anthony Trombatt and Codi Fennel. Levi McClellan is on top of the car. Wyatt Kos is not pictured. Submitted Photo
BUTLER TWP — Potential can be found in defeat — and realized with hard work.
Butler's varsity golf team proved such a thing this season.
Powered By<![if !vml]>
<![endif]>
The Golden Tornado dropped their first section match of the year to Seneca Valley, falling by five strokes. While the golfers may have been discouraged, Butler coach Travis Shingleton was encouraged.
"I saw the kind of talent we had," Shingleton said. "We play in the most competitive section in the WPIAL. Pine-Richland, Seneca Valley, Mars, North Allegheny, North Hills ... all of those teams are capable of every golfer shooting below 40 in any given match."
Butler wound up winning the section with an 8-2 record, 11-2 overall — with six golfers averaging below 40 for the season. It marked the Tornado's first section golf crown in 23 years.
"It's been too long, especially looking at all of the golf talent that's come through Butler," senior Hunter Swidzinski said.
"I'm glad we could be a part of this," fellow senior Wyatt Kos said.
Swidzinski led Butler with a nine-hole average of 35 and won the individual section tournament for the second successive season. Kos shot an average of 37. Both lowered their averages by a stroke from last year.
Freshman Levi McClellan and sophomore Jase Renwick averaged 38 while sophomores Boden Lenyk and Blake Scott averaged 39. All six Butler golfers qualified for the WPIAL Individual Championships.
"I don't think that's ever happened before," Swidzinski said.
Swidzinski is the son of Sean Swidzinski, PGA club pro at Olde Stonewall. McClellan is the son of Slippery Rock Golf Club pro Rob McClellan. Kos' father, Dan Kos, is a member at Slippery Rock Golf Club.
Hunter said he played a lot of baseball before turning more toward golf his sophomore year in high school.
"A lot of us played in the PGA Junior League together," Kos said. "We've been playing golf for a lot of years and that's definitely helped us at the high school level."
When the Tornado aren't playing a match, they're usually out practicing. They hit golf balls every day.
"The culture of this team put us over the top this year, " said Shingleton, in his 10th year as Butler golf coach. "They saw the talent in each other, believed in each other, then put in the hard work to back it up.
"Even on weekends, these guys call each other up and arrange to get together on a golf course. There are so many affordable, quality golf courses in Butler, there's no reason for the high school not to have a good golf team."
The coach said Swidzinski didn't shoot higher than 37 all season. During the summer, the golfer spent time at Olde Stonewall every day, either playing a round or hitting balls on the driving range.
"Sean has had a tremendous impact on him," Shingleton said. "When Hunter does hit a bad shot or have a round he's not happy with, he's back ou t there working on his game immediately.
"He and Wyatt have been fantastic leaders for our younger golfers. They showed them the work ethic and the young guys have responded."
Swidzinski and Kos remember their freshman golf seasons with the Tornado.
"Our upperclassmen that year were juniors," Kos said. "Nobody put the work in that year like we have this year. That team didn't take the game seriously enough."
"We weren't all that good and we saw why," Swidzinski agreed. "We didn't put the work in. We've been working at it ever since. This is a great way to go out."
Kos is looking to play golf at either North Carolina State or Penn State in college. He wants to major in professional golf management. Swidzinski has hopes of playing collegiate golf as well, but is unsure of his destination.
"Hunter is so consistent and his grade point is over 4.0," Shingleton said. "College programs should be all over him. I can't figure that out. We may have to put his name out there, but he'll be playing somewhere next year.
"With all these young guys coming back and younger ones coming up, we're going to be fine for the next few years, hopefully."