Stingy Strobel
Butler goalie drawing attention in NAPHL
November 8, 2018 Other High School Sports

<![if !supportLineBreakNewLine]>
<![endif]>
<![if !vml]>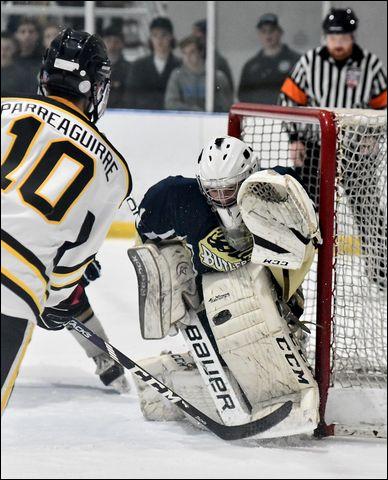 <![endif]>
Butler High School goaltender Connor Strobel is also shining as a member of the Esmarck Stars of the North American Prospects Hockey League this season.
SUBMITTED PHOTO
BUTLER TWP — Getting a puck behind Connor Strobel is doing something — because few have done it.
The Butler junior goaltender has stopped 91 of 97 shots in his two games so far this season with the Golden Tornado. He is 1-1 with a 2.01 goals-against average.
And he's doing even better out of town.
The 6-foot-2, 170-pound Strobel alsio plays for the Esmarck Stars of the North American Prospects Hockey League (NAPHL). Esmarck is based out of New Kensington.
"This is my first season with them," Strobel of the Stars. "I played for the Pittsburgh Icemen the past two years.
"We played (Esmarck) and I was impressed with their program. I heard they needed a goaltender, so I decided to try out and I made it."
Strobel has made quite an impression as well.
He was named the Apex Learning Virtual School Peak Performer U16 Number one Star Goaltender in the NAPHL for the month of September.
Strobel posted a pair of shutouts during a weekend of NAPHL competition in Blaine, Minn., in late September. He turned aside 27 shots in a 2-0 win over the Janesville Jets and all 20 shots in a 3-0 triumph over the Iowa Wild.
NAPHL play requires weekend trips to different sites across the country.
"We also make trips to Texas, Michiogan and Connecticut," Strobel said. "There are 10 teams in the league and they are all high caliber.
"It was exciting to get that honor and play like that. This league gives players a lot of exposure. Division I college and junior league scouts are always there."
Esmarck 16-under head coach Yuri Krivokhija said in a statement on the Stars' website that "Connor was outstanding. He gave us a chance to win both games and that is all you can ask from your goaltenders."
The NAPHL has each team play four games in a weekend. Strobel splits those games with another goaltender. League play consists of six weekends.
"My strength is being aggressive with the puck, moving from side to side and using my pads," Strobel said. "I need to work on playing the puck and talking to my teammates more."
Butler coach Mavrik Goepfert may not like losing Strobel to a few of his weekend travels, but said it's good for the goalie's budding career in the sport.
"The exposure is nice," Goepfert said. "That league gives him exposure all over the country. The games are played in a totally different atmosphere and that's great for Connor.
"These experiences are making him a better goaltender. There's no question about that. Connor is very focused in the net and I know he's going to have a big year for us."
Strobel has been playing hockey since age 7 and has always been a goaltender.
"It's the best position on the ice as far as I'm concerned," he said. "You get to save your team. You're the last line of defense. I love that."
He said he wants to extend his hockey career beyond high school.
"I want to go as far as I can," he said. "Junior hockey, college hockey, just play the best I can.
"Junior hockey would be a great opportunity, if I'm drafted by one of those teams. Leaving home would be a hard decision. It's one I'll have to deal with if that time ever comes."