FAST OUT OF THE GATE
Golden Tornado lax improves to 3-0 with win at Knoch
March 23, 2023 Last Updated: March 22, 2023 10:18 PM Sports
JEFFERSON TWP — A successful start to the season is a welcome change for Butler's boys lacrosse team.
The Golden Tornado began the 2022 campaign with three straight losses, but have flip-flopped that record in the early going, winning their first three contests.
"It feels good to get some wins right off the bat," said junior Ayden Davis. "It gives us a head start, energy and confidence as we head into the rest of the season."
The catalyst for the perfect first week of Butler's slate has been a high-scoring attack, most recently sparking a 22-11 win at Knoch Wednesday night.
<![if !vml]>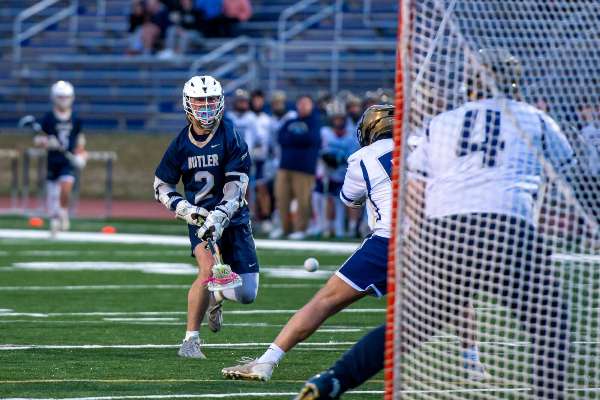 <![endif]>
Butler's Landon Dubyak (2) is about to score one of his five goals in the Golden Tornado's 22-11 victory at Knoch Wednesday night. Knoch goalie Hunter Essary (4) stopped 20 shots in defeat. Ralph LoVuolo/Special to the Butler Eagle
Davis led the way with eight goals while Jake Stevens scored six times and Landon Dubyak tallied five scores. Butler has found the net 58 times in its three games after it opened the season with victories over Shaler (16-14) and Baldwin (20-2).
"Right at the start, it was Ayden and Landon scoring almost all of our goals," said first-year Butler coach Justin Steiner. "But we're working as a team now, spreading the ball around. Both of those guys combined for eight assists in the first half tonight."
Jake Stevens, Grant Holt, Brody Simko, Davis and Dubyak each scored at least once as Butler opened an 8-1 lead less than two minutes into the second quarter. Afterward, play was fairly even as the Knights (0-2) earned four of the nine goals scored before halftime. Scoring two for the Knights in that stretch was Codi Mullen, who finished the game with a team-leading four tallies.
Butler out-shot Knoch 63-25 and Knights' junior goalie Hunter Essary stopped 20 shots.
"He started last year, so he has that experience under his belt," said Knoch coach Jake Wood. "He kept us in the game.
"This game could have easily gotten out of hand, but our kids showed a lot of heart and didn't give up."
Liam Kaper and Landon Schlagel both scored three times for Knoch and Paul Kuczynski also netted a score.
Kellen Rakoci played the first three quarters in net for Butler and had seven saves. Max Weiland played the fourth period and had one save.
"Kellen is our No. 1, but Max is right on his heels," said Steiner. "It's a good battle between those two in practice every week."
Knoch won just two games last season, but Wood, who served as the team's defensive coordinator the last two seasons, sees potential with the Knights.
"We have the talent to compete in our (Class 2A) division," he said. "We have a tough beginning to our schedule, play three or four of the top teams right away, so the schedule will lighten up for us."
Butler has non-section games against North Catholic (Monday), Hempfield and Trinity before it begins Section 2-3A play against North Hills on April 4.
"The athletes are here," said Steiner. "Once they gain more lacrosse IQ, that's when they'll have the chance to really shine."