Staying Power
March 28, 2023 Last Updated: March 28, 2023 01:32 PM Sports
Butler boys lax never trails in 15-8 win over North
BUTLER TWP — Butler seemed to have firm control of a very physical boys lacrosse game against North Catholic, but the grip seemed to be slipping away at the start of the second quarter Monday night.
An 8-1 lead was trimmed to 8-4 following goals from Trey Schleppy, Mike Solominsky and Mitch Lanthaler.
"I took a stupid penalty at the end of the first quarter," said Butler's Landon Dubyak. "For a few minutes there, we were playing the game they wanted us to play. After that, we got our heads back in the right place and started playing as one."
<![if !vml]>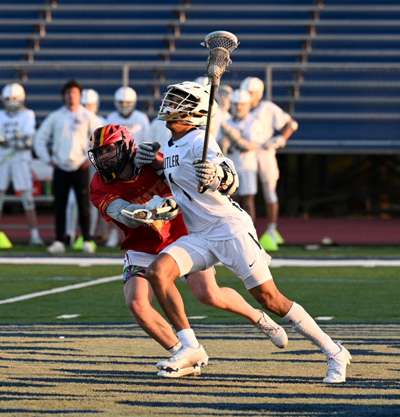 <![endif]>
Butler's Ayden Davis (1) fends off pressure from North Catholic's Ryan Harris (42) during Butler's 15-8 boys lacrosse win Monday at Art Bernardi Stadium. Steven Dalton/Special to the Butler Eagle)
Dubyak began Butler's response to North's spurt, putting Butler up 9-4 with a goal six minutes and 19 seconds before halftime. He added another, one of his six scores on the night, and Ayden Davis added two more before the quarter was through for a 12-4 lead at intermission that turned into a 15-8 victory at Art Bernardi Stadium.
"We just needed to get back to possessing the ball and getting shots off," said Butler coach Justin Steiner. "Defensively, we tried some different things tonight. We've been building up the players' lacrosse IQ and now are starting to throw some different defensive schemes at them so if we need to play a certain way, they'll be ready."
Davis finished the game with five goals for Butler (4-0) while Max Rihn, Brock Collins, Jake Stevens and Ian Wilson each found the net once against North goalie Zach Waslosky, who made seven saves.
Splitting time in net for Butler were Max Weiland and Kellen Rakoci. The former stopped three shots in the first half and Rakoci had two in the second half.
Solominsky netted four of North's goals, Lanthaler two and Noah Holland added one.
"Tonight, we were hurt by being a man down (due to penalties)," said North coach Don Bryant. "Half of the third quarter we had a guy out."
Bryant is in the first year of his second stint as head coach for the Trojans. His first run was from 2014-18. North reached the WPIAL Class 2A semifinals in 2021, but missed the postseason last year.
"Our entire (defense) is made up of first-year players," he said. "We've got a lot of kids like that ... teaching them the rules of the game and how to play. It feels a lot like my first year in 2014, but the goal is still to make the playoffs."
Both of the losses for the Trojans (1-2) have come against Class 3A competition. They fell 16-8 at Seneca Valley to start the season March 17.