Shooting For Success
Butler rifle team, Arbanas, take 2nd, 3rd at state competition to close season
February 26, 2020 Other High School Sports

<![if !supportLineBreakNewLine]>
<![endif]>
<![if !vml]>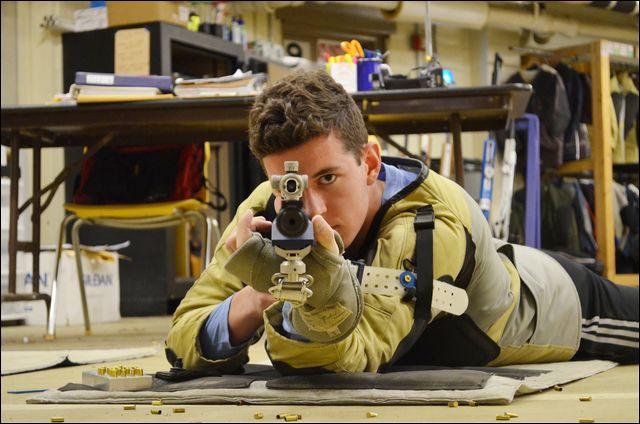 <![endif]>
Butler senior Andrew Arbanas took third place in the individual portion of the Pa. high school rifle championship meet. The Golden Tornado placed second as a team. Both finishes were all-time highs for the program.
SUBMITTED PHOTO
BUTLER TWP — The wait was definitely worth it.
Butler's varsity rifle team received word that it finished second overall in the state tournament.
"I don't believe any Butler (rifle) team has finished that high before," Golden Tornado coach Eric Beveridge said. "I'm very happy for these kids."
The state competition was held in three different locations last week. Butler joined Trinity, Penn-Trafford and Waynesburg in competing at the Frazier-Simplex Rifle Club in Washington, Pa.
Other teams competed at locations in the central and eastern portions of the state.
"The scores are posted from each site, then compiled to determine the final results. It takes a few days to determine the standings," Beveridge said. "The state meet is done this way to cut down on travel costs and because of range availability."
Butler's team score was 1,015.3, trailing only champion Everett's 1,027.4. Trinity took third place with a 1,014.1.
There were 39 teams involved in the state competition overall with 10 making the finals. Golden Tornado senior Andrew Arbanas placed third out of 390 shooters with a 412.1.
Alayna Walther of Avella won the state's individual title with a 414.4. Morgan White of Everett was second at 413.5.
"I felt like I was shooting pretty well, but you just have to wait and find out," Arbanas said. "You have no idea what scores are being put up at other sites and that makes it tough."
Beveridge said the third-place finish by Arbanas was the highest ever by a Butler shooter.
"It's a great way for him to go out," the coach said of Arbanas and his rifle career.
"The target is smaller at the state meet than it is during the season," Arbanas said. "Shoot a 9 during the season, it'd be an 8 at the state target. So I'm really pleased with how I did.
"I'm more excited and proud of the second-place finish our team got. We were an underdog story this year, for sure, but once we found our shot, we were pretty confident."
The Tornado barely qualified for the WPIAL championships, having to win a play-in round just to qualify for the district finals.
Other seniors shooting in the state meet for the Tornado were Alex Stamm and Kayla Kopelic.
"Six of the shooters we had in the state competition will be back next year," Beveridge said. "Our (postseason) success will increase interest in the program, I imagine, but we get plenty of kids coming out every year anyway."
The coach said 40 or so kids come out for rifle every year. The program does cuts "because we only have so much room in the range," he said.
Arbanas was a freshman when his sister, Ally, was a senior on the team. She tried to begin a rifle club at Penn State-Altoona, but was unable to get it going.
"Being on the same team as my sister was a fun way to start out," Arbanas said of his rifle career. "And this was a fun way to end it."
The high school state rifle event is put together by the Pa. Rifle and Pistol Association.