Zero Tolerance
Butler boys soccer blanks North Allegheny, 3-0
October 2, 2019 High School Football
<![if !vml]>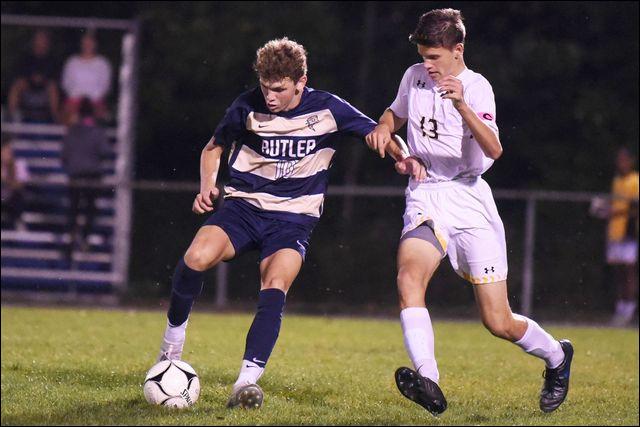 <![endif]>
Butler's Landon Mohney (10) holds off a challenge by North Allegheny's Jason Roman during the Golden Tornado's 3-0 victory over the Tigers. Mohney scored Butler's first goal.
SEB FOLTZ/BUTLER EAGLE
BUTLER TWP — The three-game skid suffered recently by Butler's boys soccer team is a distant memory.
Its performance Tuesday officially has the Golden Tornado on a roll.
Landon Mohney's goal in the ninth minute of play sent host Butler on the way to a 3-0 shutout of section foe North Allegheny.
The win completes the season sweep of the Tigers, who were also defeated by the Tornado, 3-2, last month.
"That first game was a lot more back and forth," said Butler coach Troy Mohney, who watched his team win section games against Central Catholic (1-0), Pine-Richland (3-1) and Shaler (6-0) prior to Tuesday.
"Those were big wins," added Coach Mohney. "There aren't many days off in our section."
Emery Douthett scored to make it 2-0 in the 24th minute, but NA had a golden opportunity to slice Butler's lead in half shortly before halftime.
The Tigers (8-5, 6-5) were awarded a penalty kick in the 35th minute. Will Cinker tried to tuck his shot just inside the left post, but Peyton Seibert dove and stopped the ball to preserve his team's two-goal lead.
"It was all instinct," said Seibert. "Everything he (Cinker) was doing said that he was going to the left, but it was too obvious, so I went to my right."
"That was a huge save," Coach Mohney said. "If the game's 2-1, we aren't able to play the second half like we did."
Seibert made six saves in the game.
"We had opportunities," said NA coach Bobby Vosmaer. "That penalty kick, we make that and it's 2-1 and it's a different game. But you have to put 'em away."
Butler focused mostly on defense in the second half, but Luke Shook managed a third goal in the 74th minute to ice the win.
"It feels great to get the shutout," said Seibert. "It means a lot to me and my back line."
Seibert was a goalkeeper before breaking his hand 13 months ago. He played defense for Butler last year before returning to the net this season.
"He's come up with some big saves for us," said Coach Mohney.
NA goalie Mikkel Hindsbo made two saves.
Butler (9-3, 8-3) is just one win away from clinching a WPIAL playoff berth.
"We're confident, but we don't want to get too confident because that's when we lose our heads," said Seibert.
Prior to the game, a ceremony was held to recognize Julie Baccanti, who is battling breast cancer.
Baccanti has been a health and physical education teacher at Butler High School for 20 years and has coached various varsity girls sports for the Golden Tornado.
A crowd of people, all wearing pink shirts that read "Kick it for B" on the back walked onto the field and released 25 pink balloons.
"It's overwhelming to me," said Baccanti. "I'm very appreciative of it, but feel like I don't deserve it. I think about all of the people going through the same thing."
Baccanti was diagnosed in March.
"There were a couple of times there at the beginning when I broke down, but since then I'd like to think I've handled it well. I know some people who beat it and that helps keep me positive," she said.