Taking Control
Tornado boys soccer nets critical 3-0 win
October 5, 2020 High School Soccer
<![if !vml]>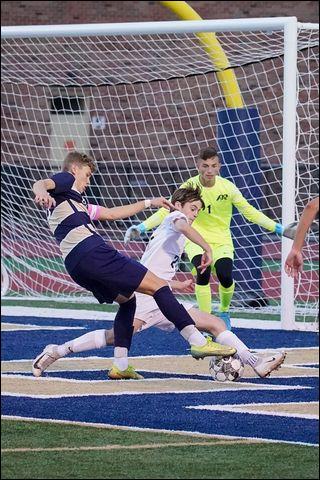 <![endif]>
Butler's Landon Mohney, left, tries getting a shot past Pine-Richland defender Connor Johnson as goalkeeper Evan Dougal (1) looks on. Mohney scored a goal in the Golden Tornado's 3-0 soccer win Saturday night.
HOLLY MEAD/SPECIAL TO THE EAGLE
BUTLER TWP — Butler had the lead. It just didn't have control.
That all changed in the second half of the Golden Tornado's 3-0 Section 1-4A boys soccer victory over Pine-Richland Saturday night at Art Bernardi Stadium.
Landon Mohney scored the lone goal of the first half, drilling a 24-yard free kick into the left corner of the net with 1:55 remaining.
"Our defense and goalkeeping were fine." Butler coach Troy Mohney said of the first half. "But our forwards and midfielders weren't doing a good enough job of connecting with our back line to move the ball out."
Mohney's goal was his team-high 12th of the season.
"We gave up some chances and had trouble getting going offensively."
Pine-Richland (2-5-1) limited the Tornado to two shots on net in the first 40 minutes. The Rams registered five shots on Butler goalkeeper Carson Stein.
Stein made a leaping save on a shot by Will Sangpachatanaruk midway through the half. The shot was rifled from 18 yards out and Stein got his fingertips on the ball, deflecting it over the crossbar.
Butler did have a couple of opportunities to score before Mohney's free kick. The Tornado junior delivered a cross pass to Jack Beneigh in front of the net, but the latter was tied up and couldn't get off a clean shot nine minutes into the game.
Mohney set up Beneigh again six minutes later, but Beneigh's header sailed left of the net.
"We attacked more in the second half," Landon Mohney said. "I'm not saying we had to be patient ... a counter-attack can happen in five seconds. We just had to be ready."
The Tornado (6-2-1, 5-2-1) controlled play in the second half. They produced six shots, with junior forward Aidan Soley scoring on two of them.
The Rams' lone shot on net in the second half was a dribbler that Stein scooped up with two minutes left.
"Our forwards and midfield were much more involved in the second haf and the difference showed," Coach Mohney said.
Soley's goals were his first two of the season. Beneigh found him alone in front of the net 10 minutes into the half and Soley made no mistake.
Soley's second goal occurred less than three minutes later. Pine-Richland goalkeeper Evan Dougal made a lunging save on a Landon Mohney shot, but could not secure the rebound.
Soley was on the spot to put the ball past the fallen netminder.
"I saw the ball come back out and just went for it," Soley said. "My first goal, Jack did a great job of holding off two guys and getting the ball over to me.
"Those goals felt good. I feel like I can contribute a few more."
Landon Mohney is all in favor of that.
"We want to get more guys involved in the goal scoring. Aidan can certainly be one of those," he said.
Butler needs one win in its final four games to clinch a WPIAL playoff berth. The Tornado can win the section if they win out and Fox Chapel loses a game.
"The first step is to get in," Coach Mohney said of the playoffs. "But, yeah, we still have our eye on the section."