Butler answers wake-up call
Golden Tornado shake off early doldrums to post 4-0 boys soccer win at Knoch
John Enrietto Eagle Sports Editor
September 17, 2023 Last Updated: September 17, 2023 03:14 PM Sports
<![if !vml]>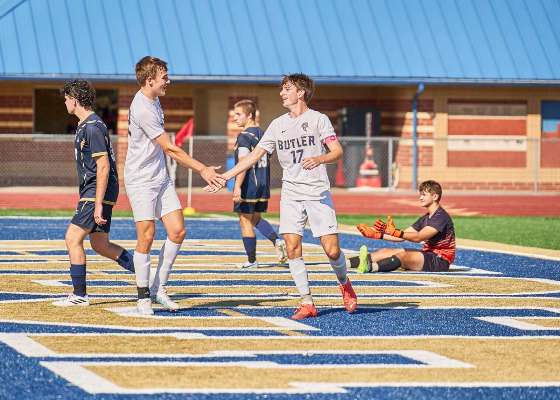 <![endif]>
Butler's Andrew Lucas, left, and Cody Lubinsky (17) give each other five after Butler scores its second goal on Knoch during the Golden Tornado's 4-0 boys soccer win Saturday morning at Knoch. Shane Potter/Butler Eagle 9/16/23
JEFFERSON TWP — Butler boys soccer coach Troy Mohney said every game poses a different type of adversity.
"Today, it was the Saturday morning starting time," Mohney said of the Golden Tornado's 4-0 win at Knoch Saturday. "These guys rolled out of bed and had to go play a soccer game.
Powered By<![if !vml]>
<![endif]>
"They (Knoch) got a couple of great scoring chances early, connected with the ball hard, but just missed wide. We got a little lucky there."
Knoch's Will Parisi headed a shot just wide of the left post in the game's first minute. He took a free kick from 33 yards out minutes later and barely missed on that attempt.
<![if !vml]>
<![endif]>
Butler's Thomas Sheptak (9) works to keep possession of the ball as Knoch's Will Parisi attempts to make a play on it Saturday. Shane Potter/Butler Eagle 9/16/23
"Our goal is always to come out and compete in these non-section games," Knoch coach Malcolm Cook said. "We play tough opponents — Mars, Fairview (Erie), Butler — to help get us ready for section play.
"I thought our kids fought hard today."
Butler (6-2-1) recorded its third consecutive shutout and has allowed only one goal in its last four games, all wins. The Tornado had eight shots on net to the Knights' two, took six corner kicks to Knoch's zero.
Junior forward Thomas Sheptak dented the scoreboard in the game's 15th minute, taking a pass from Dylan Murphy — who warded off two defenders to push the ball forward — and rolling it past Knoch goalkeeper Barrett Duffy, into the left corner of the net.
In the 27th minute, Cody Lubinsky scored off a throw-in from Jaxon Llewellyn and the Tornado took a 2-0 lead into halftime.
"Once we settled in, I thought we played pretty well,." Mohney said. "We gave up seven goals combined against North Allegheny and Seneca Valley. We've been emphasizing defense since and limiting opponents' chances."
Butler scored a pair of goals 55 seconds apart in the second half to salt away the win. Mason Anderson found the net after Duffy came out to gather in a loose ball, only to have it knocked away from his grasp. Anderson scored with 11:18 left in the contest.
Sheptak dribbled through two defenders and scored his second goal of the game — and sixth of the season — 55 seconds later.
"We're playing good soccer as a team right now," Sheptak said. "Everyone's playing together and we're emphasizing the defensive side of the game first.
"I feel like we're getting ready to make a deeper run in the playoffs this year."
Mohney said there is a time to think offense and says his players have been doing a good job at picking out those times.
"Sure, there's points in the game where we want to keep the ball, get established in the offensive end, make good passes and set up shots," he said.
Drew Knight got the shutout in goal for Butler. He made a solid save on Knoch's Samuel Caldwell's shot from 22 yards out in the 28th minute.
Butler travels to North Hills on Tuesday night while Knoch (4-6 overall, 4-2 in section) returns to section play that same evening, hosting Derry Area.
"We have a young team, a lot of sophomores," Cook said. "I like the way they're coming along. Like I said, it's all about competing for us right now."