TAKING THEIR SHOT
Butler boys soccer knocks off defending WPIAL champion Rams
August 30, 2023 Last Updated: August 29, 2023 11:18 PM Sports
BUTLER TWP — How good is boys soccer in the WPIAL's Section 1-4A?
A glance at Butler's opening two contests of the section slate reveals a good bit. The Golden Tornado faced defending WPIAL champion Pine-Richland on Tuesday and they travel to Seneca Valley on Thursday to face the defending state-champion Raiders.
Butler coach Troy Mohney knows that section victories can be very difficult to come by and he was pleased to see his team upend the Rams, 1-0, at Art Bernardi Stadium.
<![if !vml]>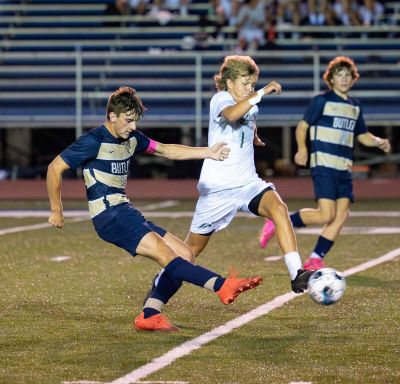 <![endif]>
Butler's Cody Lubinsky takes a shot with pressure from Pine-Richland's Finn Kichi during Tuesday's boys soccer game at Art Bernardi Stadium. Butler won 1-0. Steven Dalton/Special to Butler Eagle
"I know they lost (seven) starters from last year, but Jordan (Wiegand, coach) always has them ready and organized," said Mohney. "This was a very tactical game. The way they were playing, it was going to be difficult for us to get scoring opportunities."
Nick Niebauer scored on Pine-Richland goalkeeper Cadan Bennett in the first half and a stout defensive effort kept the Rams (1-2) off the scoreboard.
Butler had built up momentum in the offensive end prior to Niebauer's goal. The Tornado controlled play for much of the first half and were awarded a number of throw-ins and free kicks within 45 yards of the Rams' net.
Legitimate scoring chances, however, were few. One came when a crossing pass from the left of the net in the 25th minute nearly found a streaking Landon Stevenson, but Bennett arrived just in time to snag the ball and thwart the opportunity.
<![if !vml]>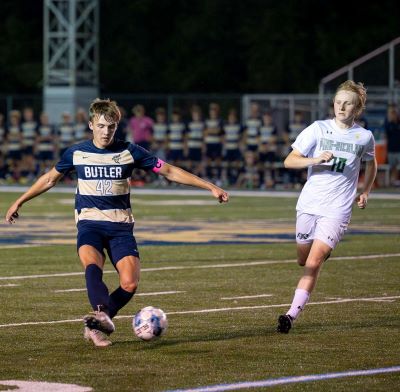 <![endif]>
Andrew Lucas (42) controls the ball with pressure from Pine-Richland's Mark Cashman at Butler High School. Steven Dalton/Special to Butler Eagle
The sequence leading up to the game's lone goal began with players from both teams battling for possession in the corner to the right of Bennett in the 38th minute.
Niebauer raced forward when the ball was played out but directly in front of the net and found himself wide open for a shot from 25 yards. He tucked the ball in the lower left, just out of the reach of Bennett.
"When I'm on the field, I try not to think about things, just let them happen," said Niebauer.
Wiegand said the goal was due to "poor execution".
<![if !vml]>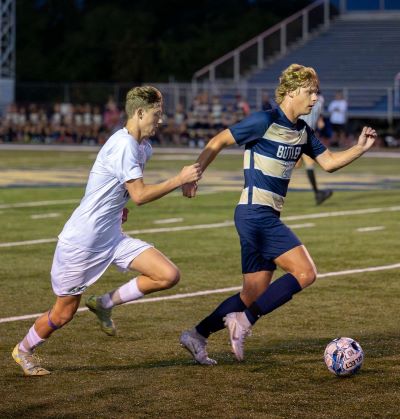 <![endif]>
Butler's Mason Anderson with possession with pressure from Pine Richland's Brady Baker at Butler High School. Steven Dalton/Special to Butler Eagle
Butler (2-0-1) continued to apply pressure in the second half, forcing Bennett to make five of his eight saves.
Butler's Drew Knight stopped two shots, both in the first half.
"Nick Kilgore and Andrew Lucas are our two center backs and with Drew playing behind them, they're all seniors and it's very comforting having that experience. Really, a lot of guys are playing well on the defensive end."