Tornado Too Much
Butler soccer rolls into semifinals with 3-0 victory
October 30, 2023 Last Updated: October 30, 2023 09:14 AM Sports
<![if !vml]>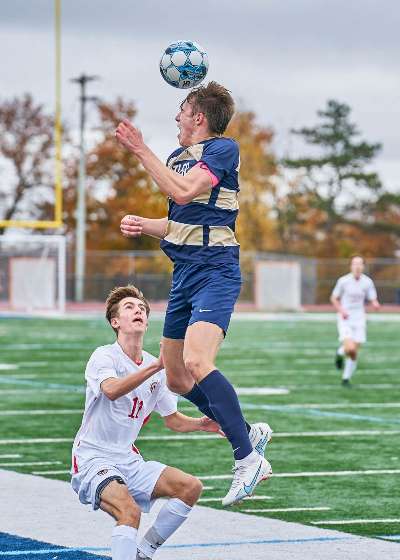 <![endif]>
Butler's Oliver Chastain heads the ball up the field on Saturday afternoon in the Golden Tornado's WPIAL 4A boys soccer playoff game vs. Peters Township at Art Bernardi Stadium. Shane Potter/Butler Eagle 10/28/23
BUTLER TWP — Peters Township, and a 16-day layoff, could not impede the tidal wave that is Butler's boys soccer team.
Unbeaten in their final 13 games of the regular season, the Golden Tornado dispatched the Indians, 3-0, in a WPIAL Class 4A quarterfinal Saturday at Art Bernardi Stadium.
<![if !vml]>
<![endif]>
Powered By<![if !vml]>
<![endif]>
"We played them the last two years in the playoffs, so a lot of our guys are familiar with their players," said Butler coach Troy Mohney. "I think that prior experience helped us today."
The Golden Tornado (14-2-3) will face North Allegheny, a 6-1 winner against Canon-McMillan, in a semifinal Tuesday at a site and time to be determined.
<![if !vml]>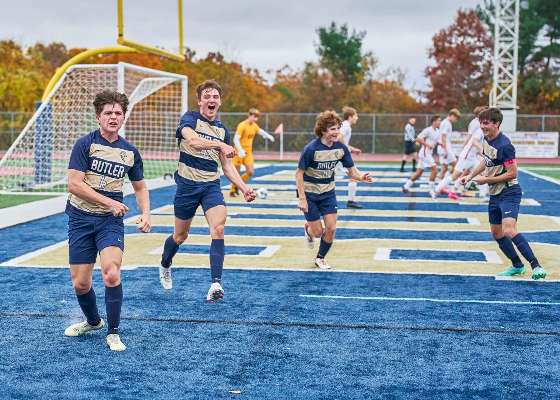 <![endif]>
Jaxon Llewellyn (6) runs to the sidelines with his teammates to celebrate scoring the first of Butler's three goals on Saturday afternoon in its 3-0 WPIAL Class $4A boys soccer playoff win vs. Peters Township at Art Bernardi Stadium. Shane Potter/Butler Eagle 10/28/23
Butler's fourth corner kick of the game led to Saturday's first goal. Landon Stevenson took it to the right of PT's net in the 25th minute and sent the ball to the far side of the net where Lawson Neigh played the ball back toward the middle. Jaxon Llewellyn was waiting and booted a shot from 10 yards past Indians goalkeeper Markus Bizyak.
It was the first-ever varsity goal for Llewellyn, a senior defender.
"Before, I got a few assists at most," he said, "but scoring with my family and friends in the stands here today, it meant a lot to me."
And it meant a lot to Butler for it gave the Tornado momentum they never relinquished.
Their lead was still 1-0 at halftime, but was pushed to two goals just over six minutes into the second half. Neigh's shot from the right of the goal was saved by Bizyak, but Chris Rubcic was there to deposit the rebound.
Nine minutes later, Nick Niebauer assisted on Thomas Sheptak's goal.
The Indians (12-4-1) entered the playoffs with a 6-0-1 effort in their previous seven games, but could not match Butler's intensity.
"Butler simply outworked us," said Indians coach Bob Dyer. "So much of the high school game comes down to effort and intangibles like 50/50 balls. Butler scored more hustle points than we did today.
"During the season, we relied on goals from a number of players, but just didn't take advantage of our chances today."
A number of shots from Peters Township players hit the crossbar. Seven of the team's eight corner kicks came in the second half, including four in a six-and-a-half minute span. Butler goalie Drew Knight, who made seven saves, came off his line when needed and the defense in front of him thwarted several opportunities on through balls and crosses.
"Peters plays a very direct style, is a physical team and they try to force you into making mistakes in the back," said Mohney. "I thought we did well against that today."
Bizyak stopped four shots for the Indians.
Butler's previous game was a win Oct. 12 against North Hills.
"Every day in practice we brought a renewed energy," said Llewellyn. "The way we're playing right now, everything we do, we're stepping it up from what we did in the regular season."
Tuesday's semifinal matches up section foes who know each other very well. NA (15-1-3) defeated Butler 4-1 in early September, but the Tornado have gone 12-0-2 since, including a 2-2 tie with the Tigers a month ago.
"North Allegheny is a very good team and well-coached," said Mohney. "I'm sure it will be another battle and I'm excited to face them again for the chance to reach the WPIAL championship game."