WIN NO. 1
Butler coach Buzzard earns first victory with soccer team
Brendan Howe Eagle Staff Writer
August 29, 2023 Last Updated: August 28, 2023 11:14 PM Sports
BUTLER TWP — The numbers weren't even for much of Monday night.
Through the first 84-plus minutes of Butler's girls soccer section matchup with visiting Pine-Richland, however, the scoreboard was.
<![if !vml]>
<![endif]>
Powered By<![if !vml]>
<![endif]>
Pause
Unmute
Loaded: 3.82%
Fullscreen
As soon as the number of players on each side evened back up, the score toggled in the Golden Tornado's favor and gave coach Dan Buzzard a 1-0 victory, his first on the sideline at Butler.
The hosts toughed it out with 10 players from the 34th minute on after freshman Kara Lubinsky received a second yellow card and was sent off. Fundamental passing and sound defense left the door open for the Golden Tornado (1-1, 1-0), though.
<![if !vml]>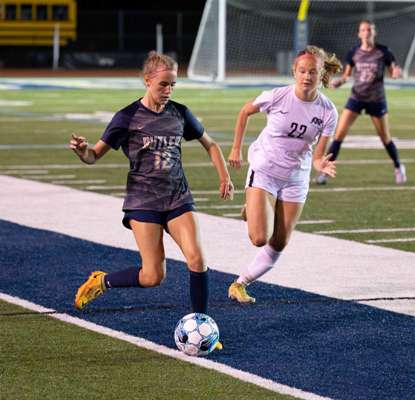 <![endif]>
Ava Soleyu (12) makes a play with pressure from Pine-Richland's Molly Baker at Butler's Art Bernardi Stadium on Monday. The Golden Tornado won, 1-0, in overtime. Steven Dalton/Special to the Eagle
After the Rams had a player sent off for her second yellow card just over five minutes into the first overtime period, Butler's Leah Weiland and Leah Deal seized the opportunity. Following the infraction, the former booted the ensuing free kick from the right sideline and the latter headed it in.
"I said, 'It's a game like this we're going to get a spot foul,'" Buzzard said, laying out his prediction of how the game would conclude. "I said, 'A spot foul is our opportunity.' Because we know that we're good at them, and there it is."
<![if !vml]>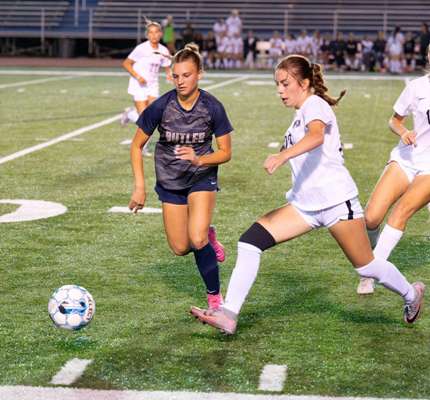 <![endif]>
Butler's Ella Rekich (16) races to the ball with Lily DeJesus (23) applying pressure at Butler High School. (Steven Dalton Special to Butler Eagle) 8-28-2023
"It was a very tough game," Pine-Richland coach Alessandro Moreira said. "Both teams could win. … One ball can change, one goal can change the game, so we tried the entire game to score. But, we could not put the ball in the net.
Sophomore Ava Soley and seniors Paige Griest and Addison Thomas contributed at defensive posts as the Golden Tornado tried to choose its spots. Goalkeeper Delaney Yaracs kept the back of her net untouched with four saves, none more dramatic than a diving stop in the 61st minute.
"Me and Gillie (JV coach Andrew Gillan) are kind of on the same page on how we want to play," Buzzard said. "We just so happen to have four defenders right now that are really comfortable playing with the ball, so we're trying to play that possession game — and to their credit, I mean it didn't take long where they kind of just grasped to it.
"They're doing a phenomenal job of how we're trying to play. It's a game like tonight, though, we showed a kind of adaptability."
"Their soccer IQ across the board is pretty good," Buzzard added. "When we said 'Here's what we've got to do now,' we spent — with the overtime — 60 minutes playing a completely different way."
Butler played Cathedral Prep at home on Saturday, and after a scoreless first half against the Ramblers dropped a 4-1 decision. A win against a conference foe should provide something more to build on.
"The resiliency of this group, we couldn't make a lot of subs because we had to kind of stick to what we were doing," Buzzard said. "We did summer workouts, we did a lot of fitness, and the night kind of shows. I said that tomorrow we're going to get a lot of maintenance just to kind of chill out, because Wednesday we turn around and go to Seneca Valley."