Baxter new boss of Butler softball
Tornado graduate 6th coach in 12 years
March 13, 2019 High School Softball
<![if !vml]>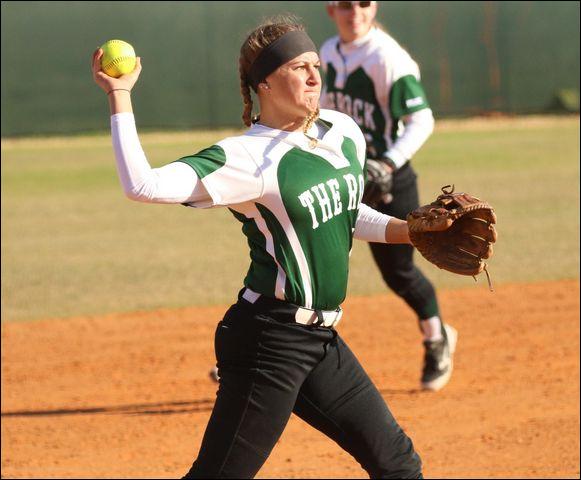 <![endif]>
Butler High School and Slippery Rock University graduate Cait Baxter is the Golden Tornado's head softball coach this season.
BUTLER EAGLE FILE PHOTO
BUTLER TWP — Only two years removed as a player, Cait Baxter faces a major challenge as a coach.
The 2013 Butler graduate has taken over the head coaching reins of the Golden Tornado varsity softball team after one season as an assistant coach.
Butler hasn't had a winning softball season since going 9-8 in 2010 — Baxter's freshman season — and she becomes the program's sixth head coach in 12 years.
"We've struggled in softball in recent years, but we won a few games last year and we feel like Cait can build on that," Butler athletic director Bill Mylan said.
"We had four applicants for the job and chose Cait because of her passion for the sport and for this school. I had the privilege of coaching my sport at my alma mater and I know what that feels like. I cared deeply about the program just like Cait cares about this one."
Mylan is a former head wrestling coach and wrestler at Beth-Center, his alma mater.
"I know I'm fortunate to come back here and become a head coach at my age," Baxter said. "But I feel like I've earned this. I worked hard through four years of high school and four years of college ball.
"Butler sent my career in a positive direction toward college. Now it's time for me to give back."
Baxter, 24, was a standout shortstop at Butler who went on to a solid softball career at Slippery Rock University. She is employed as a long-term substitute teacher at the Butler Intermediate High School.
"I'd love to get her a full-time teaching position here and get her to stick around for 15 or 20 years," Mylan said.
Baxter is hoping for the same.
"I just received my masters in secondary education in December," she said. "I know it depends on who may retire after the school year as far as openings, but I'd love to get a full-time job in this district.
"Right now, my job is to get this program turned around. The girls are working hard and my goal is have a winning season. I know it's been a long time."
Butler was 6-12 last season under Tina O'Donnell, who resigned during the off-season for family reasons. The Golden Tornado won one game two years ago and are 10-41 over the past three years.
The Tornado have not been to the WPIAL softball playoffs since 2009.
Baxter hit .348 her senior year at SRU in 2017.
"She had a solid career at SRU and that's another plus in her favor," Mylan said. "High school players tend to respect coaches who have had success at a higher level a little more.
"Cait is a young coach who will relate well with and motivate those girls."
She's already doing so.
When it comes time to instruct her team, Baxter said: "I put on the glove and cleats, go out there and show them.
"I'm still young enough to show them hitting technique, how to dive into a base or make a play. Being able to show them is much more effective than just telling them.
"These girls are anxious to learn and they're hungry to win. I'm looking forward to the season. I think we'll do well," she added.