Making Her Best Pitch
Butler's Barnett hurls her way to spot at Juniata
April 17, 2020 Other College Sports
<![if !vml]>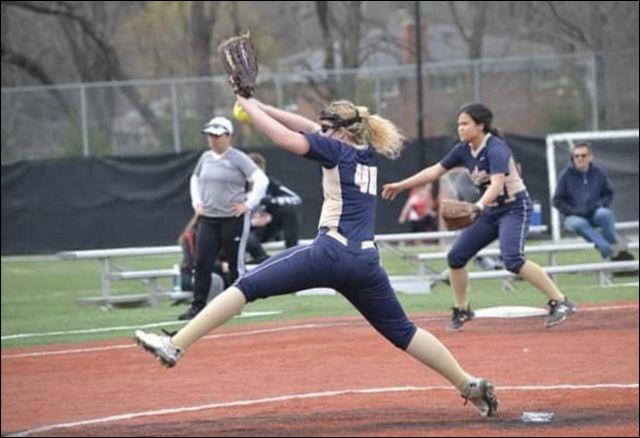 <![endif]>
Butler senior pitcher Shelby Barnett emerged last season as a junior as the Golden Tornado's top pitcher. Barnett parlayed that success into a spot at Division III Juniata College.
SUBMITTED PHOTO
BUTLER TWP — When Cait Baxter took the reins of the Butler varsity softball program last year, all players were created equal.
Then Shelby Barnett rose above.
"I wanted to be fair to everybody," Baxter said. "I wanted kids to earn positions, take advantage of opportunity. Shelby definitely did that.
"She was our junior varsity pitcher as a sophomore. She came back last year, worked hard on her spin and changing speeds, and became our starting pitcher, along with being a leader."
While the Golden Tornado struggled to win games — finishing 4-13 overall — Barnett shined on the mound. She put together a 2.09 earned run average.
She became Butler's first softball player in a couple of years to move on to college ball, signing a letter of intent recently with Division III Juniata College, a Landmark Conference school in Huntingdon.
"I had my heart set on playing college softball," Barnett said. "I've been gearing toward that, playing for a long time."
Barnett has been a pitcher since switching from slow-pitch softball to fast-pitch at age 10. She's played travel ball for years with the Ohio Black.
"It means a lot to our program to send a girl to college softball," Baxter said. "Things like this can help take us to another level. It can motivate other players to achieve similar goals."
Carrying a 3.8 grade point average in high school, Barnett plans to major in political science and law at Juniata.
She's hoping other Butler players will be inspired to use softball as a means of setting up their future education as well.
"Butler softball's had it rough the last few years," she said. "But Cait Baxter pushes you. She believes in you. You can play at the next level if you work hard enough.
"She showed me that. I'd love to be an example to others that way."
Barnett is joining a Juniata team that has struggled on the field. The Eagles got off to a 1-9 start this spring under first-year head coach Laina Connor before the COVID-19 pandemic curtailed the season.
Juniata hasn't had a winning season since 2010. It has qualified for its conference tournament once in the last six years and last won a conference tourney game in 2013.
Barnett is excited about being part of a rebuild. Connor worked with pitchers during her assistant coaching stops at Denison and Westminster, drastically lowering the team ERA for both programs.
"Coach Connor told me she's looking for a freshman to come in and establish herself," Barnett said. "I want to be that person. I see this as another opportunity.
"I just want to pitch a lot of innings as a freshman and build life-long friendships with all the girls."
Juniata was using four pitchers this season. One was a senior and none had an ERA below 5.40. The Eagles' team ERA was 6.03.
"Shelby really improved on spotting the ball," Baxter said of Barnett's performance last season. "She's not a particularly fast pitcher, but she's very effective at changing speeds.
"When Shelby was on her game, we were in every game. Speed doesn't really matter. Throw a pitch 50 or 60 miles per hour down the middle, somebody's gonna hit it."
While Barnett described the cancellation of this spring season as "devastating," she is working on her game nonetheless.
"I guarantee she is," Baxter said. "Shelby won't waste any time. Her work ethic got her this chance. She's earned it."