Seasoned freshmen
David Bocci and Sam Deemer have swimming in their blood, sparking Butler
January 5, 2018 Other High School Sports

<![if !supportLineBreakNewLine]>
<![endif]>
<![if !vml]>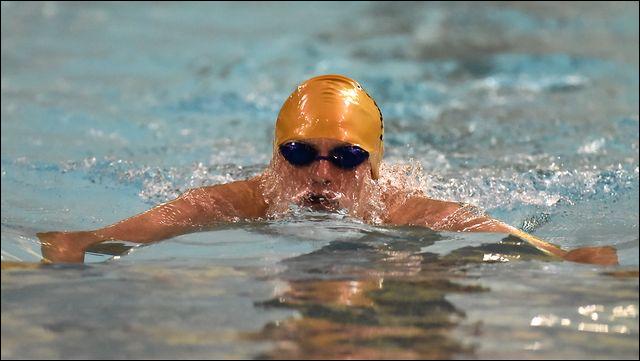 <![endif]>
Butler freshman Sam Deemer swims the 200 individual medley against Mars Thursday night. Deemer and fellow freshman David Bocci have sparked the Golden Tornado boys team this season.
DAVE PRELOSKY/ BUTLER EAGLE
BUTLER TWP — There was no need for freshman swimmers David Bocci and Sam Deemer to spend time getting their feet wet. They took care of that long ago.
The two came up together in youth swimming and have earned a bevy of medals for the Butler Barracudas YMCA swim team.
"We were prepared for them to make an immediate impact," said Butler High School coach Dave Bocci. "They've put a lot of work in in the weight room and for them to contribute right away for us, it's huge. They have filled a void left by (graduates) Joe Deemer, Trai Kish and Nathan Callithen."
David Bocci and Sam Deemer were at it again Thursday night. Bocci won the 100-yard freestyle and backstroke events and Deemer the 200 individual medley and butterfly as the Golden Tornado improved to 3-0 on the season with a 92-71 home victory over Mars.
The duo have been teammates since competing at the 8-under level. They have already qualified for WPIALs in six individual events apiece.
"Other than the backstroke, we swim different events, but still push each other in practice," David Bocci said. "The season has been a good one so far, but varsity is tough on the body because depending on the events you swim, there's some quick turnarounds."
Deemer is the last of four brothers to swim at Butler. Ryan and Joe have both graduated and Alex, a junior, is a leader on this year's team who won the 200 and 500 freestyle events Thursday.
"I started swimming to keep up with the family tradition," said Sam Deemer, "but over the last few years, I've gotten a lot better and it is incentive for me to keep going."
Butler's Jon Hansotte had a solid night in diving, winning the competition with a score of 256.75.
Andrew Ivory earned the lone individual win for Mars (2-3), placing first in the breaststroke.
Butler's girls won six of the first seven events to spark a 95-89 victory over the Planets (3-2).
Star sophomore Laura Goettler delivered wins in the 200 IM and 100 freestyle for the Tornado (2-1) and several other swimmers gave Dave Bocci reason to smile.
Rachel Ledford made the cut for the WPIAL meet in the backstroke, winning the event in 1:02.77. The WPIAL time is 1:03.
Freshman Abbie Griffith won the 200 freestyle and butterfly.
"Rachel and Abbie both stepped up tonight," Dave Bocci said. "We have leadership with seniors Emma Weiss and Liz Graham. There's a good mix on the girls side."
Paige Williams earned for the Tornado a win in diving with a score of 241.75.
Mars sophomore Caroline Stamper is the only Planet girl back who competed at WPIALs (50 freestyle) last season. She and Madeline Gagnon (500 freestyle) were Mars' winners against Butler.
"I hurt my shoulder over the summer and it is still pretty sore," said Stamper, "but my goal is to get to WPIALs in the 50 free again and also in the breaststroke."
Despite not being 100 percent, Stamper has had a strong showing so far.
"She's been amazing," said Mars assistant coach Mitch Schall. "Obviously, swimmers want to do their best in March (districts and states), but Caroline has put up some really good times so far.
"We have a lot of freshmen who are stepping up on the girls side," he added. "They're dropping a lot of time."
<![if !vml]>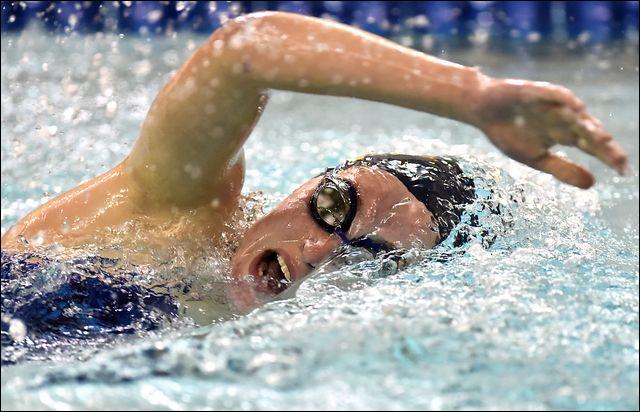 <![endif]>
Mars swimmer Jenna Halenda swims the 200 freestyle against Butler on Thursday. She finished second in the event.
DAVE PRELOSKY/ BUTLER EAGLE
Girls
Butler 95, Mars 89
200 medley relay: 1-Butler (Abbie Griffith, Laura Goettler, Emma Weiss, Rachel Ledford) 1:57.73
200 freestyle: 1-Abbie Griffith (B) 2:06.61
200 individual medley: 1-Laura Goettler (B) 2:11.65
50 freestyle: 1-Caroline Stamper (M) 26.94
1-meter diving: 1-Paige Williams (B) 241.75
100 butterfly: 1-Abbie Griffith (B) 1:05.62
100 freestyle: 1-Laura Goettler (B) 56.65
500 freestyle: 1-Madeline Gagnon (M) 6:07.49
200 freestyle relay: 1-Butler (Emma Weiss, Katie Knights, Eve Merhaut, Liz Graham) 1:58.16
100 backstroke: 1-Rachel Ledford (B) 1:02.77
100 breaststroke: 1-Eve Merhaut (B) 1:15.78
400 freestyle relay: 1-Mars (Caroline Stamper, Ellie Hall, Jenna Halenda, Megan Smith) 4:18.4
Boys
Butler 92, Mars 71
200 medley relay: 1-Butler (David Bocci, Zach Callithen, Sam Deemer, Alex Deemer), 1:47.64
200 freestyle: 1-Alex Deemer (B) 1:49.16
200 individual medley: 1-Sam Deemer (B) 2:09.05
50 freestyle: 1-Zach Callithen (B) 24.69
1-meter diving: 1-Jon Hansotte (B) 256.75
100 butterfly: 1-Sam Deemer (B) 55.8
100 freestyle: 1-David Bocci (B) 51.42
500 freestyle: 1-Alex Deemer (B) 4:56.71
200 freestyle relay: 1-Mars (Andrew Ivory, Austin Gilstrap, Will Allison, Andrew Pierre) 1:41.94
100 backstroke: 1-David Bocci (B) 56.18
100 breaststroke: 1-Andrew Ivory (M) 1:08.26
400 freestyle relay: 1-Mars (Jack Ford, Hayden Silsby, Zach Leachman, Aidan Wolf) 4:17.3