Back On The Board
Butler's Williams returns to diving after breaking back in auto accident
January 16, 2020 High School

<![if !supportLineBreakNewLine]>
<![endif]>
<![if !vml]>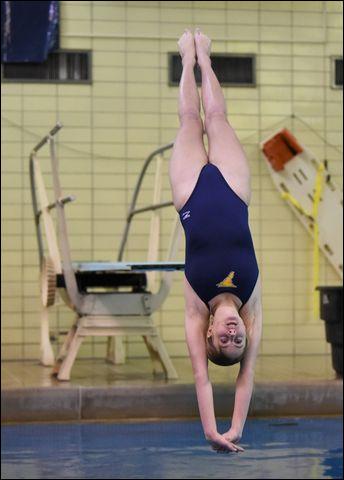 <![endif]>
Butler's Paige Williams executes a back dive duiring the Golden Tornado's swim meet against North Allegheny Wednesday night.
SEB FOLTZ/BUTLER EAGLE
BUTLER TWP — This time last year, Paige Williams was wearing a back brace, unable to build on a promising sophomore year for Butler's diving team.
She had broken her back in a car accident in August 2018 and her progress in the sport was put on hold.
Williams qualified for the WPIAL meet her freshman and sophomore year, earning a medal in the latter by placing sixth, which sent her to the state championship meet at Bucknell University.
"It was hard not being able to dive last year," she said. "In our last meet my sophomore year, I missed our school record by half a point. I was really looking forward to going after it as a junior."
Golden Tornado coach Ken Bedford felt a bit of Williams' emotional pain.
"All of the progress she made her sophomore year, it was all on her," he said. "She made the decision to get better and put the time in to make it happen.
"It killed me to see her have to sit out last year."
Williams still helped the team, helping Bedford coach Butler's boys and girls.
As for her own diving career, it was still in doubt up until just three months ago.
<![if !vml]>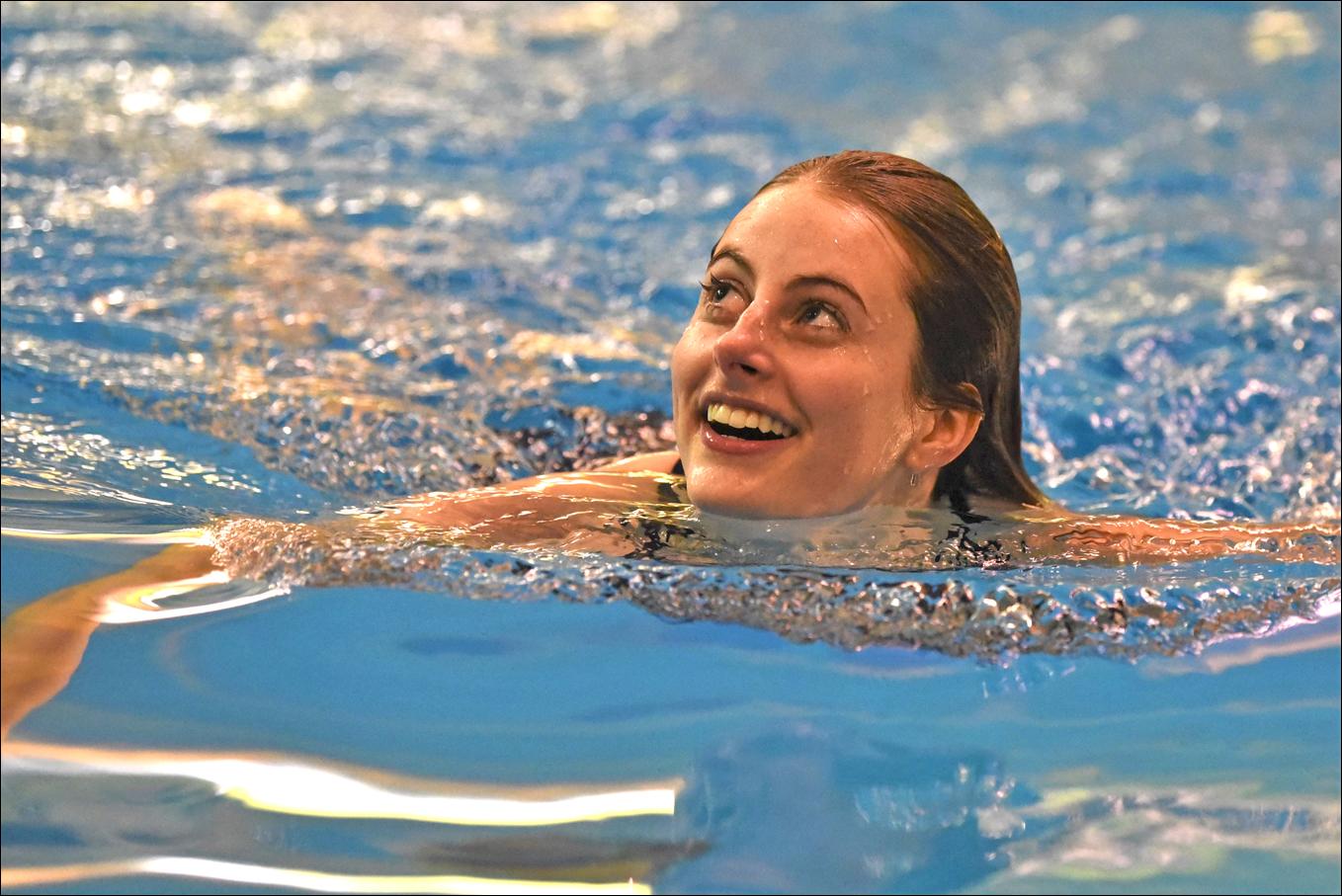 <![endif]>
Paige Williams is all smiles as she looks up at the scoreboard after her final dive Wednesday night. Williams recovered from a broken back to compete this season.
SEB FOLYZ/BUTLER EAGLE
Six months of rehab allowed her to return to the board, but her road back was far from complete.
"After the accident, I didn't dive again until June," she said. "I coach diving at Butler Country Club and tried it there.
"I was dealing with a lot of back pain. It would cramp up on me and I had spasms. It was painful waking up, just walking. I told Ken I really doubted if I could come back."
But the pain eased a bit with each passing week and by October, Williams knew she would be hitting the water during this, her senior year.
Wednesday night's meet against North Allegheny was the first meet this season in which Williams did not win.
"You take a year off from doing anything, it's going to affect you," said Bedford. "She's way beyond where I thought she'd be.
"Paige spins really well and her somersaults are top-notch. There's no splash to most of her dives. She's not a big girl physically, but makes up for it with finesse and ability."
Several things are motivating Williams, including that school record of 274.85.
"I want that really bad," she said. "I made WPIALs and states my sophomore year and I want to get back to where I was, but whatever the outcome, I'm just glad to be back on the board."