Griffith shining in water
Butler junior helps Tornado swimmers best Pine-Richland
February 6, 2020 Other High School Sports

<![if !supportLineBreakNewLine]>
<![endif]>
<![if !vml]>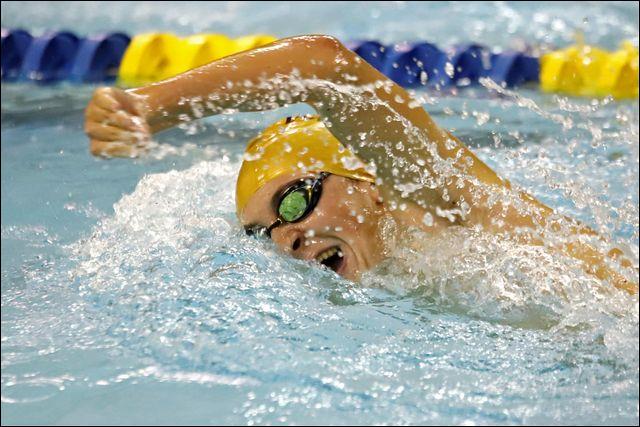 <![endif]>
Butler swimmer Tanner Vietmeier competes in the 200 freestyle during the Golden Torrnado's victory over Pine-Richland.
SEB FOLTZ/BUTLER EAGLE
BUTLER TWP — Last year, Abbie Griffith had a breakout sophomore season for Butler's girls swimming team, placing fifth in the WPIAL in the backstroke and butterfly and earning a berth in the state championship meet in both events.
She's spent the last 11 months working toward making her junior campaign even better.
Griffith has again qualified for WPIALs in both of her individual events and will spend the next three weeks refining her technique, which was good enough to take first place in two events in Butler's 103-83 victory against visiting Pine-Richland.
She won the butterfly in 59.44 seconds and took the 200 freestyle in 2:04.05.
"I will be swimming the fly and back at WPIALs again," said Griffith. "Right now my times for both are 59-low and I'm happy with that, but I want to get to 56. I'm not tapered yet and hopefully, I can get there this season."
Butler coach Dave Bocci believes Griffith is in position to take a big step forward in the upcoming postseason meets.
"She's an excellent sprinter and is coming on strong," he said. "The expectation is there for her to have career-best times by the end of the season."
Griffith, who was also on the winning 200 medley and 400 freestyle relay teams Wednesday, owns personal-best efforts of 57.4 in the butterfly and 57.2 in the backstroke.
She took part in Butler's trip to Florida in December.
"It was straight training and was rough, but it was a good experience," she said. "I'm training six days every week, two hours at a time and that doesn't include any of the weightlifting or dry-land (workouts).
"The goal is to get back to states in both of my events."
Laura Goettler, Ellie Weiss and Savannah Holt were Griffith's teammates on both winning relays. Goettler also took first in the 200 IM and breaststroke. She is the defending state champion in the latter.
Butler's boys clinched a 94-86 win over the Rams with a victory in the night's final event, the 400 freestyle relay. The Golden Tornado quartet included Ben Borvendeg, David Bocci, Tanner Vietmeier and Sam Deemer. Their time of 3:24.34 bettered the Rams by over six seconds.
Also contributing to the win was freshman Gideon Goettler, who placed first in the breaststroke and helped the 200 medley relay to victory.
"Gideon has grown a lot in the past year. He's almost six-foot tall now," said Coach Bocci. "He's got those Goettler genes (Laura's younger brother) and will swim the breaststroke on our medley relay, which is our strongest relay. He's the missing piece for us."
Butler closes the regular season at Seneca Valley next Thursday.
"Both of our teams are 5-4, so they've both clinched at least a .500 record," said Coach Bocci. "That's the first time for that since I can remember."
Girls
Butler 103, Pine-Richland 83
200 medley relay: 1-Butler (Abbie Griffith, Laura Goettler, Ellie Weiss, Savannah Holt) 1:52.01
200 freestyle: 1-Griffith (B) 2:04.05
200 individual medley: 1-Goettler (B) 2:06.48
50 freestyle: 1-Holt (B) 26.18
1-meter diving: 1-Paige Williams (B) 247.30
100 butterfly: 1-Griffith (B) 59.44
100 freestyle: 1-Delaney Allen (PR) 57.78
500 freestyle: 1-Annabelle Turner (B) 5:46.30
200 freestyle relay: 1-Pine-Richland 1:53.21
100 backstroke: 1-Alyssa Schonbachler (PR) 1:04.21
100 breaststroke: 1-Goettler (B) 1:06.68
400 freestyle relay: 1-Butler (Griffith, Holt, Goettler, Weiss) 3:53.92
Boys
Butler 94, Pine-Richland 86
200 medley relay: 1-Butler (Sam Deemer, Gideon Goettler, David Bocci, Ben Borvendeg) 1:41.95
200 freestyle: 1-Will Laubacher (PR) 1:53.64
200 individual medley: 1-Deemer (B) 2:00.25
50 freestyle: 1-Borvendeg (B) 22.04
1-meter diving: 1-Daniel Steger (PR) 157.35
100 butterfly: 1-Bocci (B) 53.49
100 freestyle: 1-Borvendeg (B) 48.35
500 freestyle: 1-Bocci (B) 4:46.57
200 freestyle relay: 1-Pine-Richland 1:36.31
100 backstroke: 1-Deemer (B) 58.97
100 breaststroke: 1-Goettler (B) 1:06.31
400 freestyle relay: 1-Butler (Borvendeg, Bocci, Tanner Vietmeier, Deemer) 3:24.34