Borvendeg helps Butler swimmers top Mars
January 7, 2020 Other High School Sports

<![if !supportLineBreakNewLine]>
<![endif]>
<![if !vml]>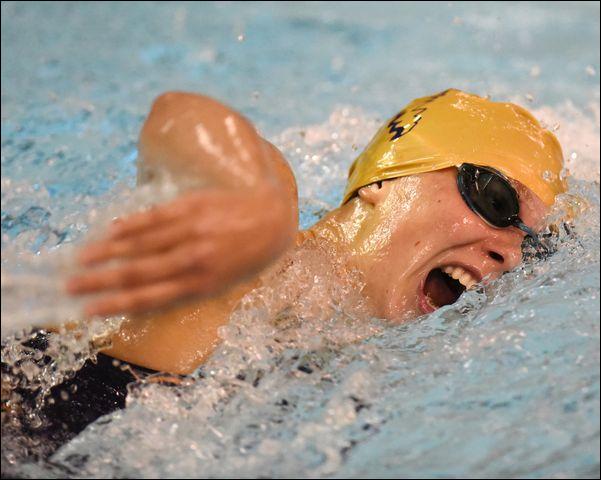 <![endif]>
Butler's Laura Goettler competes iin the 200 individual medley against Mars during the Golden Tornado's sweep.
HAROLD AUGHTON/BUTLER EAGLE
BUTLER TWP — A swimmer is not usually tasked with swimming the 50 and 500-yard freestyle events. Speed and endurance are normally split up amongst multiple competitors.
Butler sophomore Ben Borvendeg hit the water for both in a meet against Mars and emerged with a pair of victories.
He topped the field in the 50 with a time of 21.98 seconds and took the 500 in 4:56.13 at the Butler pool.
Borvendeg normally swims the 50 and 100 freestyles, earning a medal in the former by placing fifth at the WPIAL meet last year.
"We've been moving some different guys into that 500," said Butler coach Dave Bocci. "When you want to see how a guy can do in a different event, it has a domino effect. Tanner Vietmeier usually swims the 500, but we wanted to see how he could do in the 100, so that opened the 500 up for Ben.
"It was a bit of a different combination for him, but it gave him a chance to stretch out his swim."
Neither move hurt the Golden Tornado as Vietmeier won the 100 freestyle in an 85-72 win over the Planets.
"I'm not used to the 500," said Borvendeg. "It'd been about three years since I swam it. I found out at practice (over the weekend) that I would be swimming it and I'm glad I did. It gave me a chance to work on my technique."
Borvendeg anticipates a move back to the familiar 100 and Bocci has high hopes moving forward.
"I think he's capable of finishing in the top three at WPIALs in both of his events, possibly putting himself in position to win," he said.
Borvendeg also swam a leg on two relays that finished with the top time, the 200 medley and 400 freestyle.
Butler juniors Sam Deemer (200 IM, backstroke) and David Bocci (200 freestyle, butterfly) both earned two victories in individual events.
Butler's boys improved to 2-0 while Mars slipped to 1-5.
Girls Butler 102, Mars 84
Though the Planets suffered their first defeat of the season, the team has much potential and freshman Riley Connelly is a big reason for the optimism.
She placed first in the backstroke (1:04.77) and swam a leg on the winning 200 freestyle relay team.
Though new to varsity swimming, Connelly has nearly a decade of swimming under her belt. She currently swims for Pine-Richland Aquatics outside of high school.
"She works hard and is coachable," said Mars coach Todd Slobodnyak. "She's quiet, but leads by example and has a lot of potential.
"The backstroke and breaststroke are her two best events. I anticipate her making WPIALs in both."
That's the goal.
"I want to get those WPIAL cuts and go from there," said Connelly. "I've fallen off a bit in the breaststroke and I think the back is my best event."
The girls' meet featured two double-winners in individual events — Butler's Abbie Griffith (200 freestyle, butterfly) and Laura Goettler (200 IM, 500 freestyle).
The Golden Tornado girls are now 2-0 and Mars is 5-1.
Both Butler and Mars compete Thursday, the Tornado at North Hills and the Planets at Pine-Richland.
Girls
Butler 102, Mars 84
200 medley relay: 1-Butler (Abbie Griffith, Laura Goettler, Ellie Weiss, Savannah Holt) 1:57.87
200 freestyle: 1-Griffith (B) 2:04.3
200 individual medley: 1-Goettler (B) 2:06.93
50 freestyle: 1-Caroline Stamper (M) 27.14
1-meter diving: 1-Paige Williams (B) 219.55
100 butterfly: 1-Griffith (B) 1:01.38
100 freestyle: 1-Savannah Holt (B) 58.8
500 freestyle: 1-Goettler (B) 5:21.98
200 freestyle relay: 1-Mars (Megan Smith, Sarah Hooper, Riley Connelly, Stamper) 1:46.99
100 backstroke: 1-Connelly (M) 1:04.77
100 breaststroke: 1-Smith (M) 1:11.69
400 freestyle relay: 1-Butler (Goettler, Griffith, Weiss, Holt) 4:04.28
Boys
Butler 85, Mars 72
200 medley relay: 1-Butler (Sam Deemer, Gideon Goettler, David Bocci, Ben Borvendeg) 1:40.89
200 freestyle: 1-Bocci (B) 1:48.25
200 individual medley: 1-Deemer (B) 1:59.89
50 freestyle: 1-Borvendeg (B) 21.98
1-meter diving: 1-Rachel Ronczka (M) 154.5
100 butterfly: 1-Bocci (B) 52.97
100 freestyle: 1-Tanner Vietmeier (B) 53.27
500 freestyle: 1-Borvendeg (B) 4:56.13
200 freestyle relay: 1-Butler (Goettler, Tanner Frankenstein, Tanner Vietmeier, Bryce Dryden) 1:39.04
100 backstroke: 1-Deemer (B) 54.85
100 breaststroke: 1-Goettler (B) 1:05.37
400 freestyle relay: 1-Butler (Bocci, Deemer, Vietmeier, Borvendeg) 3:26.84