OPENING ACT
Butler swim teams win in Kroll's coaching debut
December 09, 2022 Last Updated: December 08, 2022 10:43 PM High School
<![if !vml]>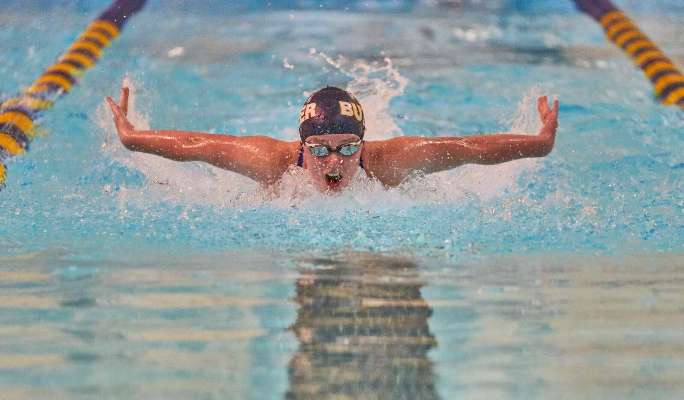 <![endif]>
Butler sophomore Addison Vance shows her winning form in the 200-yard individual medley in the season-opening meet against Armstrong. Butler's boys and girls both defeated the River Hawks. Shane Potter/Butler Eagle
BUTLER TWP — A new era officially began for the Butler swimming program Thursday night.
The girls and boys teams defeated visiting Armstrong by scores of
94-51 and 81-58, respectively. They are the first two victories for first-year head coach Troy Kroll.
Butler has a lot of young swimmers either brand new to the varsity scene or aiming to take the next step after getting their feet wet last year. Finding for swimmers their best events is top priority this early in the season.
"You put a kid in an event and see how they respond," said Kroll. "It comes down to what is observed in practice and how they do in meets. Relays can be tricky because a kid could be better leading off than they are as an anchor.
"Tonight's meet told me a lot."
One swimmer who already seems to have a niche is sophomore Addison Vance, who won the girls individual medley with a time of two minutes, 18.04 seconds.
"I did not make the WPIAL meet last year, but we've been training hard," said Vance, who also swam a leg on the winning 200- and 400-yard freestyle relays. "We're being pushed, lifting weights and I felt prepared coming into this meet.
Vance has competed on the Butler YMCA team for six years. She counts the butterfly as her other top event.
"My goal is to get my time down and make WPIALs," she said. "My time in the IM tonight is only a second off my best time from last year."
Also winning individual events for Butler's girls were Annabelle Turner (500 freestyle), Julie DeMeio (breaststroke) and Michelle Jacobson (diving).
Vance's twin sister, Abigail, was also on both of Butler's winning relay teams.
As the season progresses, more emphasis will be put on times as swimmers attempt to make WPIAL cuts.
"We told the kids that January is going to look a lot different," said Kroll. "We'll be talking with them about their goals and what they want to accomplish."
Butler boys who won individual events were Daniel Birch (IM) and Jackson Morgus (100 freestyle). The latter was on Butler's winning 200 freestyle relay team.
Noah Collins helped the Golden Tornado earn wins in the 200 and 400 freestyle relays.
Butler hosts Plum next Wednesday.
Girls
Butler 94, Armstrong 51
200 medley relay: Armstrong 2:03.90
200 freestyle: Bryony Shipe (A) 2:03.06
200 individual medley: Addison Vance (B) 2:18.04
50 freestyle: Ava Barton (A) 25.15
1-meter diving: Michelle Jacobson (B) 143.50
100 butterfly: Bryony Shipe (A) 1:05.97
100 freestyle: Ava Barton (A) 56.46
500 freestyle: Annabelle Turner (B) 5:38.80
200 freestyle relay: Butler (Emma Pflugh, Annabelle Turner, Addison Vance, Abigail Vance) 1:48.04
100 backstroke: Dylayn Shipe (A) 1:04.42
100 breaststroke: Julie DeMeio (B) 1:20.20
400 freestyle relay: Butler (Rylee Pflugh, Addison Vance, Emma Pflugh, Abigail Vance) 3:55.95
Boys
Butler 81, Armstrong 58
200 medley relay: Armstrong 1:50.84
200 freestyle: Ryan Bowser (A) 2:05.06
200 individual medley: Daniel Birch (B) 2:20.26
50 freestyle: Ethan Weigel (A) 23.67
1-meter diving: Not contested
100 butterfly: Ethan Weigel (A) 59.05
100 freestyle: Jackson Morgus (B) 54.13
500 freestyle: Ryan Bowser (A) 5:34.80
200 freestyle relay: Butler (Noah Collins, Ben Grossman, Jackson Morgus, Keaton Matteson) 1:37.95
100 backstroke: Parker Weigel (A) 1:01.55
100 breaststroke: Ben Webb (A) 1:07.88
400 freestyle relay: Butler (Dashiell Thieme, Sam Miller, Wyatt Morgus, Noah Collins) 4:14.76