PROMISING DISPLAY
Butler boys swimmers down Plum, girls put up good fight
Brendan Howe Eagle Staff Writer
December 15, 2022 Last Updated: December 14, 2022 10:17 PM High School
<![if !vml]>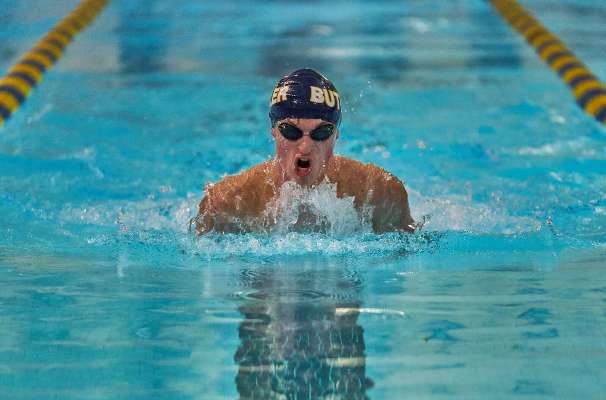 <![endif]>
Butler's Ben Grossman swims the boys 100-yard breaststroke event on Wednesday evening against Plum at a meet held at Butler. Shane Potter/Butler Eagle
BUTLER TWP — In the pool, Butler is molding its likeness.
First-year head coach Troy Kroll feels the program's progress is ahead of schedule.
In their second meet of the season, the Golden Tornado's boys swimming team beat visiting Plum, 85-61, while the girls kept it close in a 94-86 defeat.
"I think they're kind of taking on an identity — and think they showed that tonight," Kroll said. "If you look at Plum right now, they have numbers, a lot of good swimmers, and they're a pretty good team. The boys won. They swam fantastic. And also, the girls maybe have half the numbers and they came to play. They were really fighting it.
"This is a new team and this is what I want them to do."
Butler is even sporting a new look, with updated swim caps and swimsuits. It's all part of the culture overhaul that's contributing to a new character.
"You have a lot of good swimmers that have come through here in the past," said junior Ben Grossman, who was part of the 200-yard medley relay and the 400-yard freestyle relay, both of which won. "Now, we get a fresh start and build our own legacy here at Butler. We're going to surprise some people."
Grossman also took first place in the 100 breaststroke.
"It's just mastering it," Kroll said. "It's just coming together. You see them now, they're starting to really become a team."
While Knoch held a meet at the senior high school's pool Tuesday night, Butler headed to the intermediate to practice. The coach saw a different team than he had before — in a good way.
"You just see the progress over the weeks and weeks just coming together," Kroll said. "We have established leadership and they're always with the kids ... We are young, but we do have some older leaders that are stepping up."
The teams have a number of swimmers already at last year's peak shape.
Daniel Birch competed in back-to-back events, placing second in the 200-yard freestyle then first in the 200 IM. Breaststrokers such as Grossman and Addyson Traggiai impressed, as well. The relays, Kroll said, stole the show, though.
The question of those groups' strength entering the schedule has been quickly answered.
"The girls 400 freestyle relay dropped almost 10 seconds," Kroll said. "The boys, they're starting to put together the relays and they're starting to drop times. It's all in between the ears."
Also, the girls 200 medley relay crew came less than a half a second from victory. Winning individual events for the Golden Tornado girls were Addison Vance (200 medley), Abigail Vance (100 freestyle), Annabelle Turner (500 freestyle), and Grace Persichini (diving),
On the boys side, Keaton Matteson won with both the 200 and 400 freestyle relays. He also came out on top in the 50 freestyle and 100 butterfly events.
Noah Collins (100 freestyle) and Jackson Morgus (500 freestyle, 100 backstroke) were individual winners, too.
Girls
Plum 94, Butler 86
200 medley relay: Plum 2:01.44
200 freestyle: Emma Sullivan (P) 2:03.47
200 individual medley: Addison Vance (B) 2:17.88
50 freestyle: Amelia Faust (P) 26.47
1-meter diving: Grace Persichini (B) 165.75
100 butterfly: Giuliana Ricciuti (P) 1:01.42
100 freestyle: Abigail Vance (B) 57.77
500 freestyle: Annabelle Turner (B) 5:37.29
200 freestyle relay: Plum 1:45.33
100 backstroke: Giuliana Ricciuti (P) 1:02.68
100 breaststroke: Kaileigh Smith (P) 1:14.03
400 freestyle relay: Butler (Addison Vance, Annabelle Turner, Emma Pflugh, Abigail Vance) 3:51.22
Boys
Butler 85, Plum 61
200 medley relay: Butler (Sam Miller, Ben Grossman, Daniel Birch, Wyatt Morgus) 2:00.45
200 freestyle: Maddox Sciullo (P) 2:06.53
200 individual medley: Daniel Birch (B) 2:19.83
50 freestyle: Keaton Matteson (B) 23.54
1-meter diving: Not contested
100 butterfly: Keaton Matteson (B) 1:02.12
100 freestyle: Noah Collins (B) 56.02
500 freestyle: Jackson Morgus (B) 5:40.73
200 freestyle relay: Butler (Noah Collins, Daniel Birch, Jackson Morgus, Keaton Matteson) 1:39.07
100 backstroke: Jackson Morgus (B) 1:05.33
100 breaststroke: Ben Grossman (B) 1:09.01
400 freestyle relay: Butler (Keaton Matteson, Ben Grossman, Noah Collins, Jackson Morgus)