Seybert opts for Point Park
Butler distance runner joining budding program
February 22, 2018 High School Track & Field

<![if !supportLineBreakNewLine]>
<![endif]>
<![if !vml]>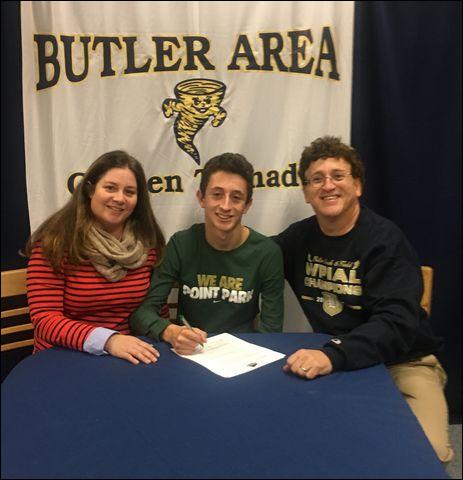 <![endif]>
Butler senior Camden Seybert, flanked by parents Allysia Druga and Mike Seybert. has signed a letter of intent to compete in cross country and track and field at Point Park University.
SUBMITTED PHOTO
BUTLER TWP — He considers himself a late bloomer.
Now Butler senior cross country and distance runner Camden Seybert is looking to build on Point Park University's early success in the sport.
Seybert recently signed a letter to continue his academic and two-sport career with the Pioneers.
"I was considering some other options," he said. "But once I visited there, that was pretty much where I was going to go."
Seybert ran for a Butler cross country team that qualified for the state meet the past two seasons, the Golden Tornado ending a 16-year drought in that regard. Butler's team placed second at the WPIAL meet last fall.
"They became a close--knit group of boys," Tornado cross country coach Rick Davanzati said. "They were all hungry and they wanted to succeed as a team.
"They all worked together in practice to get better. They fed off each other. Cam was definitely one of those kids who benefitted from that attitude."
Seybert is joining a Point Park cross country and track program that's only been around for four years. The cross country team placed second in the River States Conference last season and qualified for the NAIA national meet for the second time in three years.
The Pioneers' 32nd-place finish at nationals was the best in the program's young history — and the team only had one senior. It had 11 freshmen and sophomores on the roster.
"I'm one of 12 boys they're bringing in and it's a good recruiting class," Seybert said. "My goal is to break records there and be one of the best runners Point Park has ever had.
"I want to develop into a good marathon runner after college," he added.
Seybert has reason to be optimistic as his body has matured physically the past couple of years.
"He's a late bloomer, no doubt," Davanzati said. "Going to a newer program as determined as he is, his college career should be something to see."
Seybert said he's "grown six inches and put on 30 pounds" from his sophomore year to now.
"I've had to be patient, waiting for my body to develop," he said. "Doing the proper weight training and eating right has contributed, too."
Point Park's only cross country and track coach has been Kelly Parsley. Seybert said the coach was the difference in making up his mind to attend the school.
"Coach Parsley spoke to our whole (Butler) team when we did the Liberty Mile in Pittsburgh," Seybert said. "He's such a nice guy and I like his ideas on where to take the program."
Washington & Jefferson recruited Seybert, who also considered walking on at the University of Pittsburgh. He will run the 5k and 10k at Point Park during track season.
Seybert is leaning toward majoring in photo-journalism.
"I like being down by Pittsburgh," he said. "I'm going to ask the Pirates and Penguins about opportunities to do some photography and writing for them.
"This whole thing is a good fit for me."
Seybert's father, Mike Seybert, is a former Butler head track and field coach who still assists the team.
"It's a surprising choice for him," Seybert's father said. "But it's a good fit for what he wants to do and they have an energetic coach who's bringing in a lot of Division I and II caliber runners.
"Cam's joining a growing program that's doing well. I'm excited for him."