Going The Extra Mile
Butler's Beveridge snaps 40-year record in 1,600 meters; 5 other boys win titles
April 21, 2018 High School Track & Field

<![if !supportLineBreakNewLine]>
<![endif]>
<![if !vml]>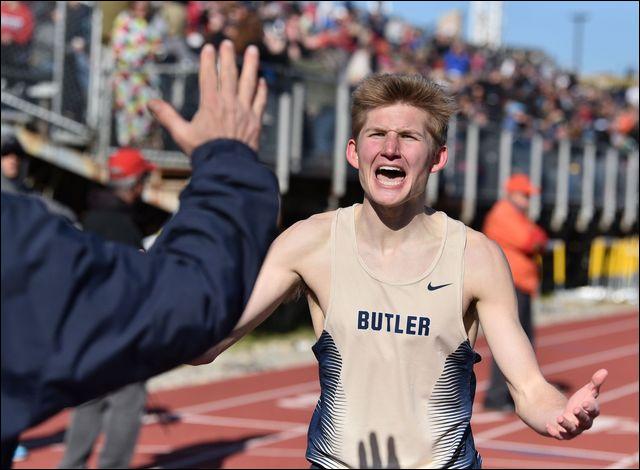 <![endif]>
Butler senior Noah Beveridge shows his emotions after winning the the boys 1,600 meters and setting a Butler Innvitational record Friday at Art Bernardi Stadium.
JUSTIN GUIDO/ BUTLER EAGLE
BUTLER TWP — Noah Beveridge accomplished a lot in four laps around the track Friday at Art Bernardi Stadium.
Butler's senior not only won the 1,600-meter run at the 54th Butler Track and Field Invitational, he broke the invite record and school standard with a time of 4 minutes, 12.58 seconds. The performance is currently the 9th-fastest time in the country.
Beveridge's top event is the 3,200, in which he is the defending WPIAL champion. But he had his eye on the 1,600 entering Friday's action.
"That was one of the oldest school records at Butler," said Beveridge. "Ed Hartman ran (4:16.9) in 1978. I wanted to break it here today in front of the home crowd.
"I remember seeing Ed's time when I was a kid," said Beveridge, a Syracuse University recruit. "When you're young like that, you don't realize how fast 4:16 is. When you do realize it, you're like, 'Wow!'"
Beveridge was right in front of the pack during the third lap before pulling away. His effort topped the previous invite record of 4:14.46 by North Hills' Ian Fitzgerald in 2004. Grove City's Jonah Powell was runner-up Friday at 4:20.07.
"In terms of training, he's been increasing his mileage every year," said Butler distance coach Rick Davanzati of Beveridge. "As he saw where he was ability-wise each year, his intensity picked up.
"He's a once-in-a-coaching-career type of kid," he added. "I'll be sad to see him go."
Other highlights from the boys at the Butler Invitational:
Sami Taoufik has been forced to rethink the standards he set for himself.
Butler's sophomore had a goal of reaching 6-5 in the high jump by the end of the season, but managed that height in winning here Friday.
"I competed here last year and didn't do well," he said. "It means so much to win here, to win for the team."
His older brother, Tarik, is a long and triple jumper for the Golden Tornado.
"He's kinda like my personal coach," Sami said. "He's my role model and I've always looked up to him. None of this would have been possible without him."
Sami Taoufik now has his sights set on 6-7.
"I tried it three times today and didn't get it," he said, "but it's definitely in the realm of possibility for me."
<![if !vml]>
<![endif]>
Jake Wolfrum powers out of the blocks during the boys 4x100 meter relay Friday. He won the 300-meter hurdles during the meet.
NATE BLACK/ SPECIAL TO THE EAGLE
Also winning for Butler's boys was senior Jake Wolfrum, who captured the 300 hurdles with a time of 38.92.
"I'm told that time is second-best in the state right now," said Wolfrum. "It shows you what hard work can do. I go from running 43s last year and placing like 20th at WPIALs to having the second-best time in the whole state."
Wolfrum's latest time is also just four-hundredths of a second shy of Butler's school record.
"I just want to get to states and earn a medal (top eight)," he said.
Aden Dressler doesn't normally compete in the 3,200 relay, but he made the most of the opportunity.
The Butler senior teamed with Rob Hays, Skyler Vavro and Doug Kostelansky to win the event in 8:11.88.
"I found out Tuesday that I'd be running today," said Dressler. "I am usually in the (individual) 3,200 and it was nice to get a chance to run a different event. It was pretty exciting to see Doug cross the finish line first.
"Coach (Davanzati) said if I run in it (3,200 relay) a few more times and do well, I could be in the mix if we make it to states."
Seneca Valley's Seth Ketler wasn't pleased with just his gold medal in the 800 run, he also improved on his personal-best time in the event.
"It was 1:57.96 and I wanted to break it," Ketler said after running a 1:56.24. "I've always been involved in the 800. I like it because of my running a leg of the 3,200 (relay). It gives me a chance to work on my speed and that's what I was doing her today."