Breakthrough
Butler boys claim 1st team title in 18 years
April 19, 2019 High School Track & Field
<![if !vml]>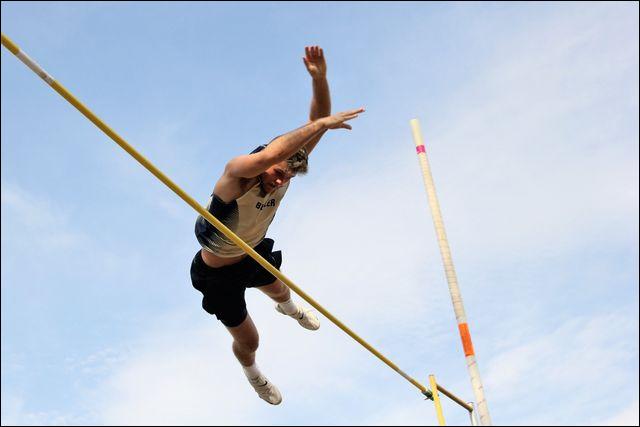 <![endif]>
Butler's Jack Codispot pole vaults his way to the top finish at Thursday night's Butler Invitational. His winning vault was 15 feet, 1 inch. Sebastian Foltz/Butler Eagle
SEBASTIAN FOLTZ/BUTLER EAGLE
BUTLER TWP — Winning a team title at an invite as big as Butler's is special no matter when it comes. Waiting 18 years to add the hardware to their trophy case made it that much sweeter for Butler's boys.
The Golden Tornado edged Grove City, 65-64, for the program's first title here since 2001.
"We had a lot of big-time performances today," said Butler coach Mike Seybert. "Sami Taoufik wins the high jump. We take first and third in the pole vault (with Jack Codispot and Andrew Kline). That's 16 points right there. Dennis Goodwine was big in the shot put. All three of our relays did well."
In the last event of the day, Butler's 4x400 team actually placed third (six points) behind Grove City (10 points), but the Golden Tornado had a five-point lead over the Eagles entering the event.
The relay included an odd sequence with a non-participating athlete stepping from the infield onto the track, causing Butler's Cade Gratzmiller to hesitate for just a moment.
"That was frustrating," said relay member Ryan Marcella. "I don't know if we would have won, but it would have been a lot closer. The team title makes it more bearable, though. It was a bit of a surprise."
Other members of the relay included Guinness Brown and Cody Reddick.
Taoufik got a late start to the track and field season, but you would never have guessed it from his performance Thursday at the Butler Track and Field Invitational.
Butler's junior cleared six feet, seven inches in the boys high jump to successfully defend his title here from last year.
The effort also tied the best height achieved in the state this season by Redbank Valley's Sam Hetrick, who also went 6-7 Thursday, but Taoufik won due to less misses.
"I've been dealing with an injured left knee and this was my first meet back," said Taoufik. "I was hoping to tie my (personal record), which was 6-5. I figured that would be a good start at coming back."
"Coming off the injury, he was fresh," said Butler jumping coach Rick Zitalone. "He's gone the last few days in practice, getting some reps in. He was focused today and did really well."
Taoufik and Hetrick interacted during the event.
"We talked in between jumps, wishing each other good luck," said Taoufik. "It was nothing arrogant, we both respect each other's abilities."
Taoufik is hoping his latest effort can springboard him into a memorable May.
"I was terrible at WPIALs last year," he said. "I have to make states this season.
"I'm going after our school record now. It's 6-9. I had it today, the height was there, but my calf hit the bar. I feel I can get it if I get my form down."
Also winning a title for Butler's boys was senior Jack Codispot in the pole vault. He reached 15-1 in topping the field.
"I wanted to win today, but I also wanted to break the school record (15-5) and go after the meet record (15-7)," said Codispot. "It's still awesome to win here, though. There's a lot of familiar faces."
Codispot came through in his final appearance at the Butler Invite.
"I had a rough go of it the last few years," he said. "I'm not sure what it was, just some bad luck, but I can't even remember where I placed.
"I was finally able to put things together today."
Though it was a warm and sunny day, Thursday's wind played havoc with several vaulters.
"It was right in my face during warmups," Codispot said. "They moved us to the other pit for finals and the wind was at our back. I could feel the difference."
He doesn't hesitate when asked of his goals in closing out his high school career.
"Win at WPIALs, go to states and win there," he said. "Hey, that's the way to do it."
Codispot, who will continue to compete at Slippery Rock University, picked up the pole vault in junior high.
"It was definitely something different, flipping yourself through the air with a stick," he said. "But I liked it from the start."