2 more Butler track marks fall
Patterson, 4x800 relay unit shine at SPIRE indoor competition
February 3, 2020 High School Round Up

<![if !supportLineBreakNewLine]>
<![endif]>
<![if !vml]>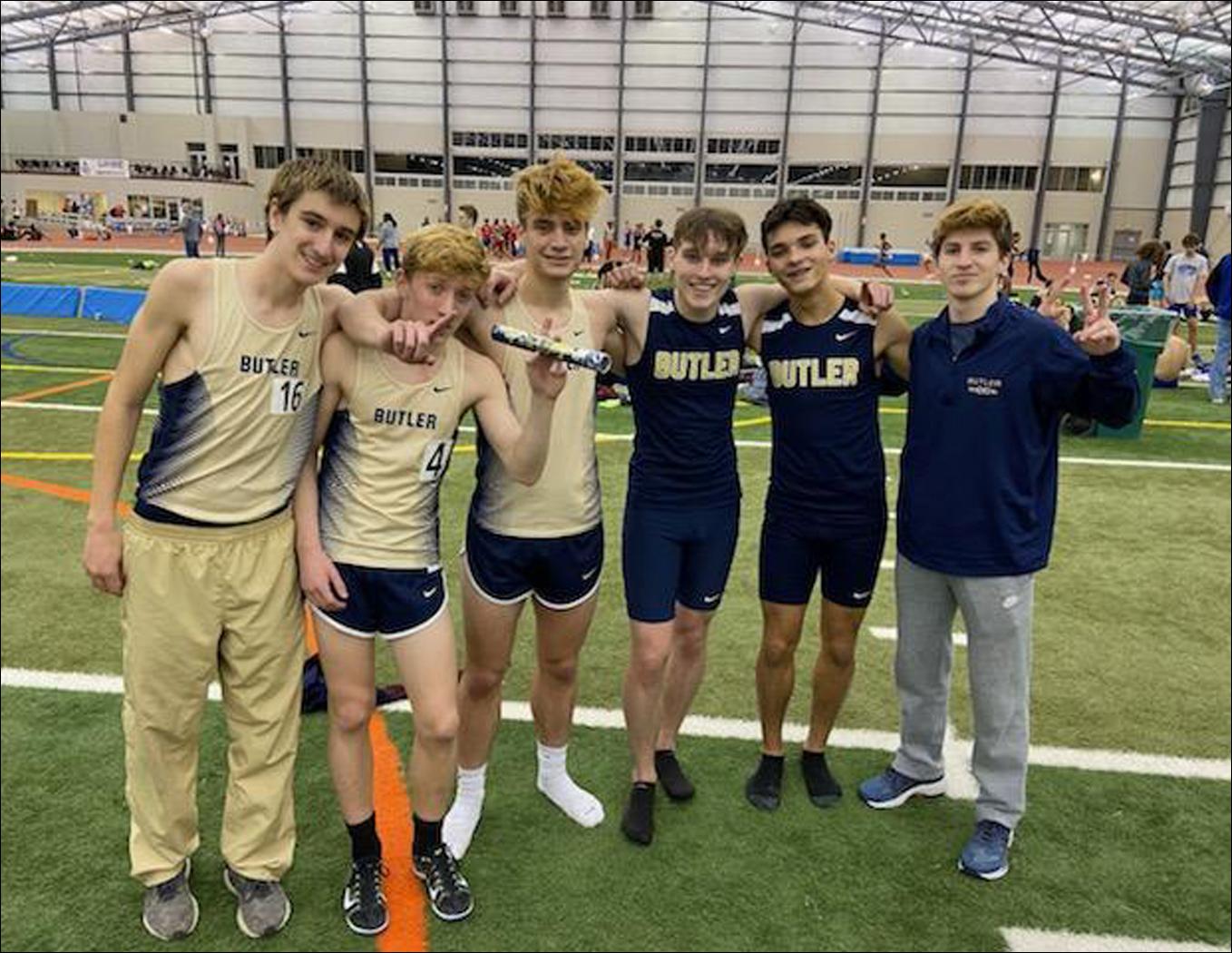 <![endif]>
Butler's indoor track and field team enjoyed another banner day Saturday. From left are 3,200-meter school record holder Tim Patterson, 4x800 relay school record holders Sage Vavro, Ryder Kriley, Alex Karenbauer and Guinness Brown, and 1,600-meter standout Skyler Vavro.
SUBMITTED PHOTO
Two more Butler indoor track and field records fell during competition at the SPIRE Institute.
Tim Patterson shattered his own record in the 3,200 meters by running the event in 9 minutes, 42.25 seconds. His previous school mark was 9:58.87.
The Golden Tornado's 4x800 meter relay team of Sage Vavro, Ryder Kriley, Alex Karenbauer and Guinness Brown ran a school-record 8:06.08. That snapped the previous mark of 8:10.67 set by Butler's 1998 relay team of Buck Kozic, Adam Voll, Drew Maxwell and Erinn Otterson. That foursome went on to win the state championship in the spring.
The 8:06.08 time ranks third in the state right now — and secvond in Ohio as the SPIRE Institute is located in Geneva, Ohio.
Also running solid times for Butler Saturday were Skyler Vavro with a 4:28.74 in the 1,600, Lucas Slear with a 2:04.22 in the 800, Anna Baxter with a 9.59 in the 60-meter hurdles and Kara Kemple with a 5:56.12 in the 1,600.
"We're very proud of these kids' efforts the past few meets ... times on the track and marks in the field are hitting some high standards," Butler coach Mike Seybert said.
"Boys and girls squads are looking forward to an exciting February to show everyone how hard they've been working this winter."