Taoufik jumping toward state record
Butler senior begins indoor campaign by snapping long-standing school mark
January 9, 2020 High School Track & Field

<![if !supportLineBreakNewLine]>
<![endif]>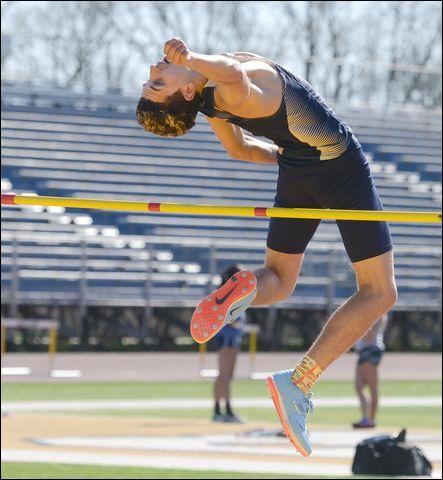 Butler senior Sami Taoufik is looking to reach seven feet and break the PIAA record in the high jump this season.
FILE PHOTO
BUTLER TWP — Sami Taoufik is jumping for the stars.
And he just might reach them.
The Butler senior snapped the school's 22-year-old high jump record with a leap of 6 feet, 8 inches at the Golden Tornado's indoor track and field season opener at Edinboro University last weekend.
Andy Cunningham set the previous record at 6-6 in 1998.
"I knew I could get to 6-8, but I wasn't expecting to do it in the first meet," Taoufik said. "I hit 6-7 last year and I feel like I'm stronger this year."
Taoufik has competed in the triple and long jumps for the Tornado as well, but says "the triple jump and I are no longer friends.
"I've had some knee issues and that event is stressful on the knees."
But Taoufik is very much a player at the state level in the high and long jumps. His goal this year is to high-jump seven feet and eventually break the high school state record.
The PIAA mark is 7-0.75, set by Tyrone Smith of Plymouth-Whitemarsh in 1985.
"Seven feet is rare air for high school. It's rare for almost any level," Butler track coach John Williams said.
Rick Zitalone, Taoufik's jump coach the past three years, believes his standout jumper can get there.
"I know that's in him," Zitalone said. "The natural ability is there. You can't teach a kid how to jump high. But you can work on technique and leg strength. That's where we are with Sami.
<![if !vml]>
<![endif]>
Taoufik
"He's already cleared 6-9 easily, but his feet were a little low and caught the bar. Those are the things we can work on.
"Can he hit seven feet? Absolutely, he can," Zitalone added.
Taoufik won the WPIAL high jump championship last spring with a leap of 6-5. He did not place at the PIAA Championships.
He suffered a sprained ankle playing basketball the day before.
"A stupid thing to do," Taoufik said in admonishing himself. "I should have been more careful. I know I would have won the state title if I was healthy.
"I couldn't spring off at all. Still, I made the initial height at states. Just being able to do that showed me what I'm capable of."
It also made his senior season of utmost importance.
"What happened at the end of last season definitely fueled my fire," Taoufik said. "I'm going after the records."
Butler's indoor long jump record is 22 feet, seen inches. Taoufik has hit 21-7. He believes he can capture championships in both events.
"Targeting those records is good for Sami," Butler track coach Mike Seybert said. "Those marks provide motivation for him.
"Building leg strength is a key for him. The indoor and outdoor seasons combined go on for a long time. His legs have to be strong enough to sustain that period of time."
Taoufik admitted leg speed will help improve his jumps.
"I just wasn't fast enough last year," he said.
Carrying a 4.0 grade point average, Taoufik wants to study finance in college. He's planning to compete at the Division I level, having already talked with Penn State and Kent State, and plans to talk others.
Butler indoor track practices three days a week.
"He's working at it," Zitalone said of Taoufik. "If he continues to improve his form and strengthen his legs, there's no telling how high he can go."