Twin Wins
Butler track rolls to WPIAL 3A boys, girls team crowns
May 13, 2021 High School Track & Field
<![if !supportLineBreakNewLine]>
<![endif]>
<![if !vml]>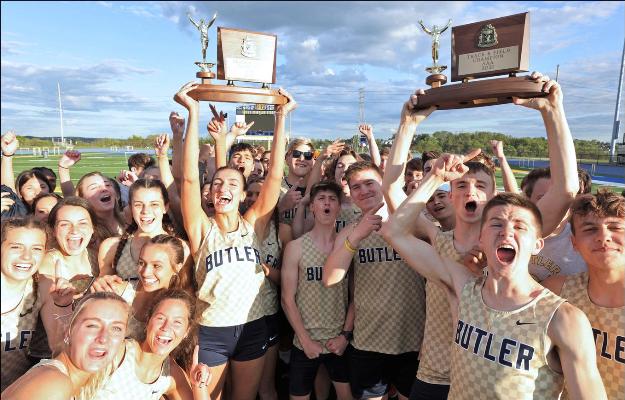 <![endif]>
Butler's boys and girls track and field athletes celebrate their sweep of the WPIAL Class AAA team championship meets Wednesday at West Mifflin High School's track. This marks the first time Butler has claimed both championships in the same season in a number of years.
SEB FOLTZ/BUTLER EAGLE
WEST MIFFLIN — As dominant as Butler's track and field teams have been this season, they knew that only with victory at Wednesday's WPIAL Class 3A team championship meet would 2021 be considered truly special.
The Golden Tornado boys and girls left no doubt, both earning three convincing wins to improve to 15-0 on the season.
The boys earned their first team title in 14 years by crushing South Fayette (112.5-37.5), Seneca Valley (100.5-49.5) and Canon-McMillan (109-41).
The Tornado girls were fitted for their fourth straight crown with wins against Norwin (95-55), North Allegheny (86-64) and Belle Vernon (115-35).
"Between both programs, we now have (22) WPIAL championships between boys and girls," said Butler boys coach Mike Seybert. "That's pretty cool."
As they've done all spring, Butler's boys owned the track, with eight overall wins there out of 11 events.
<![if !vml]>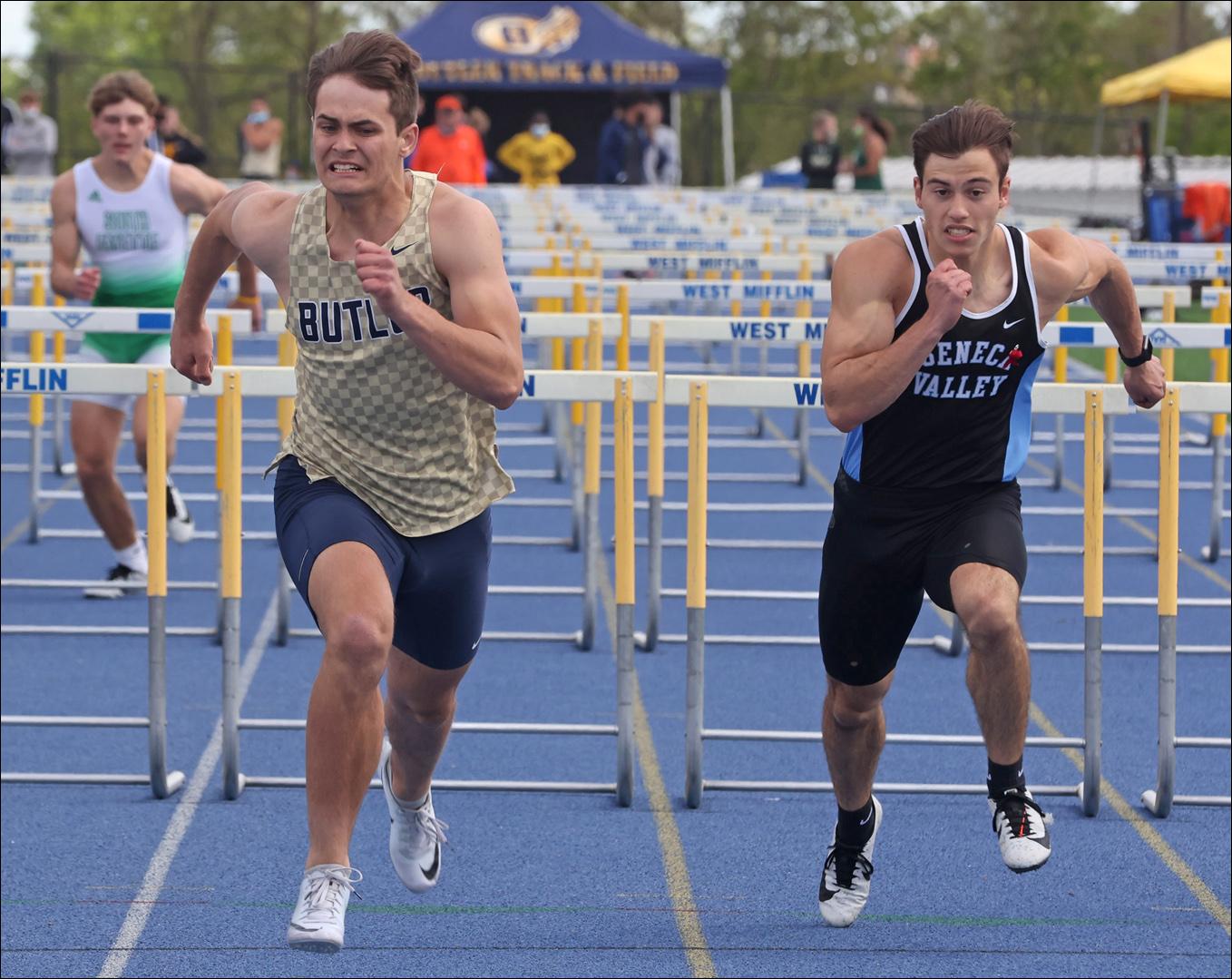 <![endif]>
Butler's Byron Manchester, left, edges Seneca Valley's Aiden Kutchma in the 110-meter hurdles during the WPIAL Class AAA team championships Wednesday. Butler's boys cruised to the team title.
SEB FOLTZ/BUTLER EAGLE
CJ Singleton was part of three of those victories, winning the 1,600-meter run, 800 and running two laps of the 4x800 relay.
"This means a lot to me. I did what I needed to do to help the team win," Singleton said. "We were able to close things up pretty early today."
Indeed, the Tornado had already clinched the championship with a number of events still pending.
"Our goal this season was to score at least 100 points in every meet and we did that," Seybert said. "You could see it in the kids' faces today. They were focused on taking care of what they worked for, beginning last year.
"This is the best boys team we've ever had. That's saying something because we had some really good ones 20 years ago."
Many of this year's athletes were primed for a big season in 2020, but the season was canceled.
"This (title) was our plan last year," explained Jordan Stutz, who won the high jump. "It's priceless and is the most fun I've ever had, being part of this team."
Guinness Brown turned in his usual effort by winning the 100, 200 and 400.
Skyler Vavro won the 3,200 and helped Butler's 4x800 relay squad to another victory.
Seneca Valley defeated Canon-McMillan and South Fayette to finish second in the WPIAL.
"Butler deserves this title," said SV coach Ray Peaco. "They have great coaches and a great attitude.
"We were breathing down their neck as much as we could. I'm so proud of our guys."
Butler's girls swept the seven field events, sparked by a couple of personal-best performances.
<![if !vml]>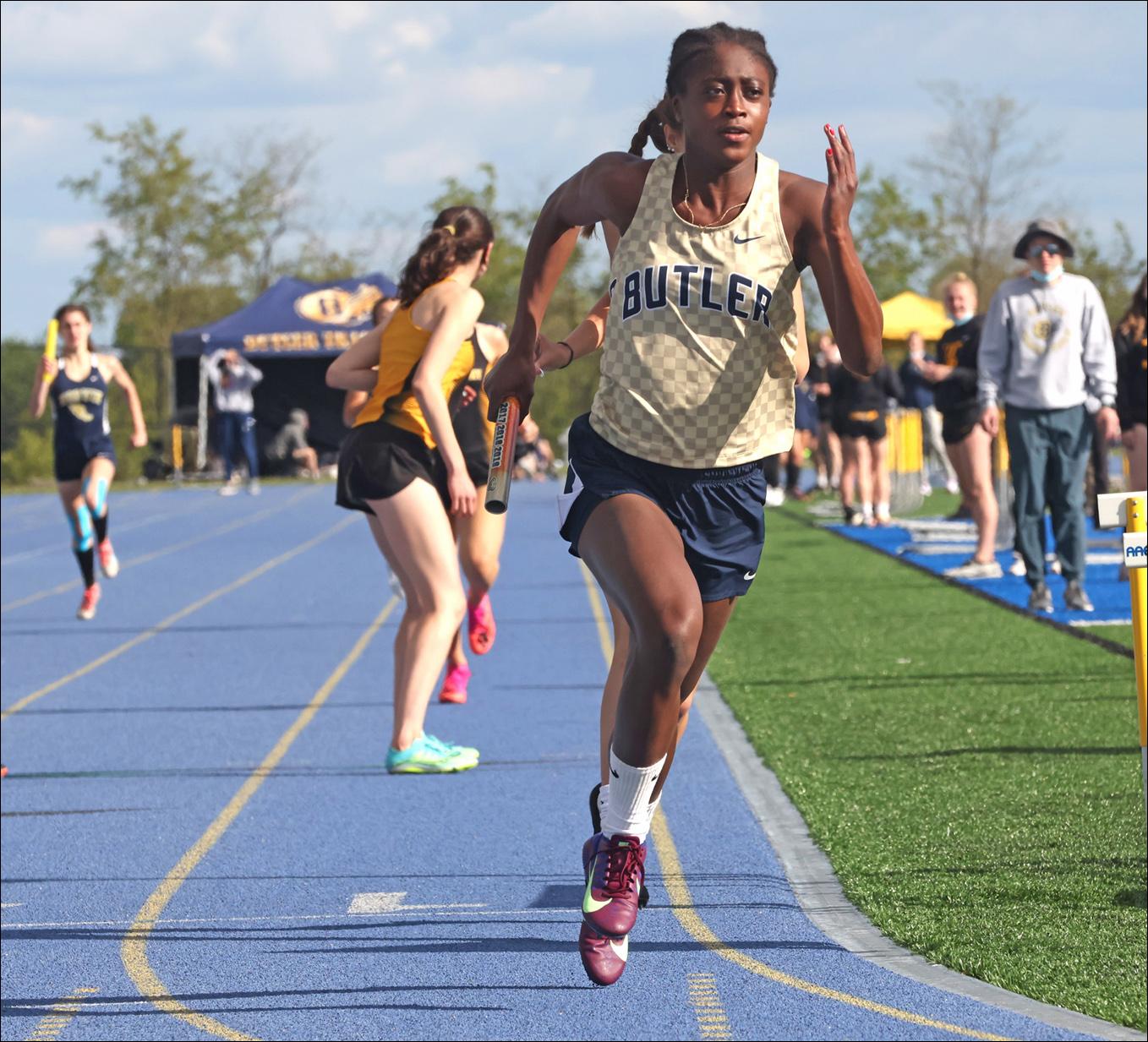 <![endif]>
Justine Forbes runs a leg of the Butler girls' winning 4x400 meter relay Wednesday. The Golden Tornado girls defended their team title.
SEB FOLTZ/BUTLER EAGLE
Junior Alli Morrow went 17 feet, 10.75 inches in the long jump, improving her top effort by nine inches.
She also won the 100, tied for first place in the 200 and was on the winning 4x100 relay quartet.
Morrow edged in front of Norwin's Jordyn Turcovski to win the 100 by .06 seconds.
"I competed in this meet two years ago as a freshman. I ran in the 400 relay, but we did not do well, so I didn't actually contribute to the win.
"The fact that I contributed today in all four of my events, that makes all the difference to me. I'm so happy to help the team."
Sarayne Forbes managed 126-6 in the discus, nearly seven feet better than her previous best.
"Everything just came together for me," she said. "It was warm and sunny and I was able to throw without a jacket on. It (discus) felt good coming out of my hand.
"I was thinking about it all day, how important this meet was. I feel really fortunate to be part of Butler's championship streak."
Megan Penrod just began throwing the javelin this season, but chipped in a win in the event Wednesday.
"I'm so excited with how well it's gone for me," she said.
Taylor Timmons and Gabby Boden both did their part to bring victory in the 4x100 and 4x400 relays.
Emma Lehman was on both of those squads as well and added a first place in the 300 hurdles.
"We're not as deep as we've been in the past, but we definitely have a lot of talent," said Butler girls coach John Williams. "The kids stepped up today."
Boys
Butler 112.5, South Fayette 37.5
Butler 100.5, Seneca Valley 49.5
Butler 109, Canon-McMillan 41
Seneca Valley 107, South Fayette 43
Seneca Valley 94.5, Canon-McMillan 55.5
3,200 relay: Butler (Gratzmiller, Slear, Vavro, Singleton) 7:57.75; 110 hurdles: Byron Manchester (B) 15.29; 100 dash: Guinness Brown (B) 11.01; 1,600 run: CJ Singleton (B) 4:25.82; 400 run: Guinness Brown (B) 48.87; 400 relay: Seneca Valley (Hartman, Kutchma, Dworek, Yurich) 43.44; 300 hurdles: Canon-McMillan; 800 run: CJ Singleton (B) 1:58.96; 200 dash: Guinness Brown (B) 22.73; 3,200 run: Skyler Vavro (B) 9:40.86; 1,600 relay: Canon-McMillan
Shot put: South Fayette; Discus: South Fayette; Javelin: Landon Kretzer (B) 164-9; High jump: Jordan Stutz (B) 6-0; Long jump: Tyler Yurich (SV) 23-1/2; Triple jump: Matt Laslavic (SV) 44-7; Pole vault: South Fayette
Girls
Butler 95, Norwin 55
Butler 86, North Allegheny 64
Butler 115, Belle Vernon 35
3,200 relay: North Allegheny; 100 hurdles: Norwin; 100 dash: Alli Morrow (B) 12.90; 1,600 run: Belle Vernon; 400 run: Norwin; 400 relay: Butler (Timmons, Morrow, Boden, Lehman) 49.48; 300 hurdles: Emma Lehman (B) 46.64; 800 run: North Allegheny; 200 dash: (tie) Alli Morrow (B) 27.03;
3,200 run: Belle Vernon; 1,600 relay: Butler (Lehman, Timmons, J.Forbes, Boden) 4:04.56
Shot put: Kenna Jackson (B) 33-2.5; Discus: Sarayne Forbes (B) 126-6; Javelin: Megan Penrod (B) 103-2; High jump: Alexia Mechling (B) 5-2; Long jump: Alli Morrow (B) 17-10.75; Triple jump: Megan Baggetta (B) 37-7; Pole vault: Sam Penrod (B) 10-6