Butler boys claim 2nd straight WPIAL title
May 12, 2022 Last Updated: May 12, 2022 07:23 PM High School
<![if !vml]>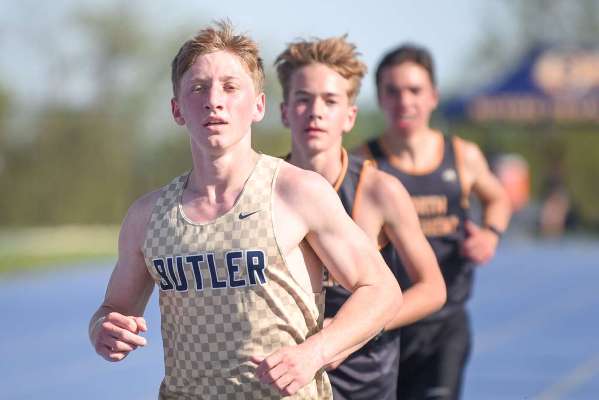 <![endif]>
Butler's Sage Vavro takes the lead in the boys 3,200-meter race during the WPIAL Class AAA track and field championship meet on Wednesday in West Mifflin. Joseph Ressler/Butler Eagle
WEST MIFFLIN — Mike Seybert felt good about his Butler boys track and field team's mindset long before Wednesday's WPIAL Class 3A team championship meet began.
"When the bus pulled into the parking lot, I could tell," Seybert said. "They just had this look about them. It was like: 'We got this'."
The Golden Tornado took care of business at West Mifflin High School, defeating North Allegheny (97-53), Norwin (115-35) and Mt. Lebanon (117-33) to capture their second straight district title.
The Butler girls had their string of WPIAL championships halted at four. The Tornado lost decisions to South Fayette (80.5-69.5), Norwin (83-67) and champion North Allegheny (98-52).
Butler's boys earned first place overall in 12 of the 18 events, including Presley Ornelas' wins in both hurdle events. His time of 15.19 seconds in the 110-meter event is a personal-best.
"I've been dealing with a right ankle injury, but I'm getting back into it," he said. "I ran a 15.22 early in the season and it feels good to know I'm running better now. I can't wait for the WPIAL (individual) meet. I'm always looking to get better."
Another personal-record came from senior Jake Pomykata, who won the discus with a heave of 150 feet, three inches.
"I also competed in the shot put, but the discus is my favorite event," he said. "A lot of people think it's just about muscle and strength, but there's a lot of technique to it."
Pomykata relishes the opportunity to practice and improve with so many talented teammates.
"It really pushes you and makes you become a better athlete," he said. "You get to this meet and you just want to do everything you can to help the team win."
Tyler Rekich knows all about that. The senior competed in four events Wednesday - long jump, triple jump, javelin and shot put - and placed no worse than third overall in any of them.
"I was looking forward to coming here," he said. "I enjoy the team aspect of track more than the individual side of it."
Other double-individual winners for the Tornado included Guinness Brown (100, 200) and CJ Singleton (1,600, 800).
Butler now has nine WPIAL track and field team titles to its credit. Seybert said after last year's win that it was the best boys team Butler had ever had.
"This one is even better," he said. "This is what happens when you put great athletes together with a very talented coaching staff. We have great coaches and it makes my job easy.
"We've had some very balanced teams in the past, won four straight boys titles (1997-2000), but we have 20-some seniors this year and they're peaking at the same time. I feel lucky to have them all on the same team."
Junior Megan Baggetta produced the biggest highlight for Butler's girls, winning the triple jump with a school-record distance of 39-3/4. Her previous standard was 38-5 1/2.
"Teams that make it here can find your weaknesses," said Butler girls coach John Williams. "Obviously, you want to end up on top, but get to the final four in this sport, it's been an outstanding season."
The WPIAL individual championship meet is scheduled for Wednesday at Slippery Rock University.
Following are results from Wednesday's WPIAL Class 3A Track and Field team championship meets, held at West Mifflin High School.
Boys
Butler 115, Norwin 35
Butler 97, North Allegheny 53
Butler 117, Mt. Lebanon 33
3,200 relay: Butler (Kriley, Gratzmiller, Singleton, Knight) 7:59.35; 110 hurdles: Presley Ornelas (B) 15.19; 100 dash: Guinness Brown (B) 11.06; 1,600 run: CJ Singleton (B) 4:19.41; 400 run: Anderson (ML) 51.56; 400 relay: Butler (Lacey, Brown, Young, Slear) 42.51; 300 hurdles: Presley Ornelas (B) 40.44; 800 run: CJ Singleton (B) 1:54.69; 200 dash: Guinness Brown (B) 22.32; 3,200 run: Sage Vavro (B) 9:36.39; 1,600 relay: Butler (Kriley, Knight, Brown, Lacey)
Shot put: Petrulo (NO); Discus: Jake Pomykata (B) 150-3; Javelin: Schmook (NO); High jump: Curran (NA) 6-2; Long jump: Dinkins (NA) 22-6; Triple jump: Taylor (NA) 45-2˝; Pole vault: Tristan McGarrah (B) 14-9