Butler claims Pa. indoor track title
Golden Tornado's distance medley relay wins state crown as well
John Enrietto Eagle Sports Editor
February 28, 2022 Last Updated: February 27, 2022 09:22 PM High School
<![if !vml]>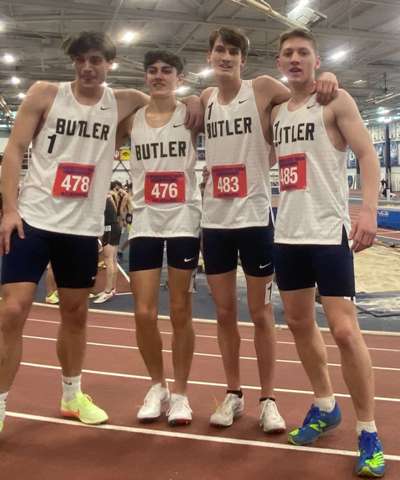 <![endif]>
Butler's distance medley relay team of, from left, Ryder Kriley, Drew Griffith, CJ Singleton and Sage Vavro, won the state indoor championship Sunday. Submitted Photo
STATE COLLEGE — Try as he might, CJ Singleton could not beat out Archbishop Wood's Gary Martin in the mile at the Pennsylvania Indoor Track and Field Championships Sunday at Penn State University.
He did break the previous state indoor record while finishing second, however.
"I didn't come out here for a moral victory," Singleton said.
Neither did Butler teammate Guinness Brown, who placed third in the 400 meters and fifth in the 200.
But on this day, team trumped individual.
The Golden Tornado boys indoor track and field team rolled to the first state championship in program history, tallying 47 points to easily beat out runner-up Episcopal Academy in an event that represented roughly 500 schools across the state.
<![if !vml]>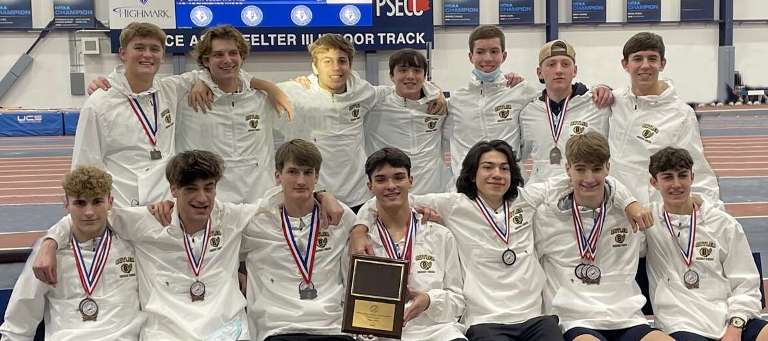 <![endif]>
Butler indoor track champs
"I can't say I wasn't disappointed I didn't win the 400," Brown admitted. "But joining my teammates in thee 4x2 and 4x4, watching how successful our team was and being a part of that, really lifted my spirits."
Brown joined Brayden Young, Presley Ornelas and Lucas Slear in the runner-up 4x200 relay. Butler's 4x400 of Slear, Singleton, Young and Brown placed fifth, giving him four medals on the day.
Singleton ran the mile portion of the Golden Tornado's distance medley relay, which won the state title with a time of 10 minutes, 25.62 seconds. Drew Griffith (1,200 meters), Ryder Kriley (400) and Sage Vavro (800) comprised the rest of that relay.
The Tornado's 4x800 relay of Kriley. Vavro, Griffith and Slear placed fifth as well. Tristan McGarrah took sixth in the pole vault with a vault of 14 feet.
"Tristan injured both ankles during that competition, but gave it a couple more tries when he could barely walk," Butler coach Mike Seybert said. "He said he wanted to score more points for the team. That's the kind of dedication these guys have."
Singleton, who won three medals on the day, admitted he was tired and Butler already had the team title clinched before the 4x400 relay took to the track. He joined it anyway.
"I still wanted to run with my best friends," Singleton said. "Right now, all I want to do is sleep."
Singleton was up against Martin — the most productive distance runner in Pennsylvania history — in the mile. The indoor state record in that event was 4 minutes, 9.79 seconds. Singleton broke that mark with a 4:06.60 — but Martin ran a 4:04.59 to edge him out.
"Gary likes to jump in front at the start of a race and he did that today," Singleton said. "I was just trying to stay on his shoulder. With two laps to go, I figured I'd better take my shot. I didn't know if I had it in me or not.
"I was able to take the lead on the seventh lap, but he had a burst left and passed me on the last 200 meters."
Seybert described the race as "absolutely amazing. Those guys were just flying."
Brown said the indoor state title should propel the team into the outdoor season.
"This meet really pumped us up," Brown said. "Now we want to get after it for outdoor. Only four schools have ever won the indoor and outdoor state titles in the same year. That's something we want to do."
The indoor team embraced the timing of Singleton and Brown competing on the same squad.
"Best sprinter in school history, best distance runner in school history, here at the same time," Seybert said. "Mixing them into the relays as well ... It's been a beautiful thing."
On the girls side, Butler's Megan Baggetta placed eighth in the triple jump.
Golden Tornado coaches include Seybert, John Williams, Fred Pinto, Jeff Renwick, Jerry McGarrah, Rick Davanzati, Colton Nist, Bill Elliott, Jackson Williams and Christine McGarrah.
"Countless hours for so little pay and recognition ... they just love these kids," Seybert said. "I'm lucky to coach with such an incredible group of people."