Butler flexes muscles at Invite
Singleton, North Catholic's Paschall Co-Track MVPS, Tornado sweep relays in runaway win
John Enrietto Eagle Sports Editor
April 25, 2022 Last Updated: April 24, 2022 09:43 PM High School
<![if !vml]>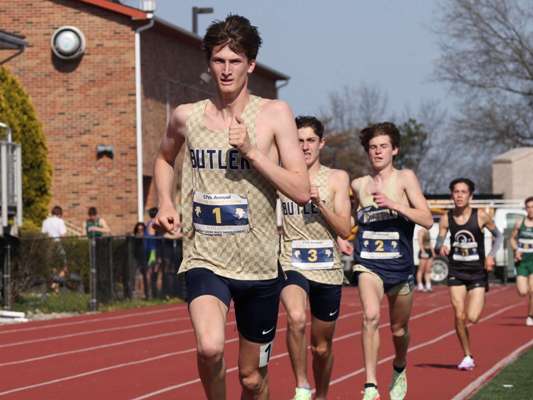 <![endif]>
Butler's CJ Singleton competes in the 3,200 meters at Saturday's Butler Invitational at Art Bernardi Stadium. Singleton won the event in a meet ansd school-record time of 8:57.60. It is the fastest time in the state this season. Seb Foltz/Butler Eagle
BUTLER TWP — Butler's boys track and field team knows how to do more than host an invitational.
It knows how to put on a show.
CJ Singleton shattered his previous meet record in the 3,200 meters, Guinness Brown ran the second-fastest time in the state in the 400 despite battling illness, and the Golden Tornado swept the three relay events in cruising to victory at the 57th annual Butler Invitational at Art Bernardi Stadium.
Tristan McGarrah won the pole vault. The Tornado tallied 140.66 points in a meet that saw 45 teams score. Slippery Rock finished second with 35.66 points.
<![if !vml]><![endif]>
North Catholic'sTrevor Paschall competes against Pine Richland's Nick Hartwick, right, and teammate Luke Mager in the 200 meters. Paschall finished first in both the 100 and 200 and shared Butler Invitational Track MVP honors with Butler's CJ Singleton. Seb Foltz/Butler Eagle
"There were a lot of teams here with a couple of standout athletes who had great performances," Butler boys track coach Mike Seybert said. "We're blessed to have such a balanced team. We can cover all 18 events and that showed.
"The weather's been so cold ... I think everybody here was pumped to come out and compete on a warm day. There were some outstanding numbers put up."
Singleton shared the Track MVP award with North Catholic sprinter Trevor Paschall. The Butler senior ran the 3,200 in 8 minutes, 57.60 seconds. He ran under nine minutes for the first time and shattered his previous meet record of 9:09.42, set last year.
Singleton's time broke his own school record and is the fastest 3,200 time posted in the state so far this season.
<![if !vml]>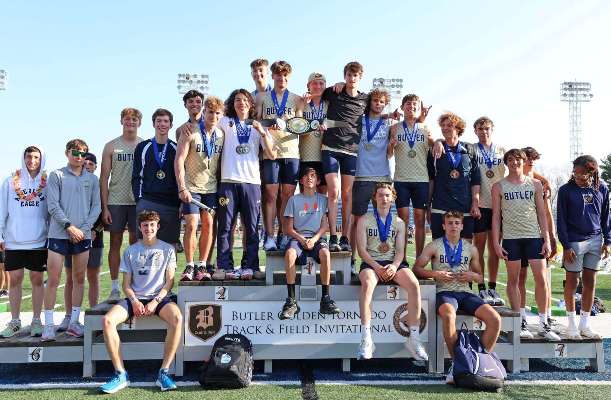 <![endif]>
The Butler boys track and field team stands on the podium after its win at Saturday's Butler Invitational at Art Bernardi Stadium. Seb Foltz/Butler Eagle
"I can't say these were perfect conditions," he said. "It was a little hot out there. But I felt good all day. I knew I had a shot at this (running under 9 minutes)."
An electronic timer was set up at the finish line and kept running time — well in view of the runners as they completed each lap.
"I could see the time, but I had to keep my head ... not watch the clock, just concentrate on my pace. I just felt comfortable out there today," Singleton said.
Paschall broke the previous meet record in the 100 — set by Brentwood's Davon Moore in 2007 and matched by Butler's Brown last year at 10.84 — twice on Saturday. He ran a 10.74 in prelims and a 10.76 in the finals.
Paschall also won the 200 in 21.87 seconds — falling just shy of the meet record time of 21.79 — in becoming the only athlete to win two individual events Saturday.
"I really wanted that second record," Paschall admitted. "But I'm pretty happy. I was runner-up to Guinness in the 200 here last year and finished third in the 100. To come back and win both against the level of competition that's out here means a lot to me.
"It's always cool to get a meet record. Someone may come along and break it next year, or it may stand for 20 years. You never know."
The Field MVP was Norwin's Aaron Schmook, who won the javelin with a throw of 198 feet, 3 inches. The closest competitor to him in that event was teammate Cody Scherle, who threw a 175-07.
Slippery Rock's Levi Prementine and Seaton Wozniak led the Rockets' push to second place. Prementine placed in four events — second in the 110 hurdles, fourth in the 300 hurdles, sixth in the high jump and eighth in the long jump. Wozniak won the shot put and placed third in the discus.
"When you're at a meet like this one, the goal is to get on the podium," Prementine said. "I was hoping for first (in the 110 hurdles), but I'm certainly proud to finish second."
Wozniak had similar thoughts.
"I'm very proud of what I did today," Wozniak said. "I know a lot of these guys and it's fun being able to catch up with them. The competition is great. We talk to each other around the pit. At this point in the season, it's all about getting better and throwing farther."
For the most part, this meet belonged to Butler.
Brown ran the 400 in 48.61seconds, easily beating the field. He also anchored the Tornado's 4x400 relay, joining Brayden Young, Lucas Slear and Ryder Kriley in setting a meet-record time of 3:19.20. Penn Hills set the previous mark of 3:24.01 12 years ago.
Slear placed fourth in the 400 with a personal record of 49.92 seconds.
"I'm so happy for him," Brown said. "Lucas has been wanting to break 59 seconds for a while now. It's a great accomplishment.
"I haven't felt well all week. This illness is still lingering. I woke up this morning with a really sore throat. You still have to come out and run. I'm just fighting it right now. The Penn Relays are next weekend and I need to be healthy by then."
Butler's 4x800 relay of Carson Knight, Raine Gratzmiller, Isaac Busler and Kriley, along with the 4x100 unit of Presley Ornelas, Brown, Landon Lacey and Young, also emerged victorious.
"The 4x100 is all about hand-offs," Young said. "In a race that quick, if you don't have smooth exchanges, you're probably not going to win," Young said. "Running against Pine-Richland, North Catholic, Mt. Lebanon ... We knew it was gonna be close."
Since receiving a specially-ordered baton with the inscription "2022 Pennsylvania Indoor State Champions" on it, the Tornado are 11-0 in relay events on the year.
"We knew we could get that 4x400 record," Slear said. "We've run faster than 3:24 a couple of times already. But this 3:19 is the fastest we've run. We take our relays seriously at Butler. We spend a lot of time on them."
Butler's Sage Vavro placed second in the 1.600 — less than half a second behind Deer Lakes' Carson McCoy — with a time of 4:13.64. McGarrah hit 15 feet, 1 inch in winning the pole vault.
"I hadn't run faster than 4:29 before today," Vavro said. "The weather, the competition, it all helped. This gives me a lot of competition heading into the WPIALs."
McGarrah, back to using a longer pole and a seven-step approach after being hampered by an ankle injury earlier this season, narrowly missed a would-be meet and school record vault of 15-8.
"I thought I had it, honestly, on my last attempt," he said. "The pole just clipped the bar. It's OK, though. I feel like I'm right on pace to do what I want to do."
Butler's team can probably say the same thing.
BUTLER INVITATIONAL
Top 10 Boys Standings
1. Butler 140.66 points, 2. Slippery Rock 35.66, 3. Pine-Richland 35.50, 4. Fox Chapel 31, 5. North Catholic 30, 6. Indiana 29, 7. Norwin 27.66, 8T. Central Valley and Quaker Valley 22, 10. Grove City 20.5
Individual Results
(overall winner, Butler County placers)
100 meters: 1-Trevor Paschall (North Catholic) 10.76 meet record, 4-Brayden Young (Butler), 8-Ben Lane (Freeport)
200 meters: 1-Trevor Paschall (North Catholic) 21.87, 5-Luke Mager (North Catholic), 6-Landon Lacey (Butler), 7-Jacob Thompson (Mars)
400 meters: 1-Guinness Brown Butler) 48.61, 4-Lucas Slear (Butler)
800 meters: 1-Jacob Puhalla (Moon) 1:54.77, 2-Ryder Kriley (Butler), 3-Luke Simpson (Seneca Valley)
1,600 meters: 1-Carson McCoy (Deer Lakes) 4:13.19, 2-Sage Vavro (Butler), 5-Luke Simpson (Seneca Valley)
3,200 meters: 1-CJ Singleton (Butler) 8:57.60 meet record, 2-Drew Griffith (Butler)
110-meter hurdles: 1-Nick Farmer (Mohawk) 15.45, 2-Levi Prementine (Slippery Rock), 4-Presley Ornelas (Butler)
300-meter hurdles: 1-Matt DeMatteo (Hampton) 39.15, 2-Presley Ornelas (Butler), 4-Levi Prementine (Slippery Rock)
4x100 relay: 1-Butler (Presley Ornelas, Guinness Brown, Landon Lacey, Brayden Young) 42.66, 4-North Catholic, 8-Mars
4x400 relay: 1-Butler (Brayden Young, Lucas Slear, Ryder Kriley, Guinness Brown) 3:19.20 meet record, 3-Mars
4x800 relay: 1-Butler (Carson Knight, Raine Gratzmiller, Isaac Busler, Ryder Kriley) 8:05.90, 8-North Catholic
High jump: 1-Josh Dreves (Grove City) 6-3, 2-Cody Daniels (Moniteau), 6T-Givonie Fout (Freeport), Evan Kurpakus (Mars), Levi Prementine (Slippery Rock), Luke Campbell (Butler)
Pole vault: 1-Tristan McGarrah (Butler) 15-1, 6-Ryan Bernardi (Butler)
Long jump: 1-Demario Crawford (Cathedral Prep) 23-4.50, 3-Tyler Rekich (Butler), 7-Luke Campbell (Butler), 8-Levi Prementine (Slippery Rock)
Triple jump: 1-George Tabor (Fox Chapel) 43-03, 3-Ethan Folmer (Slippery Rock), 4-Givonie Fout (Freeport), 6-Luke Campbell (Butler), 8-Jon Livermore (Butler)
Shot put: 1-Seaton Wozniak (Slippery Rock) 46-03.75, 4-Jacob Ottenweller (Mars)
Discus: 1-Dwight Sarver (Greensburg Salem) 146-1, 2-Jacob Pomykata (Butler), 3-Seaton Wozniak (Slippery Rock), Alexander Cotton (Knoch)
Javelin: 1-Aaron Schmook (Norwin) 198-03, 2-3-Tyler Rekich (Butler) , 4-Luke Cramer (Karns City)