Butler's boys track and field team captures first team state title in program history
May 28, 2022 Last Updated: May 29, 2022 11:18 PM Sports
<![if !vml]>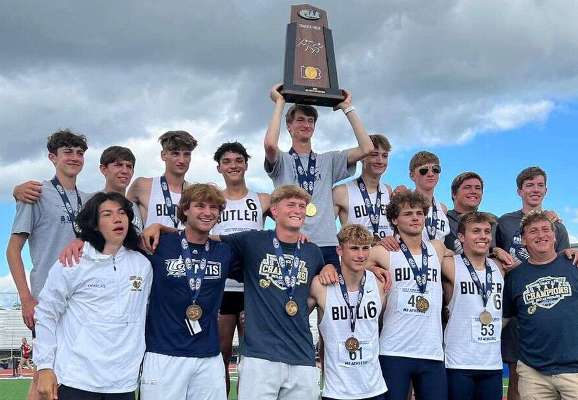 <![endif]>
SHIPPENSBURG — At the conclusion of last year's PIAA track and field championship meet, members of Butler's boys team accepted the team runner-up trophy.
They smiled for pictures and were proud of their effort, which was six points shy of champion State College.
But for those who returned this season, there was a sense of unfinished business.
So when the Golden Tornado received the Class 3A championship trophy Saturday at Shippensburg University's Seth Grove Stadium, there was an overwhelming feeling of accomplishment.
Butler's 47 points beat out Cumberland Valley's 33 as the Tornado were recognized as kings of track and field in Pennsylvania.
"I've been coming (to the state championships) as a coach for 37 years and have seen some crazy athletes here, but these guys wanted it so much for each other," said Butler coach Mike Seybert. "They look out for each other and work with each other.
"Over the last 25 years, I think we've had four or five teams with the boys and girls that were the best overall team in the state, but the true team competition ends after districts," added Seybert. "This state championship is a tip of the cap to all of those teams."
CJ Singleton and Tristan McGarrah began Butler's effort toward the team title with a runner-up and third-place finish in the 1,600-meter run and pole vault, respectively, on Friday.
Singleton opened Saturday's action with a victory in the 3,200 run with a time of eight minutes, 57.73 seconds. He had already earned PIAA gold in cross country, but his 3,200 win was his first triumph here.
"Winning in cross country doesn't compare to this," he said. "There were a lot of fans in the stands here and they were all cheering. It was incredible."
Singleton, the No. 1 seed coming in, led for the final 2,400 meters after taking over the top spot from Lewisburg's Jacob Hess.
"My plan was to sit (with the pack) for a while and I didn't really start running until a mile in," said Singleton. "I was peeking a couple of times to see where the other guys were. I was supposed to win, but anything can happen at the state championships."
Singleton placed fifth in the event here last year with a time of 9:12.22.
"Every meet we went to last year, we tried to score as many points as possible," he said. "My legs were gassed by the time I got out here. I was able to save them a bit more for today."
A number of solid performances helped Butler pad its lead.
Drew Griffith placed fourth in the 3,200, less than seven seconds behind Singleton.
Tyler Rekich was fourth in the long jump and Guinness Brown sixth in the 400 run.
"Tyler's effort was huge," said Seybert. "With the predictions we (had) on the track, anything we get from the field is big toward our point total."
"This is amazing," Rekich said shortly before he and his teammates accepted the trophy. "Everybody's enjoying it and it's going to make for a fun ride home."
Butler also medaled in two relay events. The quartet of Sage Vavro, Raine Gratzmiller, Ryder Kriley and Singleton was third in the 4x800 relay.
The Tornado closed the meet with a fifth-place effort in the 4x400 thanks to Brayden Young, Lucas Slear, Landon Lacey and Brown.
"After getting second (as a team) here last year, we made it our goal to win," said Brown. "It fueled me and we definitely wanted to make history."
In March, Butler's boys won the program's first-ever state indoor track title. Their win Saturday marks just the fifth time in the state's history that a school has won both championships in the same year.
Said Seybert: "We have two captains — Guinness and CJ — but all 20 seniors on this team are leaders."
One of them is Young, who admitted Saturday was bittersweet.
"After the 4x400 relay, we were running our cool-down lap and I thought 'Wow, after four years, this is the last time I'll ever run in high school'.
"But we ended on a good note."
Make that a great one.
Following are results from the PIAA track and field championships, which concluded Saturday at Shippensburg University. The top eight in each event earned a medal.
Class 3A
Boys
3,200 relay: 3-Butler (Sage Vavro, CJ Singleton, Ryder Kriley, Raine Gratzmiller) 7:49.02
100 dash: 6-Tyler Yurich (SV) 11.05
400 run: 6-Guinness Brown (B) 48.53
800 run: 8-Luke Simpson (SV) 1:54.50
3,200 run: 1-CJ Singleton (B) 8:57.73; 4-Drew Griffith (B) 9:04.37
1,600 relay: 5-Butler (Brayden Young, Lucas Slear, Landon Lacey, Guinness Brown) 3:18.67
Long jump: 4-Tyler Rekich (B) 21-11; 8-Jonathon Price (SV) 21-5.75
Girls
Long jump: 8-Alli Morrow (B) 17-3.75
Class 2A
Boys
Shot put (wheelchair): 3-Alex Brown (NC) 12-4.5
Girls
400 run: 5-Tehya Dave (NC) 59.09