Quite a day-trip
Butler's Gratzmiller shows off athletic versatility at Seneca Valley, Highlands
John Enrietto Eagle Sports Editor
April 11, 2022 Last Updated: April 10, 2022 09:14 PM High School
BUTLER TWP — He barely got to the finish line first at Seneca Valley. He dominated the competition at Highlands.
All in all, April 2 was a pretty productive sports day for Butler senior Raine Gratzmiller.
"I wasn't expecting it to go like this," he said.
Gratzmiller began the day competing for the Golden Tornado track and field team at the Butler County Classic, hosted by Seneca Valley at NexTier Stadium. He ran on a pair of winning relays at that meet, including the final event of the day, the 4x400 meter relay.
Gratzmiller ran the anchor leg of that event and nudged out Mars' Jacob Thompson at the finish line. His last-ditch lean across the line made the difference. That event ended at approximately 4 p.m.
<![if !vml]>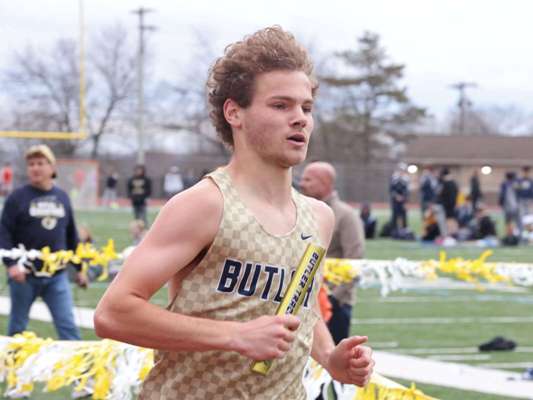 <![endif]>
Raine Gratzmiller competes in the 4x800 meter relay Wednesday at Butler's Art Bernardi Stadium. He recently competed in the Butler County Classic track meet and was named MVP of the A-K Valley Cager Classic basketball game later that same day.
Four hours later, Gratzmiller was on the basketball court at Highlands High School in Natrona Heights, playing for the East squad in the 25th annual A-K Valley Cager Classic. He wound up scoring a game-high 27 points and was named team MVP in the East's 101-96 overtime victory.
Many of Gratzmiller's points were scored late in that game.
"I felt it the next morning," Gratzmiller admitted. "My legs were pretty sore. But it was worth it. I didn't want to miss either of those events.
"My basketball stuff was in the car while I was doing the track. We left Seneca Valley, stopped at Subway for a quick dinner and drove right to Highlands for the basketball game."
Gratzmiller will be playing only one more organized basketball game — the Roundball Classic with Butler teammate Devin Carney May 21 at Geneva College. Gratzmiller averaged 12.3 points, 4 assists and 4 rebounds per game for the Golden Tornado this season. He was part of Butler's WPIAL championship team as a sophomore in 2020.
"When Luke Patten went down (with a knee injury), Raine had to become our next Luke," Butler boys basketball coach Matt Clement said. "He took on that versatile beautifully. He was such a selfless player his entire career with us. I've had a lot of kids like that.
"I'm not surprised at all that Raine not only participated, but played so hard at both of those (April 2) events. That's just who he is. He's one of those guys who loves competing with his buddies, representing Butler and winning for Butler."
Gratzmiller said he never thought about missing the County Classic or the A-K Valley Classic.
"They both meant too much to me," he said. "I love running with my buddies and this is my last year to do that. We've got some big goals this year. We want to win the WPIAL championship, win the state championship. I want to do my part in going after those things.
"The basketball game was a chance to play with and against guys from other 6A and 5A schools. Being on the floor with players from, Pine-Richland, Mars, New Castle, schools like that was special. Having a good game only added to it."
Butler boys track coach Mike Seybert simply termed Gratzmiller's efforts as "a great day, just great stuff."
"Raine is such a great basketball player, a tremendous athlete," Seybert added. "He's just a kid who loves competition in different sports. When he saw it was possible to participate in both of those events, he was gonna do it."
Gratzmiller is headed to Washington & Jefferson College, where he will compete in cross country and track and field.
"Raine could certainly play college basketball if he wanted to," Clement said. "A lot of schools were interested in him."
"I want to concentrate on one sport in college," Gratzmiller said. "I've been playing basketball since third grade. It was a tough choice."
His efforts on April 2 demonstrated that.