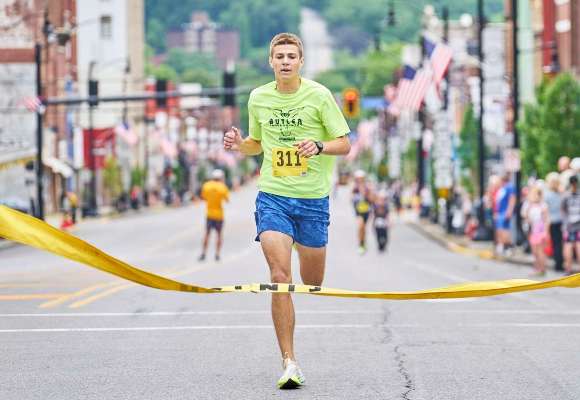 As a cross country runner, Zachary Slear is accustomed to using a finishing kick at the end of races.
The incoming Butler junior just isn't used to doing it as late as he needed to Saturday to win the 5-mile portion of the Butler Road Race.
<![if !vml]>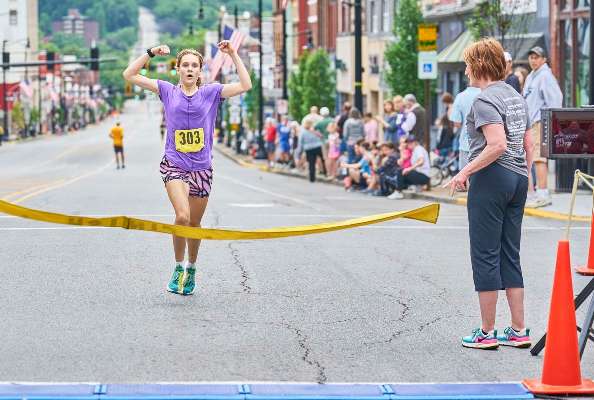 <![endif]>
Ava Brewster, 17, of Butler, raises her arms in victory as the female winner of the Butler Road Race on Saturday. Shane Potter/Butler Eagle 6/24/23
"I wasn't sure I had it in there," Slear admitted. "A cross country race is like 3.1 miles. That extra two miles ... I hadn't done that before. I could feel it.
"The last 200 meters or so, I was able to kick it in and take it. That felt pretty good."
The 17-year-old Slear edged Jeremy Troup, 23, of New Bethlehem by nearly 10 seconds to win the race. His time was 28 minutes, 55.39 seconds. Ava Brewster, 17, an incoming senior cross country runner at Butler, placed fifth overall and won the female division.<![if !vml]>
<![endif]>
Brewster reached the finish line in 31:17.62. Slear and Brewster are Center Township residents.
"We trained together for this race, maybe four days a week or so," Brewster said. "Our coaches have us on a running schedule over the summer and the timing of this race worked out for both of us.
"We run all year long, so we're always in shape. But doing a 5-miler is a little different. It was challenging."
Slear agreed.
"Ava is an awesome runner and it was good training with her," he said. "Finishing uphill like this wasn't easy. You just have to dig in and go."
Ben Dymond of Ellwood City repeated as overall Butler Road Race 2k champion, completing the course in 9 minutes, 33.73 seconds. He has done longer races, but said he enjoys the BRR's 2k event.
 "Just get out there and run," Dymond said. "I felt like I could come here and win again, but you never know who's going to show up, what the field will be like. It went my way."
Dymond beat out runner up Derrick Henderson, 66, of Emlenton by 45 seconds.
Mandy James, 41, of Petrolia, won the female division of the 2k, but did not make it easy on herself. She made a wrong turn on the course and inadvertently ran nearly a quarter mile farther. Her time was 11:13.54, good enough for third overall.
 "I'm very pleased with that," James said. "I was following the man in front of me and we went the wrong way. We didn't discover it until we ran into (automobile) traffic. But I was able to get back on course."
The victory had extra meaning to James, who last competed in the BRR in 2021.
"I lost to a 14-year-old by one step at the finish line," she recalled. "I've been itching to come back here and win this ever since. This was my first opportunity."
More than 200 total runners competed in the races. Two competitors pushed strollers during trhe 2k, including the Adam Olsen family of Butler. Olsen, his wife Chelsy, and daughters Aria, Everly and Leah (ages 6 and under) ran the course together.
Chelsy Olsen used to work for the Butler Family YMCA, which has been in charge of the Butler Road Race for approximately 10 years now. Saturday marked the 48th consecutive year for the event.
 "It's a family thing for us, something we could do together," Adam Olsen said. "We've been preparing for it for the past two months. It's a fun, healthy activity. Aria (age 6) is a cancer survivor, so we're celebrating that, too. She had leukemia."
The Rev. Kevin Fazio delivered the pre-race prayer, then ran the 5-mile race himself. He's been running in the Butler Road Race on and off since 1994. A former basketball player, he ran to stay in shape for that sport.
"I love the atmosphere here, so I keep coming back," he said. "Running is such a positive sport because everybody cheers for everybody. An event like this brings the community together.
"It's fitting that the YMCA run this because it stands for health and wellness. The Y is the life-blood of this community."
The YMCA had 20 volunteers manning the course during the race and helping with registration. More than 40 people signed up the morning prior to the race, which was completed without any rain.
"We haven't had any rain for this race since we took it over," Butler YMCA Executive Director Sandy Ehlenfeld said. "We still worry about it and cross our fingers every year, because there is no makeup date. We've been fortunate in that regard."
All proceeds from the Butler Road Race benefit the Y's Support Campaign, which opens the YMCA's doors and programs to people who otherwise could not afford to use the facility.
Christina Dreher is the BRR director.
"Sponsors, members, our own staff ... we get a lot of volunteer help for this," she said. "This is a fantastic event and it demonstrates what we're all about. We're proud to be a part of it."
BUTLER ROAD RACE
5-Mile Results (top 10 overall)
1-Zachary Slear (Butler) 28:55.39, 2-Jeremy Troup (New Bethlehem) 29:04.76, 3-Brendan Eicher (Butler) 30:30.14, 4-Ron Liscio (Pittsburgh) 31:06.53, 5-Ava Brewster (Butler) 31:17.62, 6-Andrew Harmon (East Brady) 31:49.12, 7-Devin Fitz (Philadelphia), 8-Douglas Basinski (Pittsburgh) 32:12.54, 9-Mike Stimac (East Brady) 32:15.54, 10-Dominic Pusateri (Butler) 32:22.59