Rare opportunity
Butler's Schnur extending academic, volleyball career to Penn State Behrend
April 13, 2018 Other High School Sports
<![if !vml]>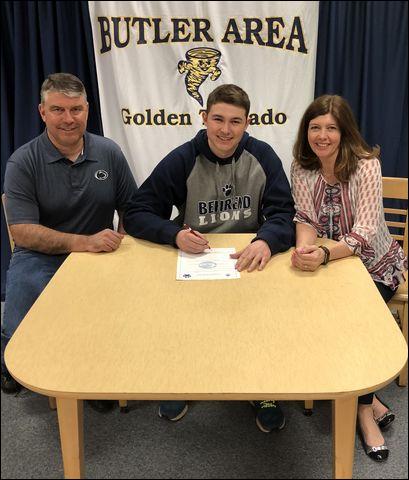 <![endif]>
Butler senior Cody Schnur, fklanked by parents Des and Angie Schnur, signs a letter of intent to play men's volleyball at Penn State Behrend.
SUBMITTED PHOTO
BUTLER TWP — Getting a scholarship in men's volleyball can be difficult.
"It's not like other sports," Butler coach Lew Liparulo said. "There's only 23 Division I programs in the country. I'm not sure how many Division II there are.
"Regardless, you have to have size if you want to play this sport at the next level."
Count Cody Schnur among the fortunate.
The 6-foot-2 Butler senior will continue his academic and volleyball career at Penn State Behrend, signing a letter of intent Wednesday to join the Lions.
Schnur also considered Elizabethtown and Thiel before deciding on Behrend.
"They have an Interdisciplinary Business and Engineering program there that's pretty rare," Schnur said. "That's what I'll be majoring in."
Schnur is carrying a 4.3 grade point average. He becomes the third Tornado boys volleyball player in the past five years to move on to college in the sport, joining Xavier Krause and C.T. Gilliland.
"I'm just excited to continue playing," he said. "I love the sport. This gives me a chance to improve and hone my skills for another four years. Most importantly, I want to keep getting good grades and set myself up for a nice job after college.
"When I'm done with school, there's sand volleyball, local rec leagues ... I hope to be playing the game for a long time."
Even Division III Behrend has ample size up front. The Lions' tallest four players this season are 6-7, 6-5, 6-4 and 6-3. Behrend, in its seventh year in men's volleyball, is 14-11 so far this season and does not have a senior on the roster.
Seneca Valley graduates Tyler Herrmann, Anthony Sprentz and Jake Albert are currently on Behrend's roster. Phil Pisano has been the program's only coach and sports an 88-99 record.
Schnur played club for Steel City Volleyball the past two years.
"Club volleyball is when the college coaches can look at players," Liparulo said. "They can't check them out during the high school season because they're too busy with their own seasons.
"Cody is an athletic player, a strong hitter for us. At Butler, he's a giant, but we're one of the smaller teams around physically. In college, he won't have that physical size advantage."
Schnur grew up as a baseball player. He tried out for volleyball in seventh grade and "I fell in love with the game."
He volunteers at the YMCA as a youth volleyball coach.
"My strength is definitely my hitting and blocking," Schnur said. "I'm a front-row player. I need to improve in the back row.
"My serve has gotten better, but I can still improve in that area, too."
Butler won eight of its first nine matches this season.
"I like the make-up of our team this year," Schnur said. "We have a bunch of guys who have stayed with it for a few years. Our chemistry is great and I think we have a chance to go a long way this year."