Runaway
Butler volleyball sweeps Latrobe in playoffs
May 19, 2021 Other High School Sports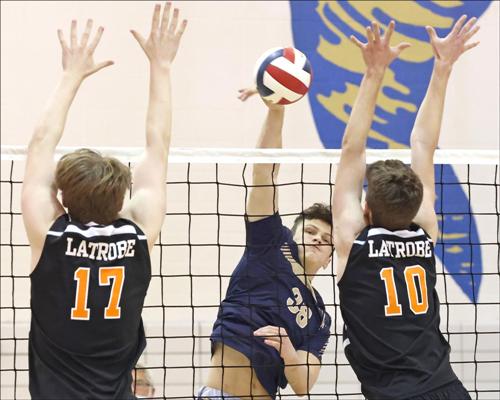 Butler's Tyler Gillis spikes a ball past Latrobe block attempts in the Golden Tornado's 3-0 win playoff win over Latrobe Tuesday.
SEB FOLTZ/BUTLER EAGLE
BUTLER TWP — Much like basketball, volleyball is often a game of runs.
Butler's boys managed three big ones to pave the way to victory in a WPIAL Class 3A first-round playoff contest Tuesday night.
Facing Latrobe for the third time this season, the Golden Tornado won a combined 15 straight points during two runs in the first set, then reeled off seven straight in the second en route to a 25-12, 25-16, 25-23 sweep of the Wildcats at Butler High School's gymnasium.
"Our middle hitters were more active tonight," said Tornado coach Lew Liparulo. "When they're playing well, it opens the door for everything else."
A spot in the district semifinals will be on the line Wednesday when Butler takes on Hempfield, a 3-1 winner over Bethel Park, at 6 p.m. at North Allegheny High School.
The Tornado had already defeated the Wildcats twice this season. Latrobe coach Drew Vosefski said his team had a game plan in place to block Butler's hitters, but it began to unravel early in the first set.
Kills from Cade Wheeler and Kaleb Proudfoot — and a block from the latter — helped Butler build a 10-2 lead. Later in the set, Tyler Gillis' kills played a key role in Butler's second run.
"Our serve/receive was excellent tonight," said Liparulo. "When we're on target with our passes, that's when we can get into our offense. We had a more balanced attack tonight and a lot of it was due to passing from guys like Carson Stein."
The Wildcats (7-9) hung with Butler until the midway point of the second set. Tornado junior middle hitter Noah Wolford then tallied a block and two kills to help push Butler's edge to 22-11.
Latrobe, which had combined for just seven kills in the first two sets combined, played much better in the third set. The Wildcats, who tallied 12 kills by six different players, held a brief 18-16 lead.
Liparulo called a timeout and Butler rebounded thanks in part to kills from Gillis, Wheeler and Noah Diamond.
"We had better execution in that third set," said Vosefski, "but we couldn't overcome the mistakes that we've been making all season long."
Carson Stein tallied 14 passes for Butler, Tyler Gillis nine kills and Kaleb Wojnar 27 assists.
Butler (12-8) is the No. 5 seed in the tournament. It will look to avenge a 3-2 loss to Hempfield earlier this season.
"We kept the ball off the floor tonight and our hitters were putting it away," said Wojnar, a senior setter. "Our blocking was good, but we have to keep it up."