<![if !vml]><![endif]>

Butler
Area GT Wrestling
Scott Stoner, Head Coach
551 Fairground Hill Road, Butler, PA  16001
gtwcoach@yahoo.com  
<![if !supportLineBreakNewLine]>
<![endif]>
<![if !vml]>

<![endif]>This past Saturday the Butler wrestling team stayed close to home in competition at the Kittanning Duals.  The Golden Tornado faced five teams and dominated the tournament going five for five.  Butler defeated Forest Hills 61-12, Trinity 60-12, Sharon 55-19, Berlin Brothers Valley 60-15, and host Kittanning 64-9 in the finals.  These five victories move the team to 15 wins and one loss on the season.  Butler had five individuals go undefeated on the day. 103-pounder Cody Houston, 152-pounder Mike Crawford, 160-pounder Dakoda Collins, and 171-pounder Cole Baxter all went 5 and 0, while 189-pounder Matt Pribis went 4 and 0.  Wrestlers who went 4 wins and only 1 loss were, Blake Caudill, Korey Caudill, Zach Reges, and Jesse Spohn.  Zach Collins, Doug Defrancisis, and Tim Fulks all went 3 and 2.   Senior Eric Tuck also picked up 2 wins in the 2 matches he wrestled.
<![if !vml]>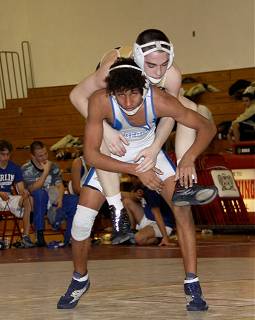 <![endif]>The section dual with Fox Chapel scheduled for this evening has been postponed to next Tuesday at Butler Intermediate.  The match will start at 7:00.   With a win Butler will assure itself a seventh consecutive post-season team tournament appearance.  The first 100 students admitted to the match will receive a complimentary GT Wrestling t-shirt.  Please come out and support the team and see what the excitement is all about.
In other Butler wrestling news the Butler Junior High Wrestling team also won a tournament this past weekend at the Brookville Raider "Pow Wow in the Ville".  The tournament featured 12 teams including WPIAL powerhouse Connellsville.  Butler easily bested the field winning by over 50 points.  The team produced 9 finalists and 4 champions in the effort!  Go GT Wrestling!
Sophomore Korey Caudill was over his
opponent as he posted a 4 and 1 record
on the weekend at 119 pounds. 
His twin brother Blake and him never fight!
<![if !vml]>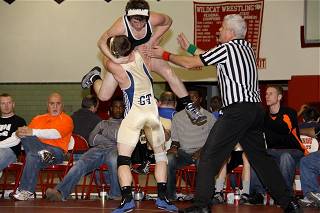 <![endif]>  <![if !vml]>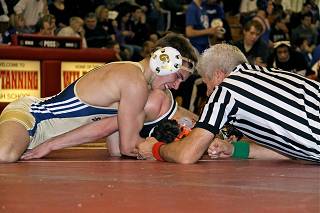 <![endif]>
Senior Mike Crawford ran his win total to 109           Sophomore Jesse Spohn records a fall in one of
with   a 5 and 0 performance at the duals.  Mike       4 wins on the day. Spohn went 4 and 1.
is 2nd all-time on Butlers career win list.
<![if !vml]>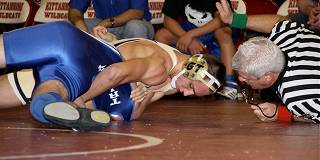 <![endif]>
Senior 2x WPIAL Qualifier Matt Pribis went 4-0 at
171 and 189 pounds.  Matt and senior standout
Cole Baxter both weigh in at 171 pounds and have
been juggled up and down at 171 and 189.