Double duty
Butler's Codispot earns mat pin in New Castle, pole vault event in Butler on same evening
January 29, 2018 High School Wrestling
<![if !vml]>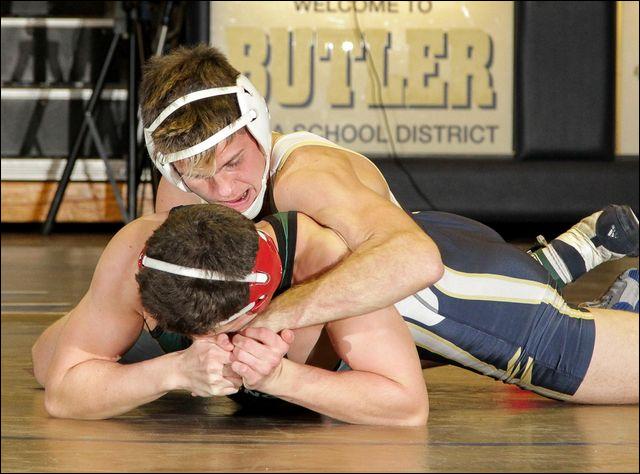 <![endif]>
Butler wrestler Jack Codispot, in control of his opponent in this match earlier in the season, won a wrestling match in New Castle and a pole vault competition in Butler on the same night last week.
BUTLER EAGLE FILE PHOTO
BUTLER TWP — First, Jack Codispot pinned the opposition down. Then he soared above it.
Two different sports, two different venues, two different towns.
All in one night.
The Butler High School junior achieved a rather unique twin win while wrestling in New Castle and pole vaulting in Butler.
Codispot starts at 152 pounds for the Golden Tornado wrestling team, which had a dual meet on the road against the Red Hurricane. Butler's indoor track program was hosting its annual pole vaulting invitational in the Intermediate School gym.
Codispot pole vaults for Butler's indoor and outdoor track teams.
"I didn't expect to even compete in the pole vaulting event," Codispot said. "I had missed it the previous two years because we always had a wrestling match on the same night."
Butler's wrestling match began at 7 p.m. in New Castle. The pole vault competition began at 6:30 p.m. in Butler.
"Things were moving a little bit behind here," Butler pole vault coach Jerry McGarrah said. "I had my son text Jack just to let him know that, just in case."
The wrestling match involved a lot of pins — including Codispot's winning pin at three minutes, 35 seconds — and got finished quickly.
So Codispot didn't ride home on the team bus. His mother drove him directly to the Butler Intermediate gym.
"Jack came up to me right after the match and said he was leaving with his mother, that he was going to try to make the pole vault," Tornado wrestling coach Scott Stoner said. "I told him, 'Go for it. Get out of here.' That kid always challenges himself. You don't see much of that anymore."
When Codispot arrived at the gym, he immediately joined the 22-member boys field. The height they were vaulting at by then was 12 feet, three inches.
By rule, Codispot had two minutes to prepare for his first attempt.
"That's getting my gear on, my pole together ... everything," Codispot said. "It was a bit of a scramble."
He officially won the meet on his first vault, clearing 12-7.
Then he kept going.
By the time Codispot was done, he had cleared 14 feet, 7 inches. That vault ranks fifth in the state in indoor so far this year. Peyton Morris of East Pennsboro leads the state at 15-7.
Jared Farabee owns Butler's indoor pole vault record of 15-0. He also holds the outdoor mark of 15-5.
Codispot wants them both.
"He actually went for the indoor mark Thursday night," Butler boys track coach Rick Schontz said. "He barely missed it.
"He was the only guy left for his final few attempts. Everybody else had gotten stopped, but to watch Jack hit 13-7, then a minute later, 14-1, a minute later 14-7 ... It was pretty amazing."
Codispot said he actually cleared 15-1 "but my knee hit the pole on my way down."
Carrying a 17-3 record on the wrestling mat this season, Codispot has goals of being a section champion and WPIAL placer, along with breaking Farabee's pole vault records.
"That was a good night," he said of Thursday. "I'm just glad we made it back in time. It was probably 8:30 or so when we walked in."
The rest of the wrestling team wasn't far behind.
"These guys support each other and the other kids on the team have a lot of respect for what Jack was doing," Stoner said. "They were all in the stands rooting him on."
"It was a thrill to see that whole thing unfold," McGarrah said. "It shows the type of competitor Jack Codispot is."