Butler wrestlers roll past Planets
January 16, 2020 High School Wrestling

<![if !supportLineBreakNewLine]>
<![endif]>
<![if !vml]>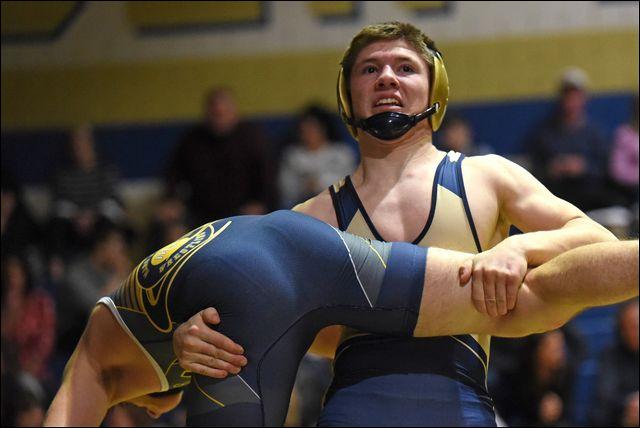 <![endif]>
Butler's Nate McMaster takes down Mars' Davis Luedtke in their 145-pound match Wednesday night. McMaster pinned Luedtke in 2:47 and the Golden Tornado scored a 66-12 dual match win.
SEB FOLTZ/BUTLER EAGLE
BUTLER TWP — If the Butler wrestling team was looking for momentum, it found it.
The Golden Tornado wound up winning four of six dual matches at the prestigious Virginia Duals last weekend, then cruised to a 72-9 win at New Castle Tuesday night.
Butler returned home Wednesday evening and defeated Mars, 66-12, in the Intermediate High School gym.
"These were two lighter opponents (in terms of wrestling numbers) and I recognize that," Butler coach Scott Stoner said. "But all we can do is stay focused and get better on the mat.
"I feel we've done that over the past week. And this is the time to do it."
Butler (11-3) does not see action again until next Wednesday at North Allegheny for the section duals.
Butler won five matches by pin against the Planets (1-4): Nick Schaukowitsch at 113 pounds, Colton Spohn at 132, Nate McMaster at 145, Hunter Neff at 170 and Cooper Baxter at 182. Baxter improved to 19-3 on the year and recorded his pinfall — his 11th of the season — in just 55 seconds.
Levi Donnel improved to 20-1 on the season with a 7-0 decision of Brandon Krul at 120 pounds.
"It was good to see Levi get a match tonight," Stoner said. "I thought they (Mars) might skip over him, but they sent their kid out there to compete and I appreciate that."
The Planets forfeited five weight classes, but recorded a pair of pins for their only points of the match. Christian Scheller (17-8) won by fall at 138 pounds and Griffin Frazier closed the night with a pin at 106.
Frazier lost a 5-0 lead in the final seconds of the first period when the Tornado's Aidan Plopi reversed him and scored three near-fall points. But Frazier scored the pin 27 seconds into the second period.
"That was a good way for us to end," Mars coach Bob Jox said. "Griffin's been wrestling for only two months and that was his third pin.
"He's paying attention to the coaches and he's learning. That's what hard work can do."
Rocco Darocy — who was pinned by Schaukowitsch — is 13-9 at 113 pounds for Mars. Krul is 12-9 at 120 and Sean McElhinny is 13-11 at 160. Nate McDonald decisioned him, 6-3, Wednesday.
"We're focusing on individuals right now at this level, but our junior high lineup is full," Jox said. "The future looks bright for us.
"Butler is a good team that's getting better every day. We wish them luck in the upcoming playoffs."
Though he won by forfeit Wednesday, Butler 195-pound senior Caleb Hartung improved to 19-4. He shares the team lead of 12 pins with Donnel and 152-pounder Steven Green.
"Caleb is putting together a great year," Stoner said. "He wants to wrestle in college. He's looking at Gannon as a possibility. I know he's going to be moving on somewhere."
Butler 66, Mars 12
(Match started at 113 pounds)
106-Griffin Frazier (M) pinned Aiden Plopi, 2:27; 113-Nick Schaukowitsch (B) pinned Rocco Darocy, 1:44; 120-Levi Donnel (B) dec. Brandon Krul, 7-0; 126-Clayton Dressler (B) by forfeit; 132-Colton Spohn (B) pinned Eli Wright, 3:47; 138-Christian Scheller (M) pinned Dominic Vivirito, 4:45; 145-Nat McMaster (B) pinned Davis Luedtke, 2:47; 152-Steven Green (B) by forfeit; 160-Nate McDonald (B) dec. Sean McElhinny, 6-3; 170-Hunter Neff (B) Logan Santa, 5:41; 182-Cooper Baxter (B) pinned Charlie Luedtke, :55; 195-Caleb Hartung (B) by forfeit; 220-Jake Pomykata (B) by forfeit; Hwt.-Tyler Soldati (B) by forfeit